SEMA is synonymous with pushing the limits, and Toyota has exemplified this ethos with their latest creation, the FJ Bruiser concept. This awe-inspiring vehicle, characterized by its elevated stance and thunderous V-8 engine, pays a fitting tribute to the legendary 1966 FJ45 pickup truck. However, it's not merely a nostalgic nod; it's a bold leap into the future of off-roading.
Toyota's dedicated team, housed within the Motorsports Garage, decided to take the rugged FJ45 from the '60s and crank up its toughness factor several notches. They achieved this by meticulously crafting a full tube frame and a robust roll cage, seamlessly melding these modern elements with the vintage FJ body.
To bolster its off-road capabilities, a comprehensive trailing-arm suspension system, complemented by Fox shocks and Eibach springs, was integrated to ensure a smooth and controlled ride. The FJ Bruiser rides on Method Double Standard 20-by-10-inch beadlock wheels wrapped in 42-by-14.5 R-20 BFGoodrich Krawler T/A KX tires, delivering unrivaled traction off the beaten path.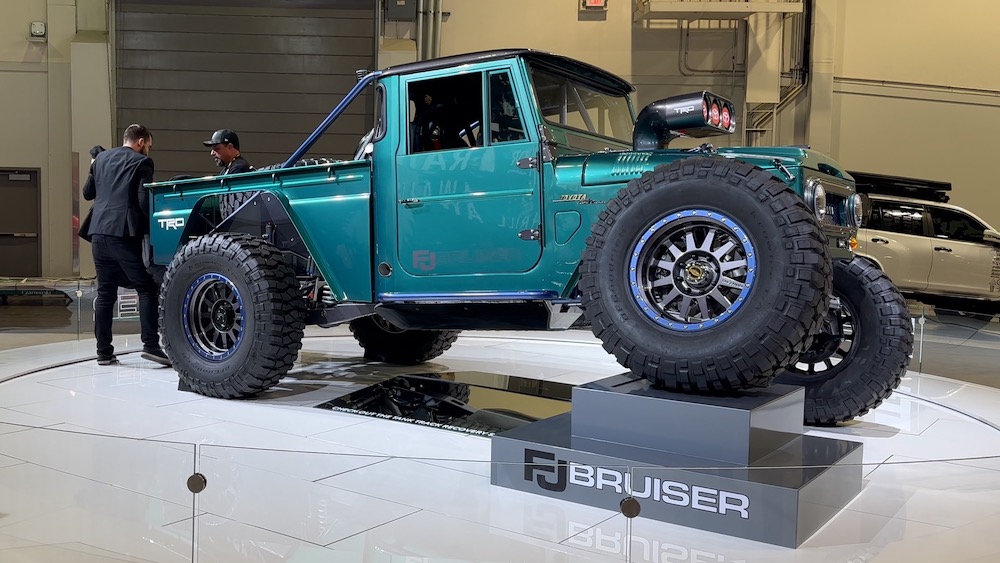 Powering this beast is a highly modified 358-cubic-inch NASCAR Cup Car V-8 engine that unleashes a jaw-dropping 725 horsepower. This immense power is seamlessly channeled to the wheels via a three-speed automatic transmission, meticulously crafted by Rancho Drivetrain Engineering. The FJ Bruiser's distinctive roar is tamed by a custom MagnaFlow exhaust system.
The classic solid axle of the FJ45 is retained, but it's fortified with new front and rear differentials, alongside an advanced transfer case offering a spectrum of two-wheel-drive and four-wheel-drive modes. Toyota's engineers have fine-tuned the gearing setup to allow the FJ Bruiser to crawl at a mere 12 mph in the lowest gear, revving up to a heart-pounding 7000 rpm, and also reach speeds of up to 165 mph at 7000 rpm in the highest gear.
In anticipation of situations where the colossal horsepower threatens to overpower the enormous tires, Toyota has equipped the FJ Bruiser with a unique safeguard: a conveyor belt with treading beneath the vehicle. This ingenious "Tank mode" can be activated from the cabin, reminiscent of something from a Mad Max movie, ensuring that you stay in control even when it feels like you're supported by the gas tank rather than your tires.