The second-generation Acura TLX, a compact luxury sedan, has undergone a subtle redesign for its mid-cycle refresh, with a particular focus on elements highly regarded by Acura's customers: the sedan's striking and spacious exterior design, as well as its well-appointed array of interior features.
While the overall shape of the TLX remains unchanged—after all, why alter what's already beautifully crafted?—the 2024 models introduce new, even more dazzling frameless grilles, expanded color choices, and a streamlined model lineup.
In 2023, the TLX offered nearly ten different trims, ranging from the basic entry-level model to the exclusive Type S PMC Edition. With options for front-wheel or all-wheel drive and various performance packages, it was no surprise that customers requested Acura to simplify the lineup. For 2024, the Technology package now comes standard, available exclusively with front-wheel drive. The A-Spec and Type S models complete the offerings, both featuring all-wheel drive.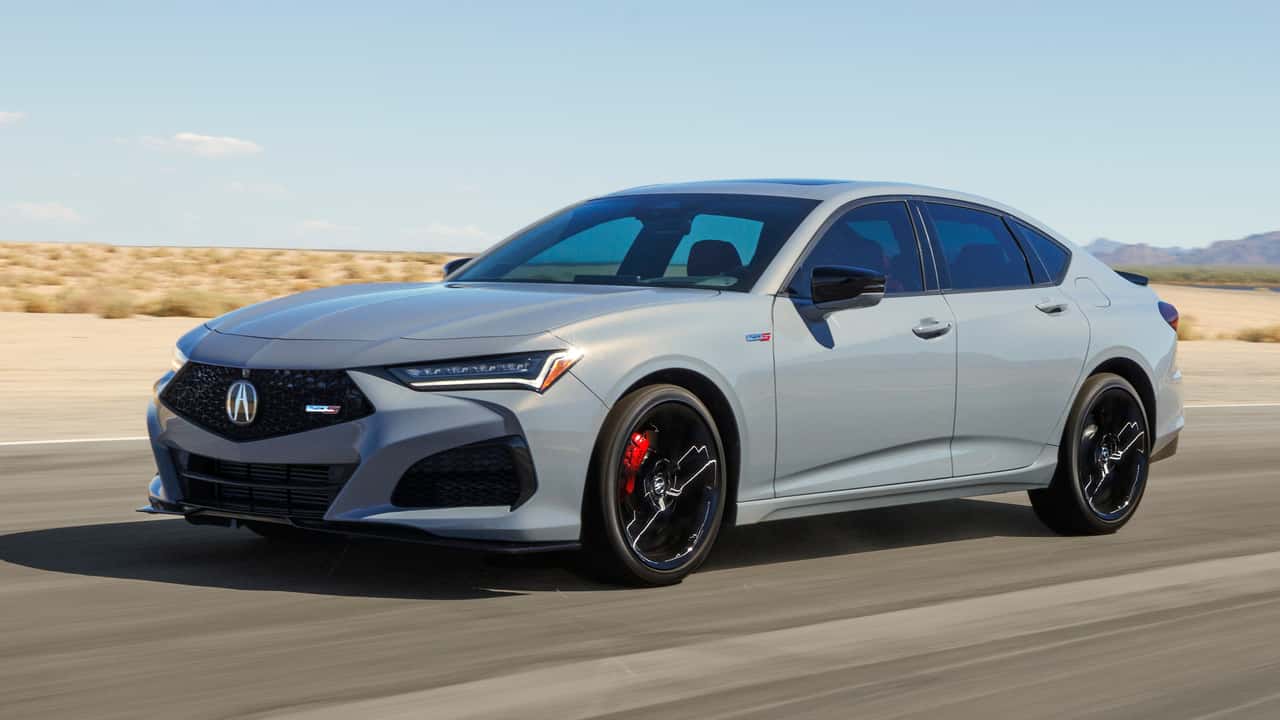 The updated grille for the base and A-Spec TLX models boasts a wider diamond mesh pattern, reminiscent of a spiderweb glistening with dew, while the Type S model showcases a tighter pattern. Both grilles sport a sleek gloss black finish. Unseen but undoubtedly valuable, a new radar system is now located behind the Acura logo, and the Type S model is equipped with a full surround camera.
The TLX and A-Spec models come with 19-inch split five-spoke wheels in dark gray, while the Type S features striking 20-inch wheels in shiny black. Although both cars are initially equipped with all-season tires, the TLX Type S offers high-performance summer tires mounted on eye-catching copper 20-inch wheels.
At the rear, the A-Spec model receives a new diffuser and circular exhaust tips, while the Type S, with its more aggressive diffuser and quad exhaust tips, retains its distinctive look. Additionally, a carbon-fiber spoiler option is available for the Type S model. The TLX introduces two fresh paint colors: Urban Gray Pearl (available for A-Spec and Type S) and the darker Liquid Carbon Metallic (exclusive to the TLX with the Technology package).
Performance enthusiasts won't find major changes in the TLX models. The Technology and A-Spec variants retain the same turbocharged 2.0-liter four-cylinder engine producing 272 horsepower and 280 pound-feet of torque, although the A-Spec is now quieter due to thicker carpets, additional noise-cushioning padding, and acoustic glass in the front doors.
The Type S continues to feature its turbo 3.0-liter V-6 engine, generating 355 horsepower and 354 pound-feet of torque, but with adjustments to enhance throttle response in sporty driving modes. Both engine options are paired with a 10-speed automatic transmission.
Stepping into the cabin, buyers can choose between a red or black leather interior, with the Type S offering an additional Pearly Orchid option. The cabin showcases a 12.3-inch digital gauge cluster and a matching 12.3-inch center screen, which is 20 percent larger than the 2023 models and more responsive to user inputs. Standard features include phone connectivity and Amazon Alexa Built-In. Furthermore, rear-seat passengers now have access to charging ports, and all models come equipped with a wireless charging pad.
For those seeking a luxurious and stylish alternative to the traditional German sport sedans, the 2024 Acura TLX will be available at Acura dealerships starting in late November.