In today's automotive landscape, off-roaders and 4×4 vehicles have become a significant trend, with nearly every car manufacturer now offering their own rugged SUVs.
Last year, Flat Out Autos, a renowned restaurant company hailing from Arkansas, undertook a remarkable project by transforming a 2022 GMC Sierra 1500 into a contemporary incarnation of the classic Jimmy SUV. For this year's SEMA show, the same company decided to tackle another iconic model, the modern-day Chevy K5 Blazer.
Flat Out Autos aptly christened their latest creation, the KR2, a clever fusion of the beloved K5 name and Chevy's more recent off-road-oriented ZR2 designation. At first glance, the KR2 appears as a compact, widened rendition of the 2023 Silverado, and that's precisely what it is. Underneath the surface, the KR2 is essentially a 2023 Chevy Silverado 1500 WT regular cab.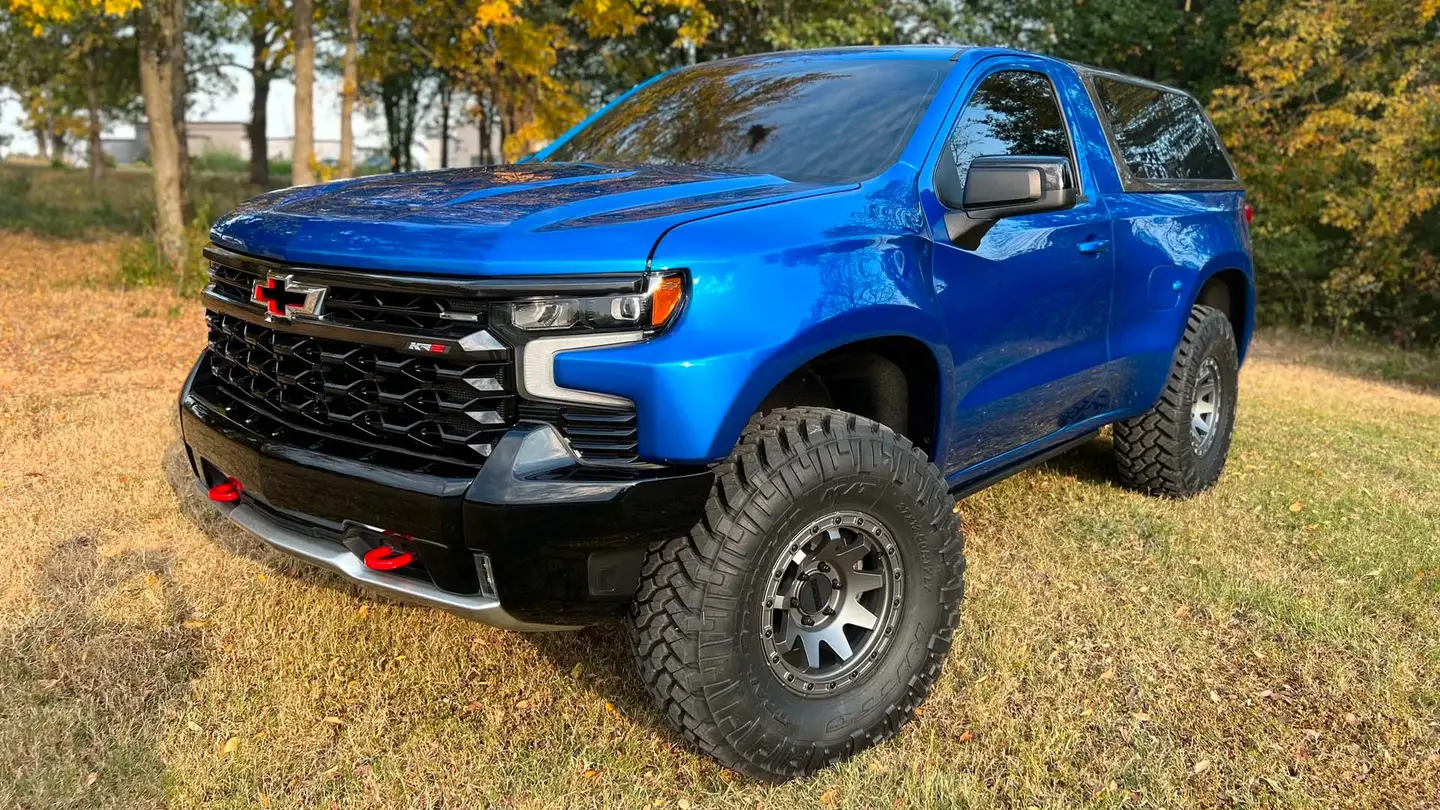 To craft this custom vehicle, Flat Out Autos expertly shortened the chassis by a substantial 22 inches and modified the back of the cab to create an open-air rear seating area.
Custom rear quarter panels were meticulously integrated into the sides of the bed, and a lightweight carbon-fiber cover was added to complete the K5-inspired transformation. Inside the truck, a complete overhaul has been performed, departing from the utilitarian nature of the donor truck. Instead of the standard cloth upholstery, the front and rear seats now boast sumptuous red Katzkin leather.
The KR2's track width has been significantly expanded by seven inches, aligning it with the factory ZR2 Silverado. In addition, it features a long-travel suspension kit by Dirt King and is equipped with coilovers that incorporate remote reservoirs from Fox Racing. To tackle challenging terrains, this custom 4×4 rides on a robust set of 37-inch Nitto Trail Grappler mud-terrain tires.
Under the hood, you'll find a robust 5.3-liter V-8 engine borrowed from the stock Silverado, coupled with a seamless 10-speed automatic transmission. For an extra $14,950, Flat Out Autos offers an option to install a Whipple supercharger and optimize the tune. The supercharged variant promises an impressive 467 horsepower and 440 pound-feet of torque at the rear wheels.
Owning a modern-day K5, however, comes at a premium. The base KR2, without any additional options, carries a price tag of $178,000. If you opt for the supercharger, a spare tire, and a bed cover, as seen in the featured model, the total cost soars to a hefty $202,000. While the compact SUV's appearance is undoubtedly appealing, the price point might elicit a "Yikes" from prospective buyers.