If you find yourself with a spare $250,000 ready to burn a hole in your designer pants, the world of luxury automobiles offers an unparalleled array of choices. From imposing super-SUVs that resemble fortresses on wheels to low-slung supercars that scrape the pavement, the market now boasts more $200,000-plus vehicles than ever before in history. In fact, there are currently twice as many Ferrari models available as there are Buick models, a testament to the diversity and opulence within the realm of high-end automotive engineering.
Amid this array of exotic and high-performance vehicles, one particular prancing horse stands out as a testament to both elegance and purpose—the new Ferrari Roma Spider. None of the available options can quite capture the romantic and legendary essence of the front-engine V-12 cars from the 1960s quite like this effortlessly stylish convertible 2+2.
Behind the wheel of the Roma Spider, you're transported to a world reminiscent of Marcello Mastroianni cruising to Cinecittà with Anita Ekberg in the passenger's seat. Such Dolce vita energy is simply unparalleled by other Ferrari models, including the F8.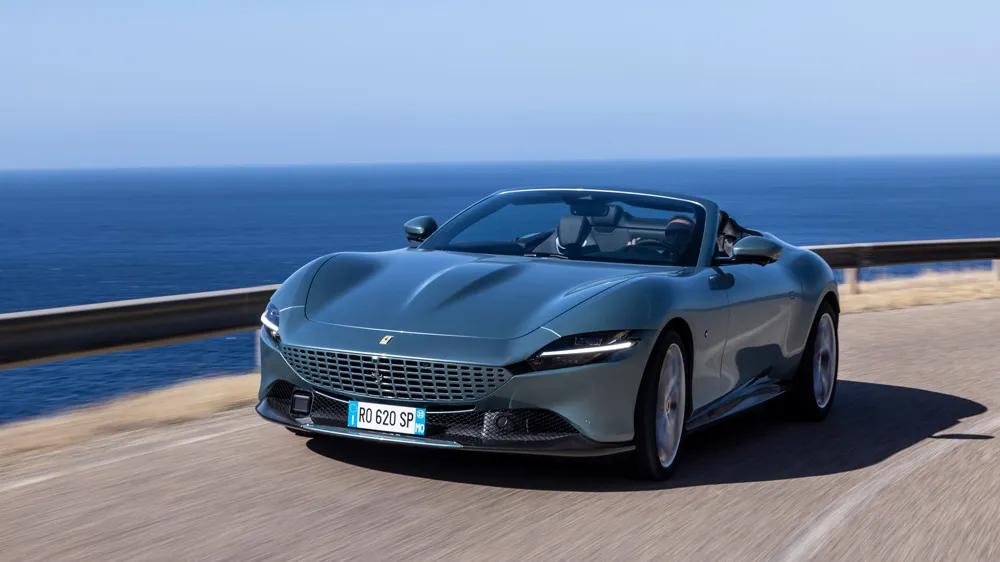 While the Roma Spider may sport four fewer cylinders than the iconic 250s and 275s of the past, it demonstrates that eight cylinders can now equal the performance of the traditional twelve. With its twin-turbocharged 3.9-liter engine, this masterpiece delivers an astonishing 612 horsepower, ensuring a thrilling driving experience.
The same V-8 engine that powers the Roma coupe also finds its home in the Roma Spider, mated to the dual-clutch eight-speed transaxle borrowed from the SF90 Stradale. However, it's in the drop-top Roma that you can truly appreciate the symphony of sound this powerplant produces—comprising one-third of intake noise, one-third of the rhythmic movement of engine components, and one-third of an unrestrained exhaust note, this V-8 roars and purrs, immersing you in an auditory sensation that defines automotive passion.
And let's not forget its stunning design. The Roma Spider is a breathtaking testament to cursive lines, with its top-down or up appearance exuding beauty in every angle. The rear of the vehicle showcases voluptuous curves that lead to an integrated three-position spoiler, while the shark-nosed front exudes an exuberant grin as if it's just discovered its own Nemo. The Spider model adds 185 pounds to its weight, primarily due to added reinforcements in the side sills and rear bulkhead, but it hardly detracts from its appeal.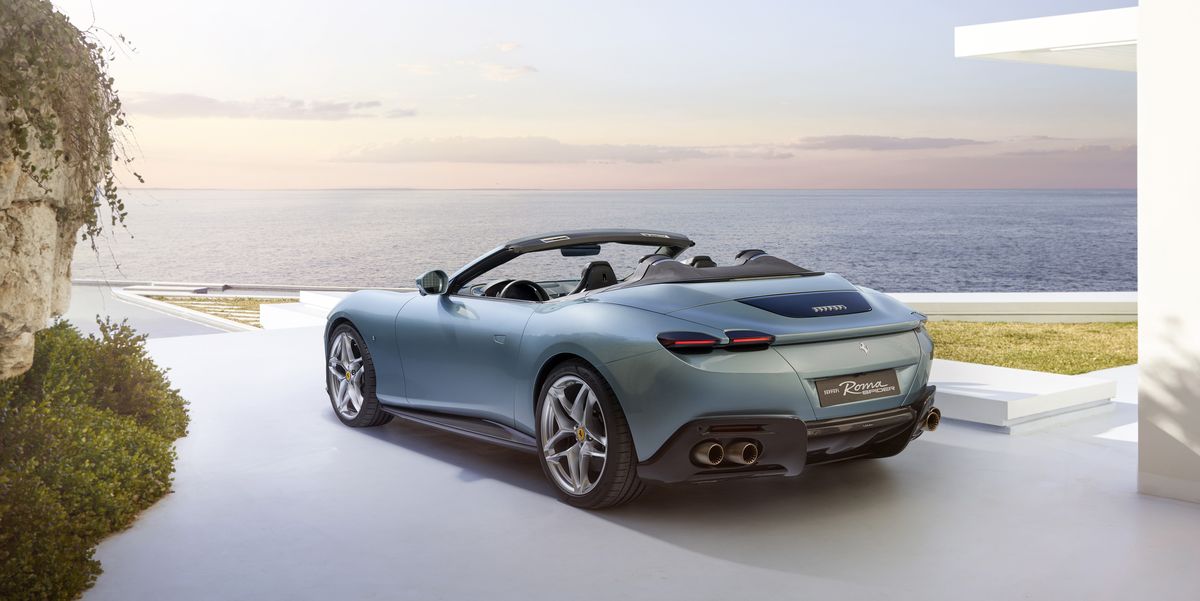 Inside, the Roma Spider offers a luxurious experience tailored to its discerning clientele. Options include leather and faux-suede floormats laid atop an entirely faux-suede floor, reflecting the preferences of customers whose feet seldom touch the ground. Additionally, the rear seatback ingeniously doubles as a wind buffer, providing effective wind protection even when the top is down.
Our test drive took us through the rugged mountain roads of Sardinia, passing ancient olive groves, aqueducts, and lagoons inhabited by white flamingos hungry for shrimp. Despite its substantial weight of around 3,800 pounds, the Roma Spider seemed to defy physics. Ferrari's obsession with managing inertia and loads results in a driving experience where even their largest cars feel surprisingly light.
In a seemingly magical feat of physics, the Roma Spider darted into corners with precision but without feeling twitchy. It braked assertively without becoming overly harsh. It floated with remarkable grace, devoid of any hint of floatiness, successfully concealing its mass.
The gearbox and chassis were always prepared for the next curve, and the front-end grip inspired confidence. In both form and function, the car's dynamics were as crisp and fluid as its sculpted bodywork, delivering pure joy to the driver and even eliciting yelps of delight from passersby, including dogs.