A forthcoming iteration of the Ford Maverick is making waves, and the confirmation comes straight from the source: Ford itself. The renowned automaker recently disclosed in its quarterly earnings report that it has plans in motion for new iterations of its immensely popular compact pickup truck. Among these developments, there is a strong indication that one of the upcoming variations will take the form of a Maverick sport truck, potentially bearing the moniker "Lobo."
It's important to underscore that the current information is largely speculative. Nevertheless, Ford's intentions seem to align with this speculation, as evidenced by a recent submission to the United States Patent and Trademark Office (USPTO). On August 14, 2023, Ford officially trademarked the name "Maverick Lobo," adding weight to the conjecture.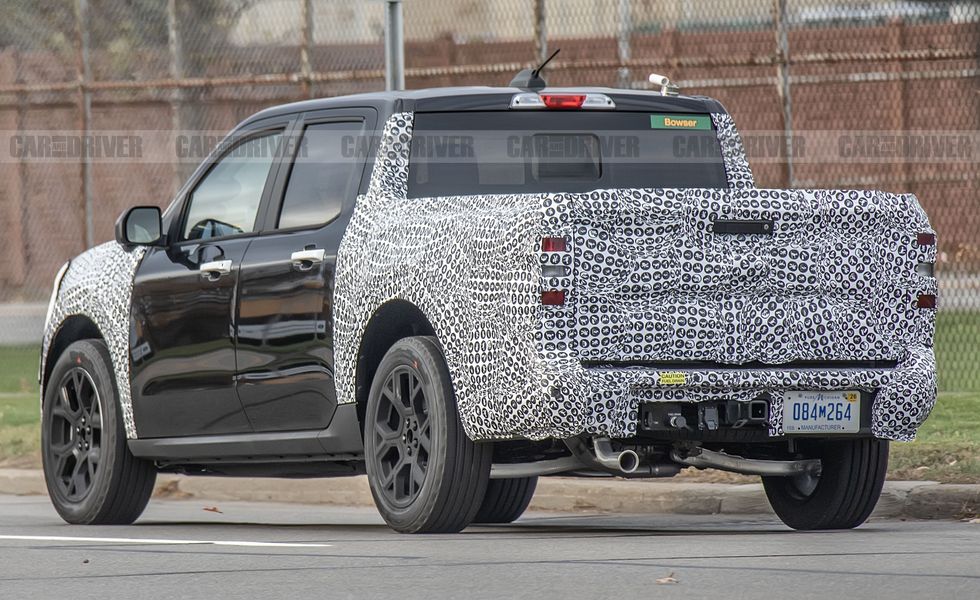 Adding to the intrigue, fresh spy photos of a Maverick prototype have surfaced, and it is adorned with partial camouflage. What truly piques curiosity about this test vehicle is its 19-inch wheels shod in Goodyear Wrangler Territory HT all-season tires, sized at 225/65R19. While these tires may not be the high-performance Pirelli P Zero Trofeo RS variety found on the Mustang Dark Horse, the larger rims are a departure from what is currently available on the production Maverick.
The camouflage envelops both the front and rear portions of the vehicle, with the front section possibly concealing a more aggressive design. Should the grille or lower air intakes exhibit increased dimensions, it might suggest the presence of a more potent engine under the hood.
Nonetheless, it's worth noting that the Maverick's current 250-horsepower turbocharged four-cylinder engine is no slouch. In our tests, an all-wheel-drive model accelerated to 60 mph in a brisk 5.9 seconds and completed the quarter-mile run in 14.5 seconds at a speed of 95 mph. To put that in context, the Maverick's sprint to 60 mph outpaces several Mustangs from various historical eras.
This isn't the first instance where Ford has considered bringing the Lobo nameplate to the U.S. market. A few months ago, we reported on the company's purported intentions to create a street-performance F-150. The implications for Ford's sporty "ST" designation remain uncertain, but one possibility is that it may be reserved for SUVs like the mid-size Explorer. Regardless, the prospect of a Ford sport truck making a comeback is undoubtedly exciting, regardless of the name it ultimately dons.