Lucid unveiled the highly anticipated Gravity all-electric SUV at the Los Angeles auto show, and it's nothing short of impressive. Its allure is not solely based on its size but rather on its captivating design. The Gravity boasts a smooth and sleek profile featuring a raked roofline that gracefully converges into a tail spoiler. Lucid claims an impressive drag coefficient of under 0.24 with the available air suspension at highway cruising height, a remarkable figure for this class.
Despite not being particularly tall and having an overall length shorter than an Audi Q7, the Gravity offers remarkable interior spaciousness. This is attributed to the compact electric motors and low-slung central battery pack, similar to the configuration in the Lucid Air sedan.
The Gravity's wheelbase surpasses that of the Air, and the battery stack has been repositioned under the front seats, resulting in a well-optimized platform that maximizes interior volume without sacrificing a high roof. With all three rows accommodating adults comfortably, wide-opening side doors and rear doors that open 90 degrees simplify access. The rear seats fold flat into a storage well, yielding a maximum cargo space exceeding 112 cubic feet for the seven-seater and 120 cubic feet for the five-seat version.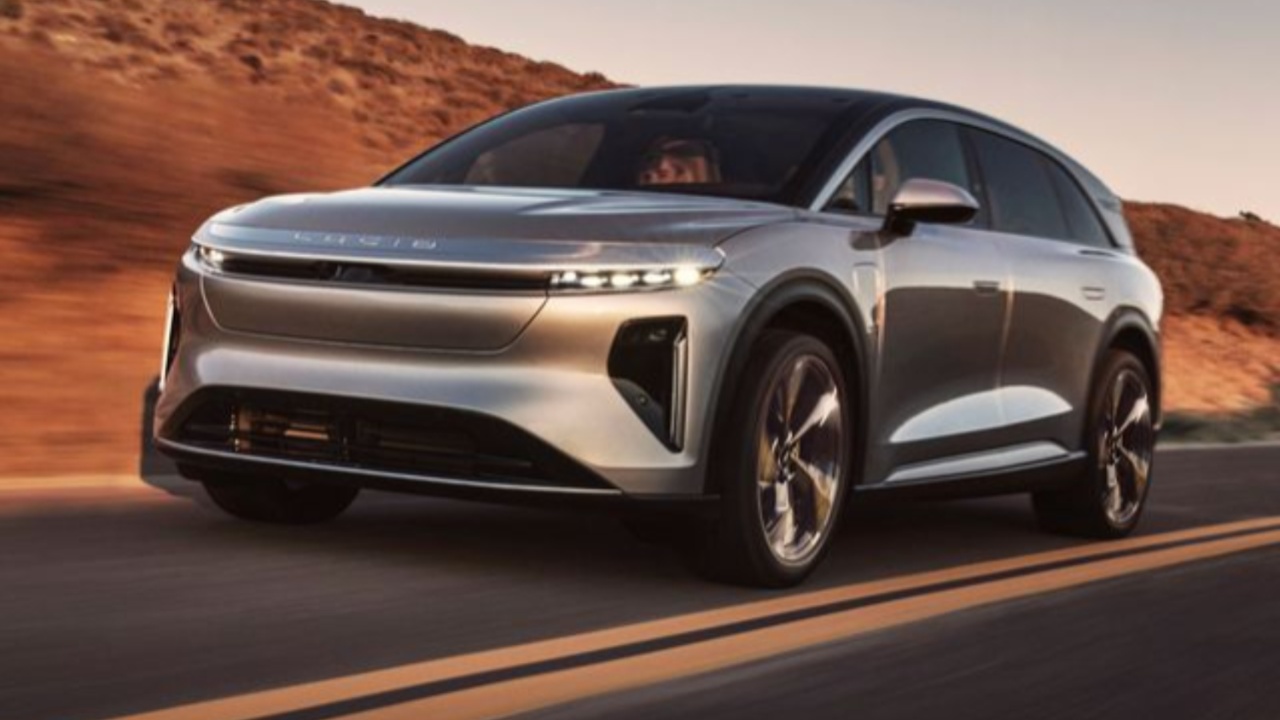 Beyond its spacious interior, the Gravity introduces practical features, including a front trunk with over eight cubic feet of space. The "hood" extends low enough for two adults to tailgate using an accessory seat cushion. Lucid even integrated cupholders into the frunk's lining.
All Lucid Gravity SUVs will initially feature a dual-motor all-wheel-drive platform akin to the sedan's Dream Edition, Grand Touring, and Touring models. While specific power outputs and battery sizes are undisclosed, Lucid promises an evolution of the brand's 900-volt architecture. The highest-performing variant is projected to offer a range exceeding 440 miles and accelerate from 0 to 60 mph in under 3.5 seconds. The ultrafast DC fast-charge rate can replenish 200 miles of range in just 15 minutes.
The Gravity's design includes off-road capabilities and a towing capacity of 6000 pounds, thanks to a shorter final-drive ratio. An optional Zero Gravity air suspension offers four height modes for off-road settings. The suspension setup features a five-link front suspension, while details about the rear suspension remain undisclosed. Active rear steering is optional, and braking is handled by six-piston front and four-piston rear fixed-caliper brakes.
Inside, the Clear View cockpit showcases a distinct design with a floating OLED display screen positioned above the steering wheel. The squared-off "squircle" wheel ensures unobstructed screen visibility. The secondary floating OLED screen has been enlarged and repositioned for better compatibility with media and phone-mirroring apps. Lucid's new UX 3.0 operating system integrates various functions seamlessly, including a head-up display with augmented reality cues.
Offered in nine colors, the Gravity provides interior themes with both leather and non-leather options. While specific trim levels are yet to be confirmed, the sub-$80,000 entry price suggests an all-wheel-drive configuration with a glass roof at launch.
In summary, the Lucid Gravity presents a compelling and aesthetically pleasing large SUV. With its efficient powertrain, fast charging capabilities, and impressive range, it promises to be an excellent road trip companion. Combining clever interior design with a modest exterior footprint, the Gravity is a standout in its class.