Officially slated for release in the first half of 2024, the 2025 Subaru Forester will be available in various trims, including base, Premium, Sport, Touring, and Limited. Unofficially, enthusiasts anticipate the addition of a rugged Wilderness variant to the lineup within a year of its debut—a development as certain as the ebb and flow of ocean tides.
Anticipation runs high for this more robust iteration of the Forester, prompting us to envision its potential appearance in Wilderness form. In this flight of fancy, we imagine the Forester Wilderness equipped with the WRX's potent 271-hp turbo 2.4-liter four-cylinder engine, injecting a wild edge into the vehicle.
However, reality may dictate a different path, as we anticipate the next Forester Wilderness to adhere to its predecessor's blocky design and utilize the familiar 180-hp 2.5-liter four-cylinder engine shared with other 2025 Forester models. The inclusion of a continuously variable automatic transmission is given, with expectations of a broader ratio spread, including a shorter final-drive ratio to enhance off-road capabilities and acceleration.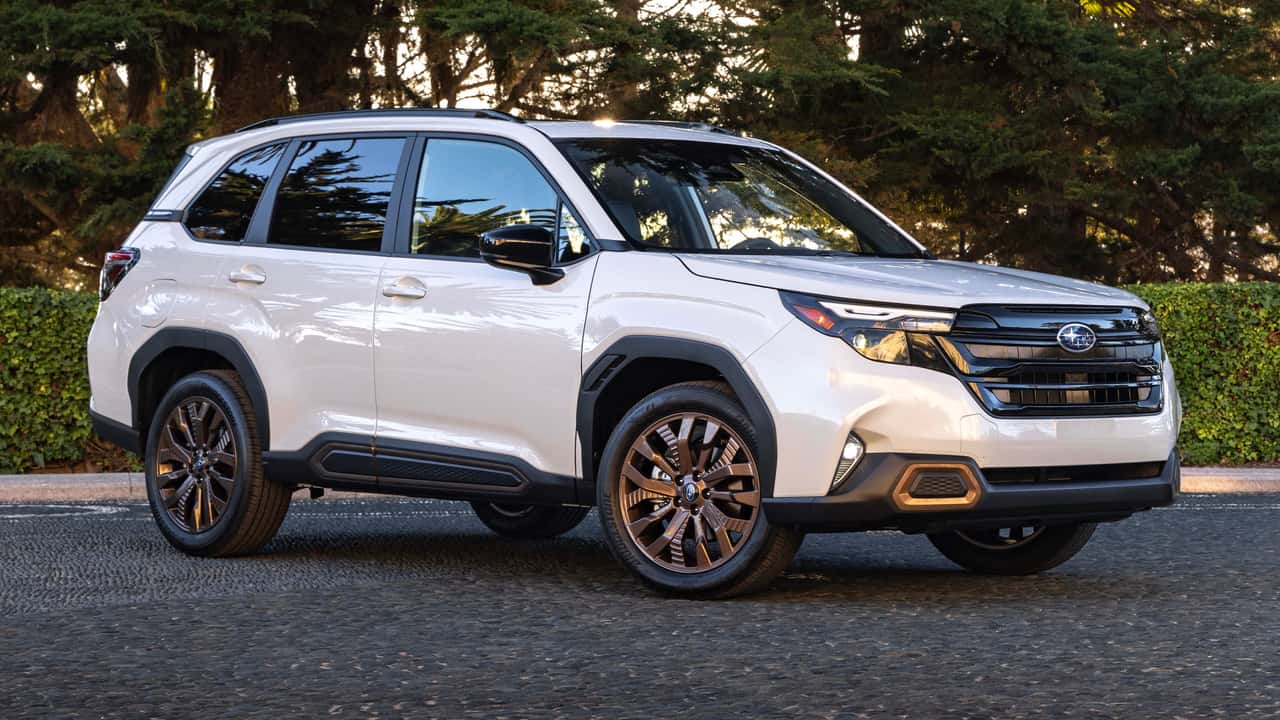 Despite the Wilderness-specific All-Terrain tires and shorter gearing, contributing to the model's likely status as the least fuel-efficient Forester variant, we project it to uphold or slightly improve upon the predecessor's EPA-estimated fuel economy figures of 25 mpg city, 28 mpg highway, and 26 mpg combined.
A distinguishing feature of the Wilderness trim will undoubtedly be its raised suspension, maintaining the 8.7 inches of ground clearance found in the non-Wilderness Forester and likely mirroring the current Wilderness's 9.2-inch figure.
While Subaru remains tight-lipped about towing capabilities for the next-gen Forester, it's speculated that the Wilderness will surpass standard models in this regard, following the example of the 2024 Wilderness, which boasts a towing capacity of up to 3000 pounds, double that of other Forester variants, thanks in part to the addition of an auxiliary oil cooler.
Surprisingly, Subaru may fortify the Forester Wilderness by enhancing its standard front skid plate with additional underbody cladding, offering superior protection for components like the rear differential and gas tank—an unexpected yet practical addition.
In keeping with Subaru's predictable aesthetic, the Wilderness's basic style is expected to remain largely unchanged. The redesigned body panels of the latest Forester generation will introduce some differences, but key elements such as redesigned front and rear fascias, chunkier wheel arch trim, distinct wheels, a matte-black hood decal, and orange trim are likely to persist.
While Subaru's Wilderness trim may follow a predictable formula, it remains an enticing choice for those seeking a dynamic upgrade to venture off-road or for individuals who appreciate a vehicle with a more traditional SUV appearance. Speculation even extends to the possibility of Subaru surprising enthusiasts with the introduction of a turbocharged Wilderness WRX (WildernessRX?) trim to the Forester lineup—a dream that enthusiasts can only hope may become a reality.