After revealing its revised look a few months ago, the 2024 Kia Sorento now has more clarity thanks to detailed information about the model that will soon be available in American dealerships. In addition to new front and back styling, this mid-size SUV has an improved interior with additional features and a new off-road variant called X-Pro.
The most noticeable changes are the restyled headlights and reshaped grille up front, along with the more modern taillights down back. The Sorento's updated visual appeal is further enhanced by two new colors, Dawning Red and Midnight Lake Blue, as well as new wheel styles.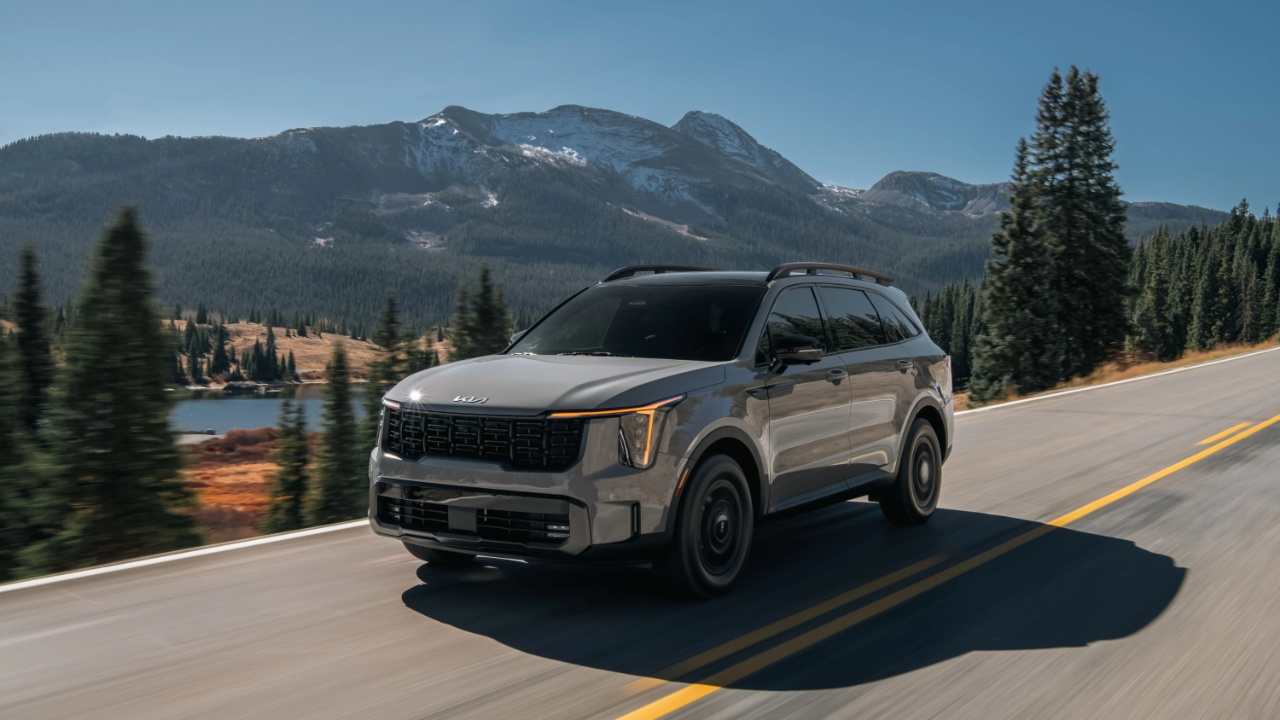 The infotainment screen within the car has been enlarged and now has new software with rearranged menus and improved connectivity options, such as over-the-air upgrades. Across all trim levels, the 12.3-inch touchscreen now comes equipped with wireless Apple CarPlay and Android Auto as standard features. Lower trims include a smaller 4.3-inch display in the gauge cluster, while higher trims have a 12.3-inch digital gauge cluster screen.
Although the current LX, S, EX, SX, and SX-P trim levels remain, a new package called X-Pro seeks to offer an upgrade that is more focused on off-road use than the X-Line option, which is primarily concerned with a rugged exterior. The X-Pro gets 17-inch wheels and BF Goodrich all-terrain tires, which go well with the skid plates and roof rack of the X-Line. Interestingly, the X-Pro is limited to the SX-P trim, which could indicate that it is a more expensive model.
The 2.5-liter inline-four engine of the LX and S trim levels of the Sorento continues to produce 191 horsepower and is mated to an eight-speed automated transmission. Other powertrain specs are unchanged. A 2.5-liter inline-four turbocharged engine with 281 horsepower and an eight-speed dual-clutch automatic transmission is standard on the EX, SX, and SX-P variants. It's important to remember that during a 40,000-mile long-term test, the Sorento SX had transmission problems. An all-wheel drive is an option for both engines, but the front-wheel drive is the default setup.
The 2024 Sorento plug-in and hybrid models are unaltered for those hoping for a hybrid version; facelifted hybrids are anticipated for the 2025 model year. The 1.6-liter inline-four turbocharged gasoline engine powering these hybrids will remain the same. With a bigger battery pack and a stronger electric motor, the plug-in hybrid model formerly had an EPA-rated electric range of 32 miles.
Although precise trim levels and specs have not been revealed, Kia plans to introduce a new Dust Blue interior upholstery option for the 2025 Sorento hybrid and plug-in hybrid vehicles. The 2024 nonhybrid versions' pricing information is still awaited, however, it is anticipated that it will rise somewhat from the $31,415 to $45,015 price range of the outgoing Sorento.