Lamborghini's penchant for crafting exclusive editions of its sports cars is well-known—think back to the Aventador Ultimae or the Invencible and Auténtica variants. Now, as the Huracán approaches its 10-year milestone, the automaker is commemorating the occasion with a unique creation, tasking its Squadra Corse and Ad Personam teams to fashion an "Opera Unica" (singular masterpiece) version of the beloved sports car. The result? The Huracán STO SC 10° Anniversario.
Diverging from the norm of merely applying a special paint job to an otherwise standard vehicle, the SC 10° goes further by enhancing the already impressive performance of the Huracán. This one-of-a-kind iteration marks a significant milestone as the first road-legal vehicle developed by Lamborghini's Squadra Corse department.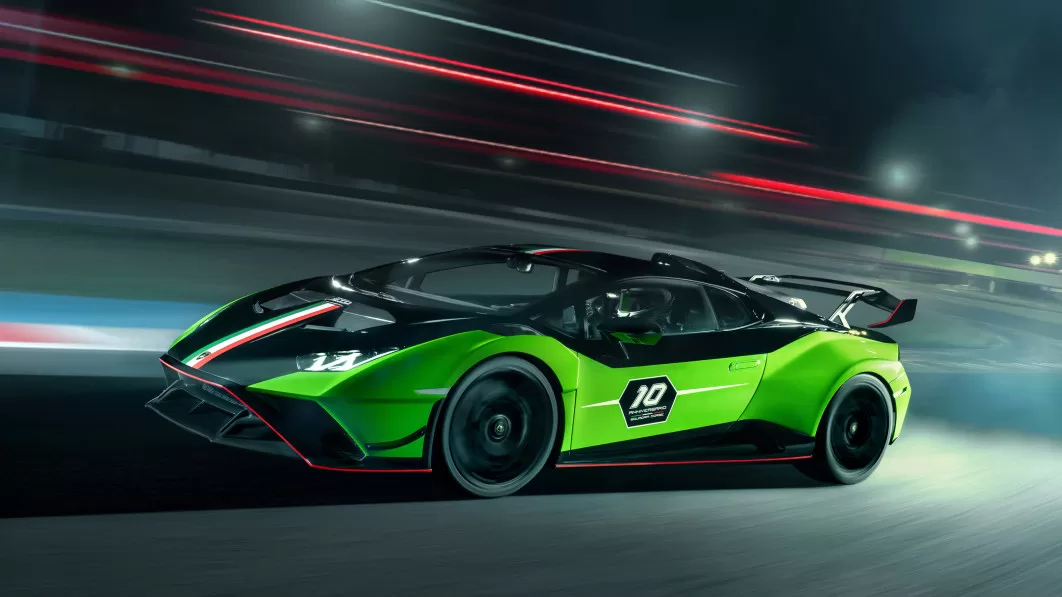 Notably, aerodynamics receive a boost through the incorporation of two front carbon-fiber flicks attached to the hood, working in tandem with a rear wing positioned three degrees higher than the production model. This collaborative effort contributes to enhanced downforce both at the front and rear of the car.
The mechanical grip sees improvement with the installation of four racing-derived dampers, a departure from the standard active components. These dampers, featuring four-way adjustability for rebound and compression at both high and low frequencies, aim to elevate the driving experience.
Lamborghini collaborates with Bridgestone to develop track-focused tires for improved durability, while the stock exhaust makes way for an Akrapovic titanium setup, promising a more resonant V-10 soundtrack.
Inspired by the upcoming hybrid prototype race car, the Lamborghini SC63, set to compete in the IMSA and WEC championships, the Huracán SC 10° boasts a striking black-and-green livery. The branding "Squadra Corse 10° Anniversario" prominently adorns both doors and the rear fin.
Inside, meticulous attention is paid to tracking functionality. Nero Ade (black) Alcantara-clad sport seats with Verde Fauns (green) stitching dominate the interior. Safety is paramount with the inclusion of four-point racing belts and an aluminum roll bar. The cabin is further distinguished by a carbon-fiber floor covering and an exclusive plaque, certifying its one-of-a-kind status, elegantly placed on the rear firewall.