The Outlander by Mitsubishi is a great value car. It comes with premium interiors, high-quality features, and a spacious cabin. The all-new Outlander is a great SUV on offer. The new generation of this SUV comes with a lot of upgrades. Mitsubishi has always delivered reliable and powerful cars over time. We have seen a lot of companies offering the same features at the same price level, but Mitsubishi's long-term presence and reliability have created a difference.
Mitsubishi was founded in 1870 by Yataro Iwasaki. The headquarters of this automotive giant is in Tokyo, Japan. They serve all over the world with their high-quality vehicles. In this article, we will discuss the new Mitsubishi Outlander. Read the full article to know the pricing of this new SUV.
Also Read: Hyundai Receives $1.8B Grant To Setup EV Plant In Georgia
2022 Mitsubishi Outlander: Specifications
The all-new Outlander comes with a 2.5-liter inline four-cylinder engine. This engine is responsible for producing 181 horsepower. It can also generate 181 pound-feet of torque. Thus, the engine is mated with a continuously variable automatic transmission (CVT). Outlander offers an all-wheel drive as an optional. Front-wheel drive comes as a standard in this SUV. We are expecting a hybrid version of the Outlander as well.
Earlier, Mitsubishi announced that they would launch the Hybrid version as well. 2022 Mitsubishi Outlander will have a mileage of 24 miles per gallon on the city roads and 30 miles per gallon on the highway.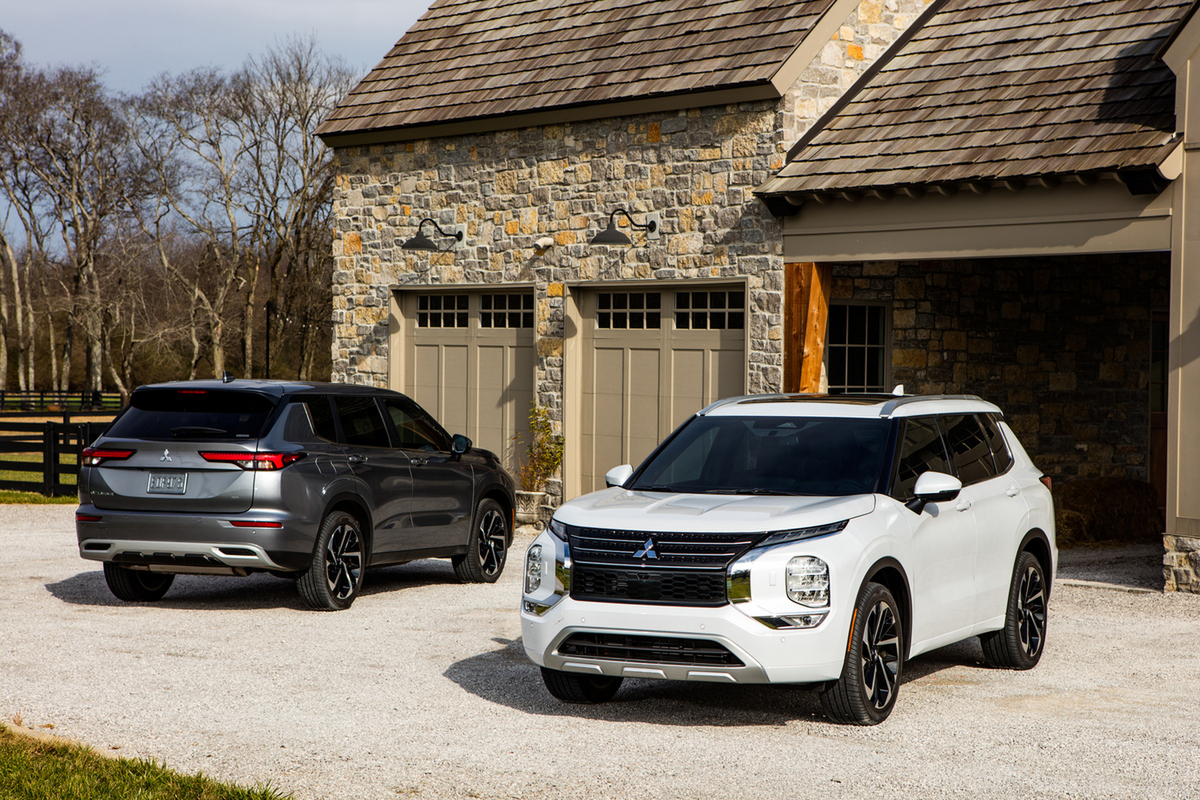 What Are The Features Of The New Outlander?
The new Outlander has better features and a more spacious cabin than the previous generation. It comes with a higher quality of interiors. The seats get nicely upholstered covers. The cabin of this new SUV is roomier and gets better leg space in the first two rows. The dashboard is mounted with an 8.0-inch touchscreen infotainment system as a standard and a 9.0-inch touchscreen infotainment system as an optional. All-new digital cluster gets a 12.3-inch digital cluster.
Also, the car can be connected wirelessly with Android Auto and Apple CarPlay. Also, this SUV gets a 10-speaker Bose sound system. Thus, additional safety features offered by Mitsubishi are lane-departure warning, automatic emergency braking system, lane-keeping assist, and blind-spot monitoring. Also, it gets adaptive cruise control.
The new Outlander also gets an increased cargo space. This new SUV gets one cubic foot larger cargo space.
The first and second row of the 2022 Outlander gets more space while the third row remains a bit compact. Overall, it is a great SUV with lots on offer.
Also Read: Everything You Need To Know About The Renault-Nissan-Mitsubishi Alliance
The 2022 Outlander: Variants & Pricing
The 2022 Outlander comes in three basic variants with other special editions. We will talk about the three basic variants only. The base trim is the ES; it comes at a price tag of $27,290. At this price tag, Outlander gets all the standard features and specifications. The next variant is the SE; this model comes for $30,340. With an increased price, it also offers better features like a 20-inch touchscreen infotainment system.
The last, high-end trim is the SEL. It is offered for $33,440. This is the best deal for the 2022 model with a few more upgrades.