Toyota is all set to offer better performance to the new generation of its full-size SUV, Sequoia. This will be the third generation of the Toyota Sequoia. It will get a few cosmetic changes and a whole new level of power. The new models will get a hybrid version and better fuel efficiency. This SUV shares the same platform as Tundra, Lexus LX600, and Land Cruiser. The new model of Sequoia will be available on a hybrid powertrain. It will get a lot of new features and better looks. The space provided in Sequoia is large enough to fit eight people and luggage too. 2023 Toyota Sequoia will come with a starting price tag of $59,795. This price can range up to $78,395 for the high-end trim.
With luxurious interiors and a roomy cabin, this SUV makes a great deal for all full-size SUV lovers. Read more about the new Sequoia in this article.
Also Read:- Toyota Crown: Everything You Need To Know About The Upcoming Car Series!
New Features
2023 Sequoia will get a large cabin. There will be three rows of seats. The interiors of Sequoia can occupy eight people. There is an optional seven-seater Sequoia available. The seven-seater model will have captain's chairs in the second row. The cabin will have a huge panoramic sunroof to experience nature from within the car. The seats of this SUV are upholstered to perfection to give a premium feel. Sequoia has heated and cooled seats in the second row. Moreover, it gets a foldable third row of seats that can give you a huge cargo area.
Let's hop on to the dashboard now. The premium touches of wood on the dash, door trims, and center console give an overall rich look to the car. The 2023 model will get a 14.0-inch touchscreen infotainment system. It will also have the upgraded infotainment system of Toyota. Additionally, Toyota has provided lots of safety features. For example lane keeping and lane-departure assist, adaptive cruise control, automated emergency braking, and many more.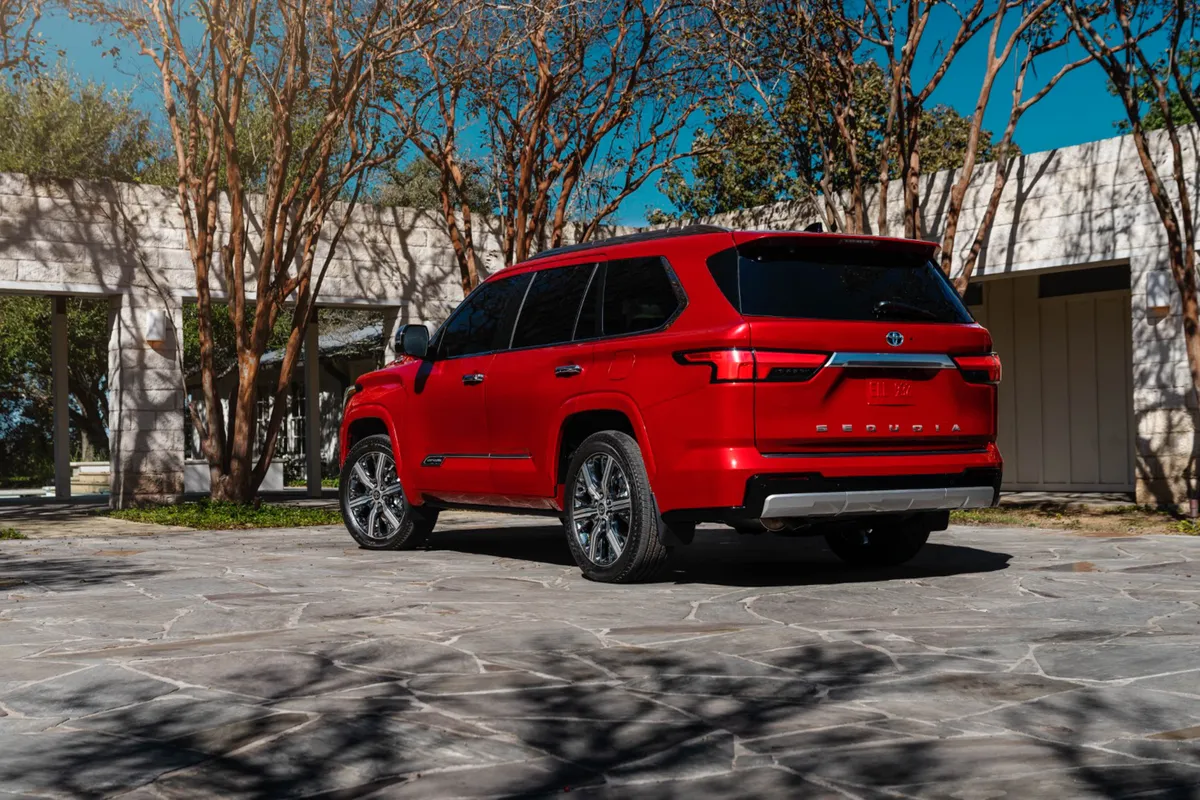 Performance
2023 Sequoia gets an upgrade with a hybrid powertrain. It will have a twin-turbo 3.4-liter V-6 engine. This engine is combined with an electric motor. The combination of the two produces 437 hp and 583 pound-feet of torque. The engine and the electric motor are mated with a 10-speed automatic transmission. Four-wheel drive is offered as an option and rear-wheel drive is standard.
The next major upgrade in Sequoia is fuel efficiency. The rear-wheel drive cars have a mileage of 21 miles per gallon on city roads and 24 mpg on the highway. If you go for the four-wheel drive option then Sequoia will provide a mileage of 19 mpg in the city and 22 mpg on the highway.
Also Read: Toyota GR86: 10th Anniversary Edition Revealed
An upgrade in fuel efficiency with an upgrade in the power train will increase the interest of the buyers of the 2023 Toyota Sequoia. This already hot-selling SUV will make better sales with the new upgrades.