The Mercedes-Benz EQS sedan stands as a significant milestone for the automaker. It spearheads the company's burgeoning EQ electric subbrand, pushing the boundaries of automotive technology, aerodynamics, and luxury.
However, even with the monumental impact of the EQS sedan, it can be seen as a car adrift in a sea of SUVs. Thus, the introduction of the new 2023 EQS SUV comes as no surprise. It's a development that is almost certain to have an even greater impact in the automotive marketplace.
The EQS SUV offers a range of base prices, starting from $105,550 to $127,100, mirroring those of the low-roof EQS sedan. This SUV serves as a luxurious people carrier, operating in near silence. Think of it as an electric version of the GLS class, slightly shorter overall (by 3.2 inches) but with a 3.0-inch-longer wheelbase.
Given its role as an SUV, it sports a more conventional, upright design compared to the lozenge-shaped exterior of its four-door counterpart. This design will be comfortably familiar to potential buyers. Moreover, it can accommodate up to seven passengers with an optional third row of seats.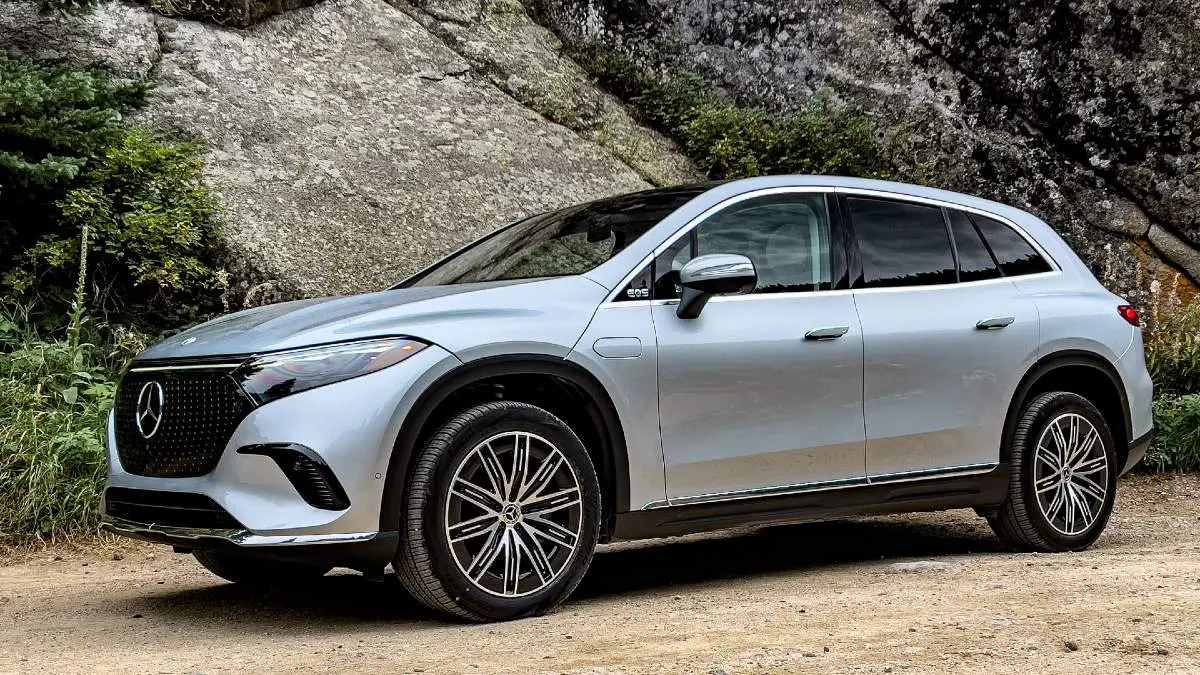 Despite its utility, the EQS SUV maintains a sleek profile with a drag coefficient of just 0.26. A solid black nosepiece adorned with three-pointed stars strikes a balance between traditional and futuristic aesthetics.
From certain angles, its cab-forward proportions and a roof that's 4.2 inches lower than that of a GLS give the EQS SUV the vibe of a minivan, albeit with a touch of elegance Mercedes' older R-class never quite achieved.
Highs: Luxurious cabin, impressive real-world range, EQS580 4Matic offers exhilarating performance.
As the first SUV built on the EVO 2 platform, a production that takes place at Mercedes's Tuscaloosa, Alabama plant, the EQS SUV shares its 126.4-inch wheelbase with the EQS four-door model.
Furthermore, it shares its power units and floor-mounted battery pack, with a slightly increased capacity of 108.4 kWh. The standard EQS450+ model features a single motor on its rear axle, delivering 355 horsepower and 419 pound-feet of torque. The all-wheel-drive 450 4Matic version adds a front-axle motor that increases the combined torque to 590 pound-feet without changing the total horsepower.
The dual-motor EQS580 4Matic, topping the lineup, boasts 536 horsepower and 633 pound-feet of torque. Three trim levels – Premium, Exclusive, and Pinnacle – offer varying degrees of technology and opulence, but all exude a sense of opulence.
As expected for a larger, heavier vehicle that encounters more aerodynamic resistance, the SUV estimates a shorter range compared to the EQS four-door: an EPA-rated 305 miles for the 450+ and 285 miles for the 4Matic models, in contrast to the EQS450 and 580 sedans' 340 miles.
These figures remain commendable, and like the EQS580 sedan we tested, both 4Matic SUVs exceeded their official estimates on our 75-mph highway test, achieving 290 miles.
Mercedes states that a 240-volt outlet can recharge the SUV from 10 to 100 percent in just over 11 hours, while a DC fast charger can fill the EQS up to 80 percent in 31 minutes, boasting the EQS's 200-kW maximum output.
Our initial driving experience in Denver, Colorado, encompassed both the 450+ and 580 4Matic models, with the latter standing out due to its ability to deliver thrilling acceleration in Sport mode (other driving modes include Eco, Comfort, Individual, and Off-Road).
Back in Michigan, a 580 4Matic test car showcased impressive performance figures with a 0-60 mph time of 4.0 seconds and a quarter-mile time of 12.5 seconds at 112 mph. In comparison, a 450 4Matic model recorded 5.2 seconds for the 0-60 mph sprint and 13.9 seconds for the quarter-mile.
While the 450 4Matic is by no means sluggish when merging onto the highway, the thrust isn't as pronounced, especially as speeds increase; it takes 3.2 seconds longer to accelerate from 50 to 70 mph compared to the 580 4Matic.
An AMG version with sportier attributes is not currently in the works, but the 2024 Mercedes-Maybach EQS680 SUV is set to impress with 649 horsepower and 700 pound-feet of torque.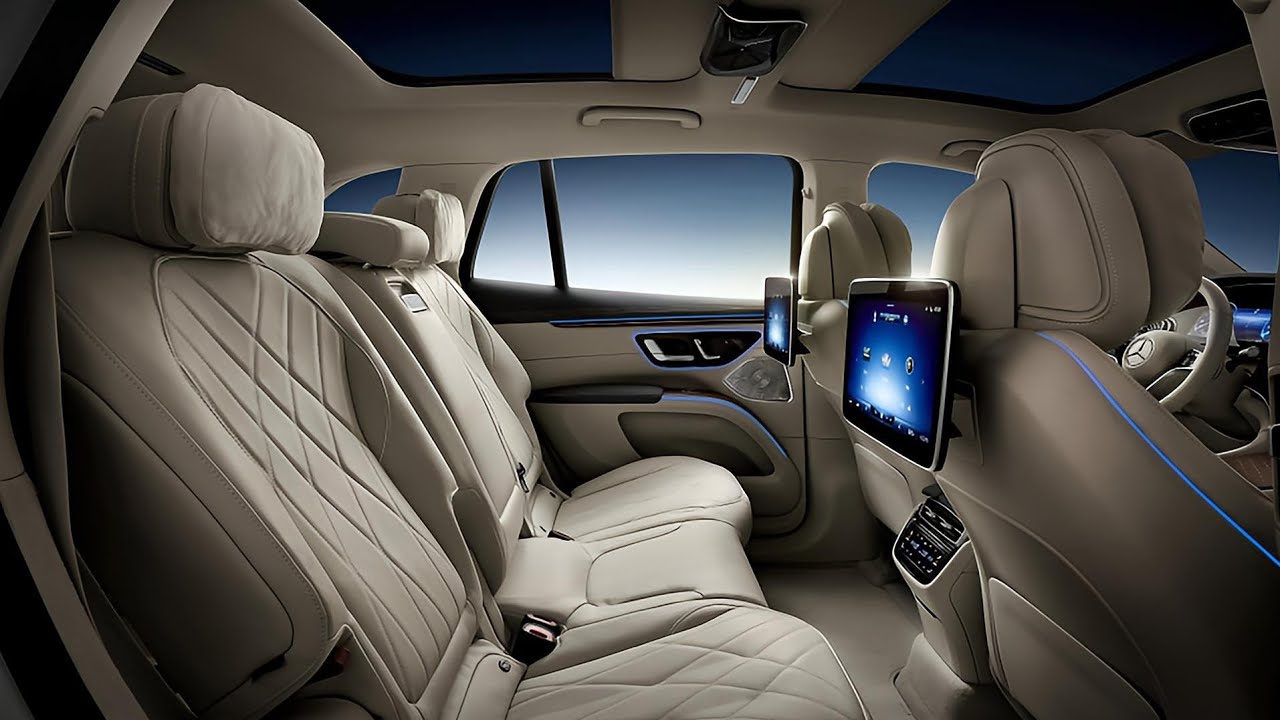 Lows: Potential for an overload of technology, inconsistent brake pedal feel, limited luggage space when all seats are in use.
This plush family transport excels when cruising calmly, thanks to standard air springs and adaptive dampers that provide a smooth, isolated ride. The cabin remains delightfully quiet at speeds below 100 mph, with noise levels measuring 64 decibels at 70 mph for the 450 4Matic and 65 decibels for the 580 4Matic.
The vehicle's structural integrity is impressive, even when teetering on two wheels during off-road excursions (assisted by the Off-Road mode, which raises the air springs by about an inch, providing 8.7 inches of ground clearance).
However, whether navigating winding mountain passes or negotiating tight trails that it's unlikely to encounter in the real world, the EQS SUV's handling benefits from standard rear-axle steering, allowing the rear wheels to pivot up to 10 degrees.
This makes the vehicle feel incredibly agile despite its size. Wheel options range from 20 to 21 inches, offering a decent 0.87 g of grip on the skidpad and a stopping distance of around 160 feet from 70 mph when equipped with optional 21-inch Goodyear Eagle F1 summer tires.
Like other EQ models, the EQS SUV features several sound profiles that play through speakers inside and outside the vehicle, with varying levels of entertainment value. All these profiles can be deactivated. Unfortunately, there's no off switch for the electronic brake pedal, shared with other electric Mercedes models.
It tends to feel soft and mushy in most situations but can stiffen and depress under strong regenerative braking. Mercedes suggests that this feature is geared toward efficiency and to prepare the brakes for sudden stops.
However, its inconsistent behavior can be unsettling for the driver, particularly when the automatic regen mode is otherwise effective. In such cases, opting for a moderate level of regen using the steering-wheel paddles offers greater consistency.
Verdict: A six-figure electric luxury SUV for modern families.
While the more affordable gas-powered GLS class offers greater cargo space and higher towing capacity (7700 pounds versus the EV's 3500), the EQS SUV surpasses its sedan counterpart in versatility. Its design, leaning toward suburban aesthetics rather than science fiction, may be an additional draw for some.
A tradeoff is the current limitations of on-the-go charging, which can complicate family road trips for which this utility vehicle was designed. Thus, it's advisable