Alfa Romeo is planning an EV to release in five years. They are planning to introduce an all-electric car in 2027. Although earlier, the company announced that by 2027, it would be an all-electric car producer. They have not yet disclosed any other car. Alfa Romeo hasn't even decided upon the segment of this upcoming electric car. Either we have to wait till the end of the year when Alfa Romeo will decide, or we will have to guess out of curiosity.
Along with releasing the unidentified electric car, Alfa Romeo can also introduce another electric car following the launch of the first EV. Between 2016 and 2018, this Italian automaker plans to make various other electric cars. But, officially, Alfa Romeo will not introduce any electric car before 2017. In this article, read more about this news in detail.
Also Read: Production For Volkswagen ID.4 Started
What Did The CEO Of Alpha Romeo Say?
Jean-Philippe Imparato, the CEO of Alpha Romeo, announced that Alpha Romeo will be coming up with an all-electric car by 2027. He further added that they would offer a larger vehicle which would be the best for American, Europe, and Chinese markets. Earlier, he informed us that they plan to build a competition car for the BMW 5 Series and the X5, X6, and X7. While the 5 Series is a sedan, X Series is an SUV lineup.
Based on this statement, it is difficult to identify whether the new EV will be an SUV or a sedan. He also said that the DNA of Alfa Romeo is similar to the sedans, so it probably will not be an SUV. In his statement, he added that he wants to reinvent sportiness. He will provide the next level of performance and range of its cars. He also gave hints about the SUV by saying that SUVs and crossovers are the biggest hits in the current market. Markets like China, America, and Asia have a huge demand for SUVs. With full-on mixed signals, Imparato said that Alfa Romeo would disclose the body type of the new EV by the end of 2022.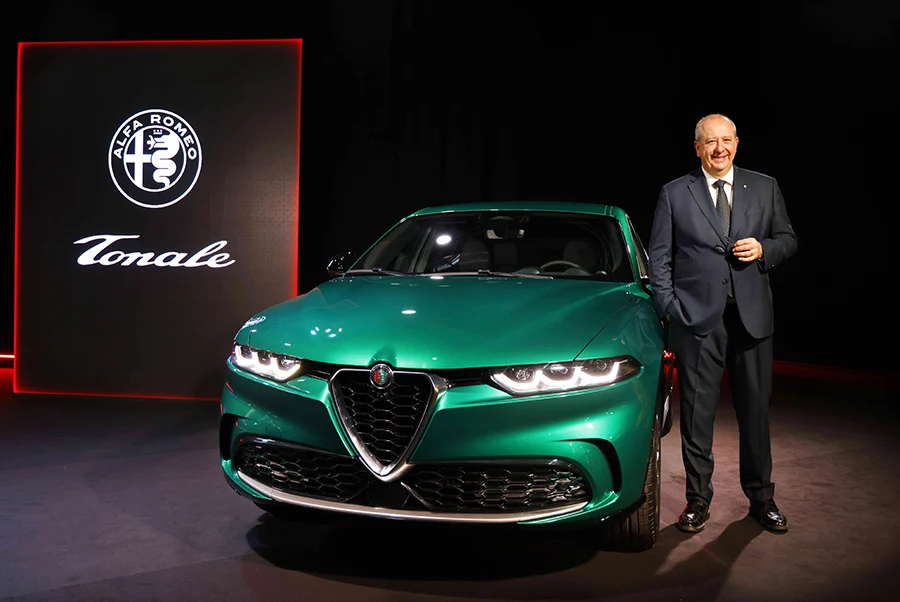 Details About Alfa Romeo
Alfa Romeo is an Italian luxury automaker. It was founded in 1910 by Ugo Stella and Nicola Romeo. This Italian automaker deals in only luxury cars, and they serve worldwide. Their production is limited to Italy only. Alfa Romeo doesn't produce cars outside Italy. They are not planning to produce cars in America any time soon. Currently, Alfa Romeo has three models in their lineups. Giulia, Tonale, and Stelvio are the three cars of the Italian car manufacturer.
Also Read: Corvette E-ray Prototype Catches Fire In Spain
Earlier, in an interview, he mentioned that he wanted to bring a high-end SUV with the premium features and luxury of Alfa Romeo. Although, we know that this Italian brand will not only focus on producing just one vehicle till 2027. It will also develop other cars, so it is no big deal if we get to see multiple body-style vehicles launching within the same timeline.