Audi is known for its luxury sedans and SUVs. The German automotive giant introduced Audi A4 in 2020 as a redesigned model. It received an S Line variant which is sportier and a better ride. This latest generation of A4 is an exceptional sports sedan. It offers luxury looking good, smooth drive, a powerful engine, and elegant looks. If we talk about the design, the 2022 Audi A4 S Line is just another minimalistic, designed, good-looking car. It comes with an aggressive and sturdy stance. A4 S Line has pretty good handling and road presence.
Audi A4 is one of the best-selling sedans of Audi. With the introduction of the S Line, the German automaker has provided an extra option of a more powerful A4. Although, with extra power and outstanding performance, this Audi doesn't offer much luxury. If we compare it to other Audis, then we think, in terms of premium features, the A4 S Line lack behind. However, this sports sedan offers some really good specifications. Let's discuss them in detail.
Also Read: 2023 Mitsubishi Eclipse Cross: The Compact SUV Reviewed
Power And Performance Of The A4 S Line
Audi introduced the new S Line with a powerful engine of 2.0-liter turbocharged. This engine produces 261 horsepower and 273 lb-ft of torque. The 2.0 turbo engine comes with a seven-speed dual-clutch automatic transmission. A4 S Line is a Quattro all-wheel drive. It takes 5.2 seconds to accelerate from zero to sixty mph. That is a quick acceleration. Audi has offered large ventilated disc brakes with rotors in the S Line. It also comes with summer tires that ride on 19-inch wheels. The S Line version gets a 0.9-inch lower sport suspension and wider wheels.
Interiors And Features Of The New S Line
Audi has given all the high-tech features and a cabin full of controls. However, it doesn't feel like a luxurious car. A4 S line gets a minimalistic room with spacious interiors. Although, the rear seat doesn't provide much of the under the thigh support. This A4 variant gets the physical buttons to operate the infotainment system. It is a classic move, but it feels like a downgrade where the other rival cars are getting in display touch buttons. Although, the dashboard gets a 10,1-inch touchscreen infotainment system.
This system can be connected wirelessly with Apple CarPlay. If we get a bit judgemental, the infotainment system doesn't perform as well as the rival cars like Alfa Romeo's Giulia Ti and Cadillac CT4-V. The Audi A4 S Line seats are wrapped in high-quality leather with the premium feel of luxury. The minimalistic design and some classic features are not up to the mark of an Audi. The only problem in the S Line is the less premium cabin.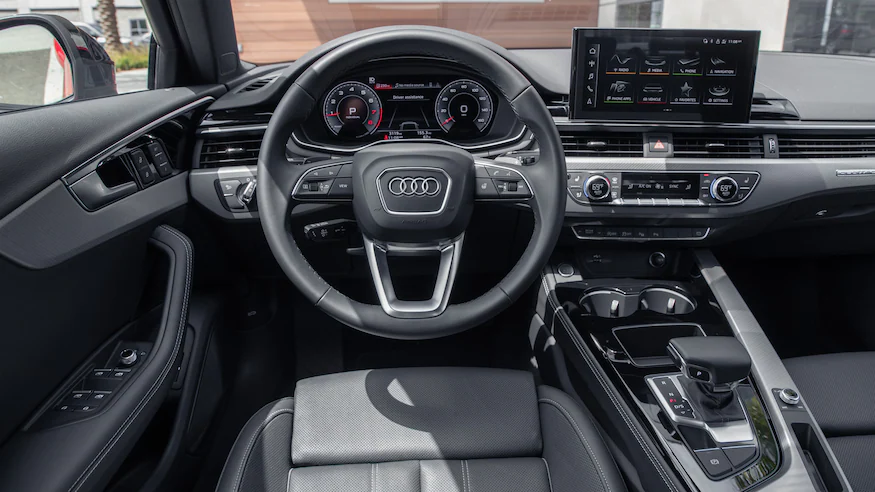 Also Read: Toyota Launches Land Cruiser Prado Matte Black Edition In Japan
This was a detailed review of the latest Audi A4 S Line. Well, it provides better performance, but we think Audi can give it a little more power. Also, the fewer premium interiors don't feel right. It is an Audi, and you can trust the brand.