Acura is all set to bring a hatchback to the lineup of Integra. Recently, the luxury division of Honda announced that they would launch a hatchback under the badging of Integra. It is a successful model of Acura. And this Japanese automaker is planning to increase its market segment by introducing the Integra hatchback.
Acura is a subsidiary brand of Honda. It is a premium division of Honda with luxurious features and high performance. Acura was founded in 1986 by Soichiro Honda. It is the first luxury division of Honda available in North America. Subsequently, the rivals of Honda, Toyota, and Nissan launched their luxury brand. Lexus was Toyota's premium division, while Infiniti was Nissan's luxury segment. Currently, Acura is producing six models in SUV, sedan, and sports car segments. In this article, you will learn more about the Integra hatchback.
Also, Read Acura Integra 2023: Pricing, Details, and Features!
Interiors And Features Of Acura Integra Hatchback
Integra is an all-new subcompact hatchback by Acura with a five-door and five-seat interior. It shares the same base as Honda Civic 11th generation as these two cars share the same platform. The dashboard will get a standard 7.0-inch touchscreen infotainment system. This infotainment system can connect with Apple CarPlay and Android Auto. This infotainment system is upgradeable to a 9.0-inch touchscreen display with a Technology pack. This technology pack also includes wireless Apple CarPlay and Android Auto. Additionally, it will have Amazon Alexa and Qi-compatible wireless charging.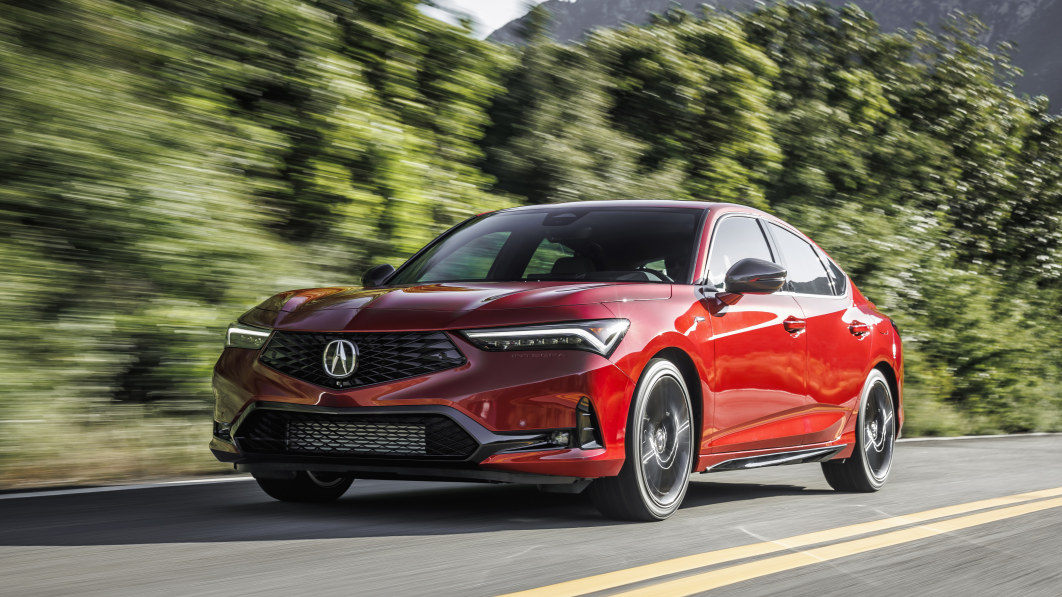 The new Acura will have a 5.3-inch head-up display. 2023 Acura hatchback will get an ELS 16-speaker premium audio system. This hatchback gets a premium cabin with leatherette seats. The driver seat comes with an eight-way power as a standard. At the same time, it will get a twelve-way power with the Technology pack. Also, the Integra 2023 gets seats with a heating feature and a spacious cabin. Cousin of Integra, the Honda Civic, got an IIHS 2022 Top Safety Pick+ award. Having the same platform, we believe Integra Acura will also be one of the safest cars of Integra. Moreover, Acura gets a wide-angle new camera system, automatic emergency braking, lane-keeping assist, adaptive cruise control, and blind-spot monitoring. Additionally, Integra has provided more standard safety features like pedestrian detection, traffic monitoring, and parking sensors.
Acura's Power And Performance
Integra rides are similar to the Honda Civic. Therefore, it gets a Honda 1.5-liter turbocharged inline-four engine. This engine is mated with a six-speed manual transmission. 2023 Integra will be the first Integra that uses a turbocharged engine. This turbo engine is responsible for producing 200 horsepower and 192 lb-ft of torque. It is a four-wheel drive with a continuously variable transmission. The Technology pack brings an option of a six-speed manual transmission. Although, it is a powerful car, just like the 11th generation Civic.
Also Read: Honda civic type R: The most powerful Honda
End Of Acura NSX
The Acura NSX second generation is moving towards its end. The first generation of Acura NSX was launched in 1990 and was discontinued in 2005. However, after 11 years, Acura started production for second-generation NSX. From 2016 to 2022, Acura produced the second-gen NSX. This model of NSX was available in the market for comparatively less time than the first gen. With the end of NSX, Acura has opened the door for the arrival of the new Integra.