In a period of "last calls," fading V-8s, and Ford's multibillion-dollar investment in electric vehicles, the Blue Oval has summoned the 2024 Mustang Dark Horse to and center to demonstrate just how good an excellent old-fashioned gas-fed pony car can be.
The Mustang has so far avoided an extinction-level event despite adding a Mustang-branded electric SUV to the lineup, and it's getting busy living even as everyone speculates it would someday die like its Camaro and Challenger competitors. So, whether you think the pony car market is uncontested, the new Mustang Dark Horse model has arrived as if it has something to prove.
Exterior
Blue Ember metallic is only available on the Mustang Dark Horse and is packed with "special effect pigments" that enable spectacular color variations based on light and perspective. Ford claims it used complementary hues to create the illusion, which seems to move from dark blue to light purple based on many conditions.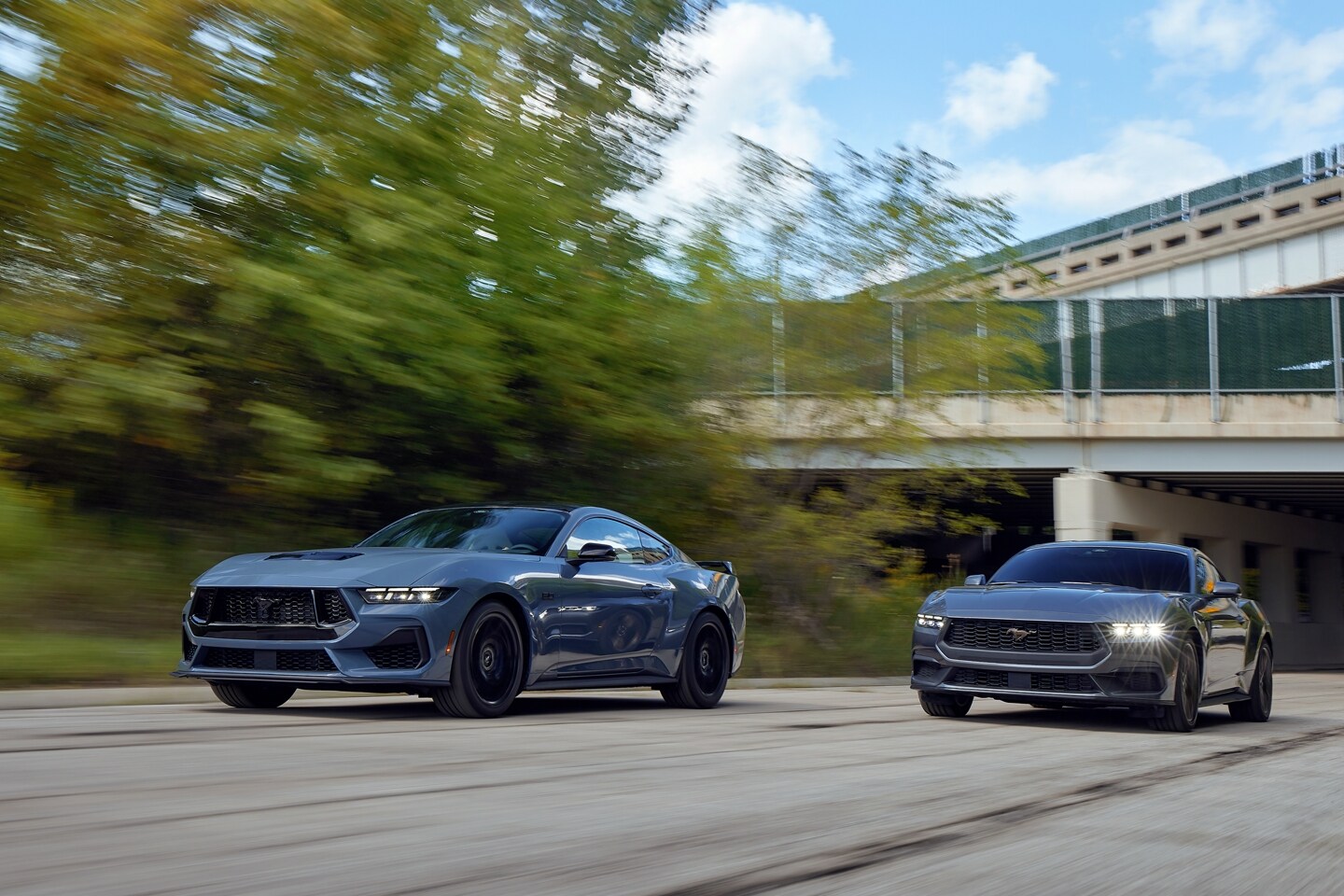 The 2024 Ford Mustang Dark Horse has the following features:
Performance Rear Spoiler – Painted Tarnish Dark
Active Valve Performance Exhaust with Black tips
Shark Fin Antenna
Configurable Daytime Running Lamps
LED Projector Headlamps with LED Signature Lighting
LED Projector Headlamps with Black Bezels and LED Signature Lighting
Mirrors, Sideview – Tarnished Dark Anodized Caps, Heated, Turn Signal Indicators, Manual Fold and Pony Puddle Lamp
Unique Lower and Outboard Grilles
Unique Painted Front Upper Grille with Pony Badge
Silver Painted Strut-Tower Brace with Dark Horse Badge
Unique Front and Rear Lower Fascia
Wedge Decklid Spoiler with Dark Horse Badge – Painted Body Color
Easy Fuel® capless fuel filler
Hood Vent
LED Sequential Taillights
Pony Projection Lights
Dark Horse Instrument Panel Badge with Unique Chassis Number
Interior
The variations between the Dark Horse and the GT are minimal. A numbered plaque ahead of the passenger, a distinct screen start sequence, darker trim surfaces, and stitching variations are all present. The Dark Horse Appearance Package ($1500) adds eye-catching Deep Indigo blue leather to the vehicle. Your seating options are calm or aggressive: The base models are more customizable, with lumbar support and optional ventilation. They don't, however, hold you laterally, which is where the Recaros come in. They're lovely for track practice and were comfortable on the road for a couple of hours, but they could need some more adjustment and lumbar support.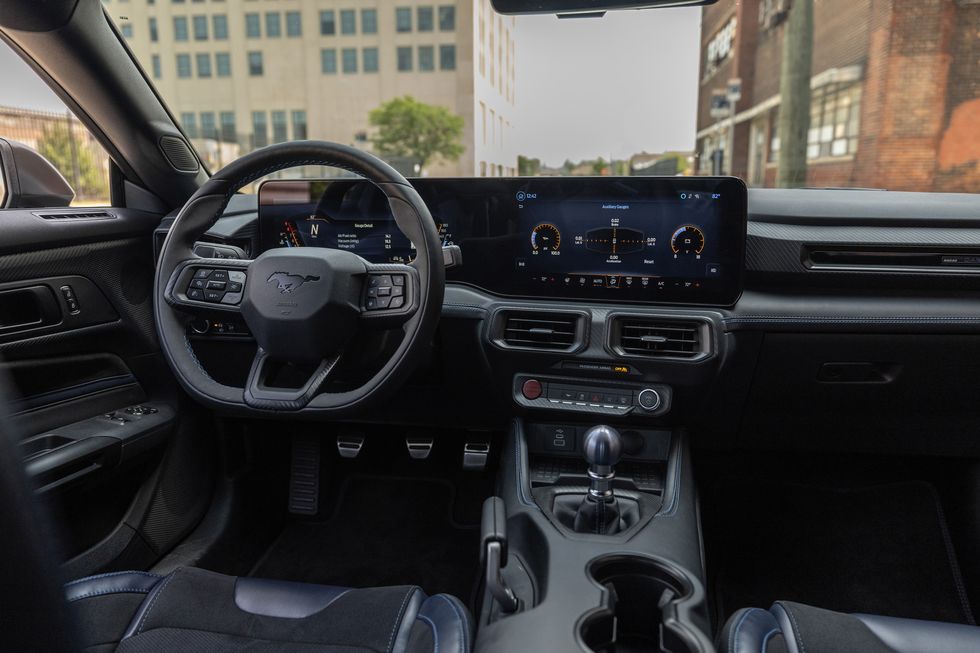 The screen-dominated dashboard is the most visible modification to the Mustang's interior. For many, the massive flat surface will be unsettling, yet its configurability gives superb vehicle information at a glance. In Track mode, the digital tach's redline is centered for easy sight, and the second screen can display a full suite of gauges—it's apparent the performance crew got to crash the tech party, which we consider a success.
Performance
Normal, Sport, and Track, the standard active exhaust's four settings, begin at Very Loud and escalate to Even Louder. We shamefully admit to putting it in Quiet mode while driving to reduce droning.
A six-speed manual transmission comes standard, and it's the one you should get—consider it your duty as a red-blooded American when it's available in a rear-drive car with a V-8. As with the previous generation Stang, there is a transmission gap between the GT and the track-focused trim levels. While the GT keeps its Getrag MT-82, the Dark Horse employs the Tremec TR-3160 from the Mach 1 and the long-gone Shelby GT350. Nonetheless, both gearboxes have automated rev-matching (which you can turn off) and no-lift shifting, which allows you to keep the gas pedal pressed during a quick upshift.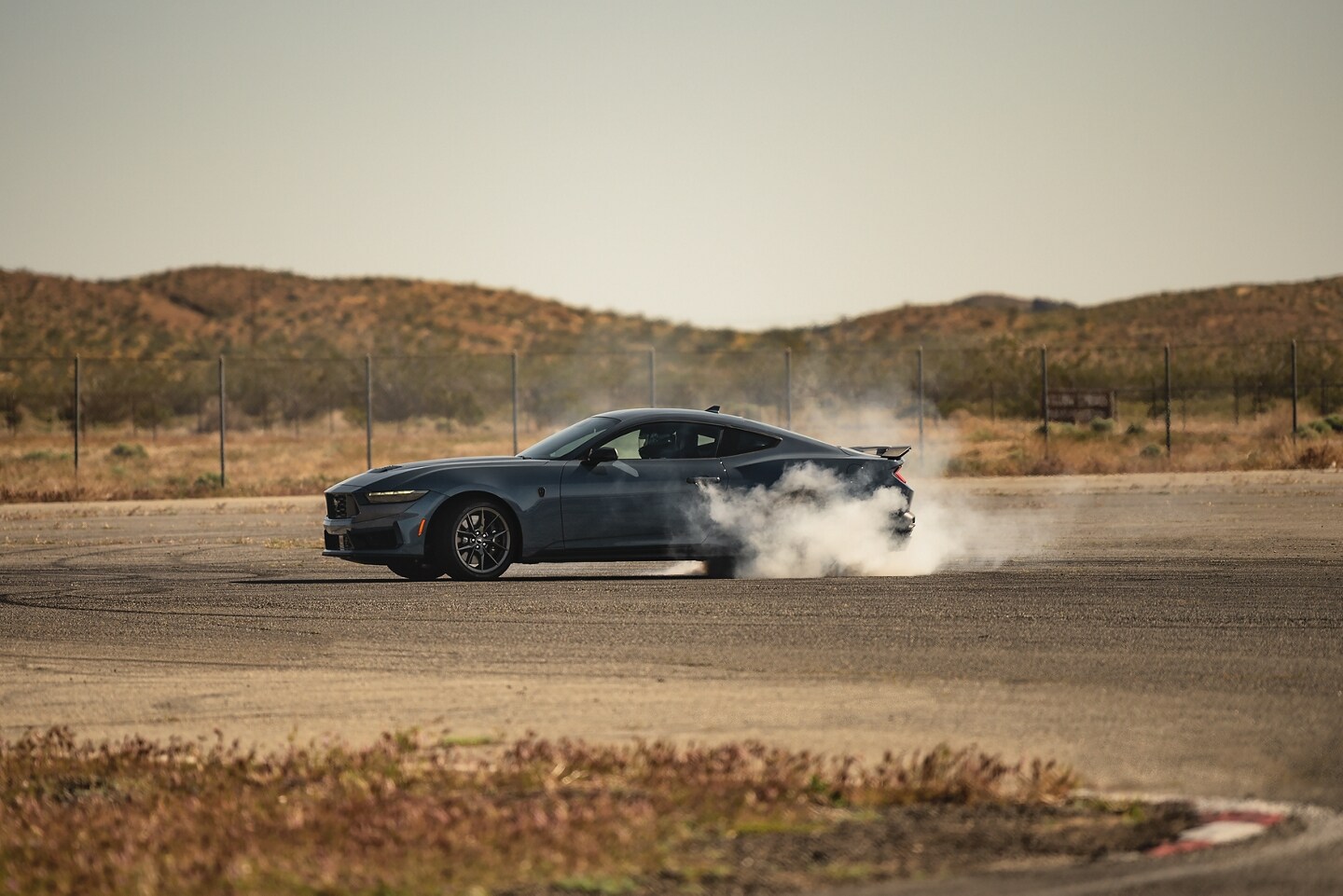 If you'd rather forego some driving pleasure, the 10-speed automatic ($1595) will undoubtedly offer faster acceleration and lap times. During our test drive, the shift logic in Track mode was intelligent enough to maintain the car in the correct gear for the majority of the corners, and it produced satisfyingly swift gear changes at 7500 rpm (the manual has an unpleasant soft limiter 250 rpm sooner than the indicated redline).
Braking distances aren't as exciting as horsepower and acceleration, but if you're going to be fast, you have to be able to stop quickly as well. That is taken care of by the Dark Horse. It outperforms every production automobile we've ever tested. Its 86-foot, 60-0-mph stop beats the 2018 Porsche 911 GT2 RS and the 2016 Dodge Viper ACR by 1 foot.
The Dark Horse begins at $65,860, while our test vehicle with the Handling pack costs $75,500. That's not a little sum of money—it's roughly what the last Shelby GT500 started at—but it's arguably still a steal considering the performance you receive. The Mustang improves year after year, and Ford is devoted to improving it, whether it has competition or not.