This new eight-cylinder Honda engine is the company's first outside of racing.
Honda, the automaker that has never produced a V-8 engine for use in any of its road cars, has today introduced a 5.0-liter V-8. Technically, there existed a Honda Crossroad with a 3.9-liter Rover V-8 in the 1990s.
But, because this was essentially a rebadged Series I Land Rover Discovery, it wasn't actually Honda's V-8. Then there's Honda's 2.65-liter turbocharged V-8 IndyCar racing engine, which obviously isn't a production V-8. Do you recall seeing that in an Accord? Exactly.
Finally, Honda produced a V-8 engine. Unfortunately, it will not appear in a Ridgeline, Pilot, or very raucous Civic. No, the BF350 is an outboard engine, so you'll need a boat—and not a little one if you want to rock Honda V-8 power.
The BF350 is designed for boats 25 feet or longer and produces 350 horsepower at 5500 rpm. We'd think that's the most power it'll ever produce, given that the rating is on bunker-fuel 86 octane and the entire throttle range is 6000 rpm.
To accommodate for production discrepancies, outboard manufacturers are permitted a 10% fudge factor on stated horsepower, resulting in some comically undervalued motors like the Mercury 200 Pro XS—a 4.6-liter V-8 rated at 200 horsepower.
Honda's new V-8 will appeal to Fox-body Mustang lovers with its 302 cubic-inch displacement and boisterous Civic fans with its VTEC variable valve timing and lift (the 32 valves are controlled by a single cam).
The engine also has the BLAST technology, which stands for Boosted Low-Speed Torque, and increases ignition timing when the throttle is abruptly opened.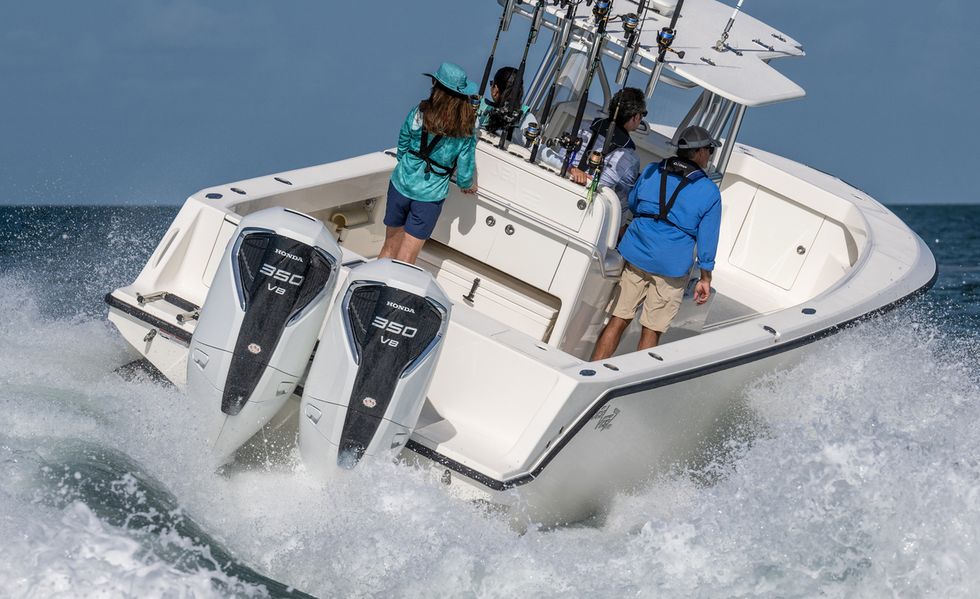 The throttle-by-wire technology offers cruise control, which maintains speed independent of load or sea conditions, and the BF350 is compatible with joystick controls, allowing multi-engine boats to effectively sidle up to a dock sideways.
Honda claims that the BF350's 30-degree offset crankshaft is produced to the same specs as the Acura NSX crankshaft.
The BF350 is a tad big, weighing 765 pounds in its lightest configuration. Mercury's 350 Verado weighs 695 pounds and is powered by a 5.7-liter V-10. In terms of pricing, well… Honda claims it won't reveal pricing until next year, but an unintended leak suggested that $46,000 would be a reasonable starting point.
Outboard pricing is notoriously enigmatic, but that would be around the same as a pair of four-cylinder Yamaha 200s.
As a result, like with most engines of this capacity, the BF350 is more likely to wind up on large, multi-engine boats rather than single-engine boats intended for 350 to 400 horsepower.
If you can't be the man or gal with them hanging from the back of your boat, you'll want to befriend them at the very least. Aquamarine Silver or Grand Prix White engines with chrome badging and black trim are available.
Honda claims the BF350 as being particularly quiet and vibration-free. We find no downside to these beauties when combined with their "amazing power, excellent speed, and exciting acceleration." Apart from not having a boat. Or cash. As a result, option two—know a wealthy person—was chosen.
If you want to drive a V-8 Honda on land, there is precedence for Honda presenting street-bound technology on water.
Honda was all-in on naturally aspirated engines for its automobiles in 2002, but their Aqua Trax F12X personal watercraft was powered by a dry-sump, turbocharged 1.2-liter four-cylinder with 163 horsepower.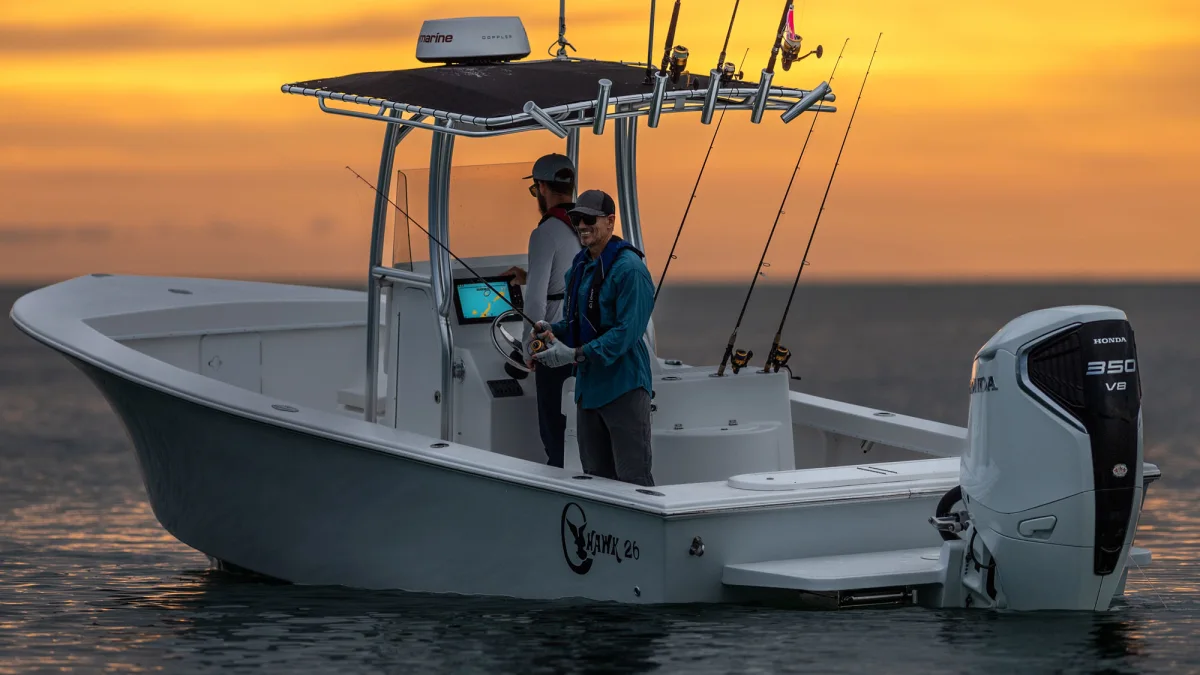 Did the Aqua Trax pave the way for today's Civic Type R? That definitely didn't harm, in our opinion.
Even if Honda never produces a street-legal V-8, a BF350 will eventually be dunked, resulting in an insurance write-off. Then consider the Copart options. There aren't any Honda V-8s on the road just now, but if you see an Insight sporting 5.0 badges somewhere in the far future, it's not a joke.
Ridgeline as a factory option is unusual, especially given that V-8s are a dying species, and introducing one now, when EVs are growing, would be strange. The BF350 is designed for yachts 25 feet and longer; the price is not yet disclosed,
The unveiling of the BF350, Honda's first commercially accessible V-8 engine, comes ahead of the International Boat Builders Expo & Conference (IBEX) in Tampa, Florida, in early October.