And in the race for electric vehicles, Chevrolet has rolled out its new electric SUV, the Blazer. 2024 Chevrolet Blazer will come with various trim options. There will be a different version of Blazer EV for the Police department. Chevrolet has worked on the design to give this EV a futuristic and dynamic look.
Blazer is a name used for a long time in Chevrolet's SUV lineup. First Blazer was introduced in 1969 as Chevrolet K5 Blazer. The Chevrolet K5 Blazer was produced in 1994. Subsequently, another SUV was named Chevrolet S-10 Blazer, produced from 1983 to 2012. Then a particular model of Blazer was launched in 2019, and it is coming up with a new generation of electrified SUVs. Also, the 2019 SUV is a crossover compact SUV. It comes with various engine options and 9-speed automatic transmission.
Also Read- Chevrolet Corvette 2023 Is A Sheer Beauty!
What Features Will Be Offered In The 2024 Chevrolet Blazer?
This EV by Chevrolet will be a two-row mid-size SUV. It will offer a sporty and sleek interior cabin. The interiors will be wrapped in black and red color. The cabin will be roomy enough for five people to sit in comfortably. It will get a huge 17-inch touchscreen infotainment system. Blazer will also have a digital cluster for the driver. It will be equipped with a cruise control hands-free driving system.
Additionally, for safety and driver's assistance, it will come with lane-keeping assist, parking assist, automated emergency braking, pedestrian detection, and many more features.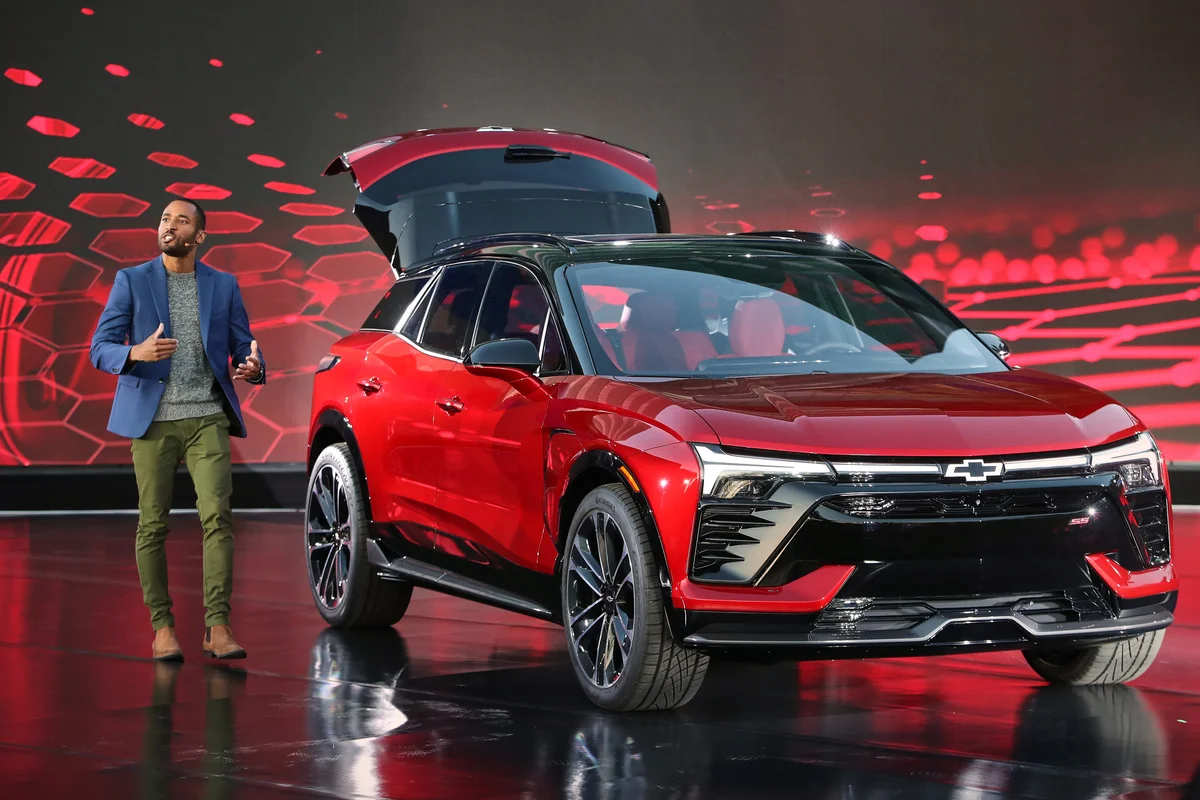 The Futuristic Exterior Design
When you are producing an electric car, the design of it is one of the most important aspects of the car. Blazer got a few changes on the outer side. It got all wrapped in horizontal Daytime running lights (DRL). At the center, you will see a striking logo of Chevrolet. The rear got a sporty bumper with tri-shaped taillamps. The color of this EV will be in a dual-tone scheme. The hood of the new SUV seems to be more muscular, and the roof gets the roof rails. All-in-all, Blazer will be more sporty and dynamic with its looks in the electric version.
How Much Power Does Blazer Have?
So, the major change in the Blazer is transferring the engine to an electric motor. However, no official details are yet, but Chevrolet announced that Blazer would come with front-wheel or rear-wheel-drive options. It will have multiple battery packs. Also, the company claims that it can cover a range of 515kms. There will be four trims for this car. However, few details about the top trim are out. Thus, the high-end model will be able to produce 557 horsepower, and it will accelerate from 0 to 60 mph in 4 seconds.
What Are The Variants Option And Their Prices?
There will be four variants and one special trim for the Police department. The four variants of Blazer are 1LT, 2LT, RS, and SS. The base trim, 1LT, will come for $44,995. The next variant, 2LT, is priced at $47,595. Also, the RS and SS trims will be offered for $51,995 and $65,995, respectively.
Also, Read- Ford Mustang 2024: Everything You Need To Know About The All-New Beast
The official release date is not yet announced, but the expected arrival of this EV by Chevrolet is in the mid of 2023.