Ford never stops innovating for their pickup trucks, and yet we got this new pickup truck, the Ford F-150 Raptor R. Ford's F-150 is the best-selling pickup truck in the United States. Therefore, the American automaker keeps adding new variants or updates to this lineup.
Ford F-150 Raptor is one of the best models of this pickup truck. It is the most powerful version of the F-150 lineup. The First F-150 raptor was introduced in 2009, and the third generation is currently in the market. Thus, Ford is coming up with a new or maybe an upgraded version of the current generation. The 2023 Raptor R is coming with a few upgrades and cosmetic changes. Read the article to know more about this new pickup.
Also Read: Ford F-150 Lightning 2022: Pricing, Details, Features!
2023 Ford F-150 Raptor R: Specifications You Need To Know About!
Raptor will share the same engine as the iconic muscle car, Mustang Shelby GT 500. The raptor is mounted with a supercharged 5.2-liter V8 engine. This engine produces 700hp and total torque of 650 pound-feet. The V8 will offer better off-road performance and stability. This engine will be mated with an optional 10-speed automatic transmission. 2023 F-150 Raptor will get multiple terrain modes like Sand, snow, and dirt. It will be the perfect vehicle for the rough conditions. This hefty pickup truck is a tough competitor of the Ram 1500 TRX. The Ram's pickup truck offers 702 hp, just a little more than the 2023 Raptor R. Not much detailed information is provided by Ford yet, but these could be the possible specifications, and we can expect a bit upgrade.
Features Of The New Raptor R
2023 raptor R will have a spacious cabin. It will get comfortable seats with more room to offer great space. The new Ford truck will get Ford Performance-exclusive code orange accents. It will feature orange color touches on the seats and dash. The interiors will be centered with a 12-inch touchscreen infotainment system. This new truck will be available in six exciting colors.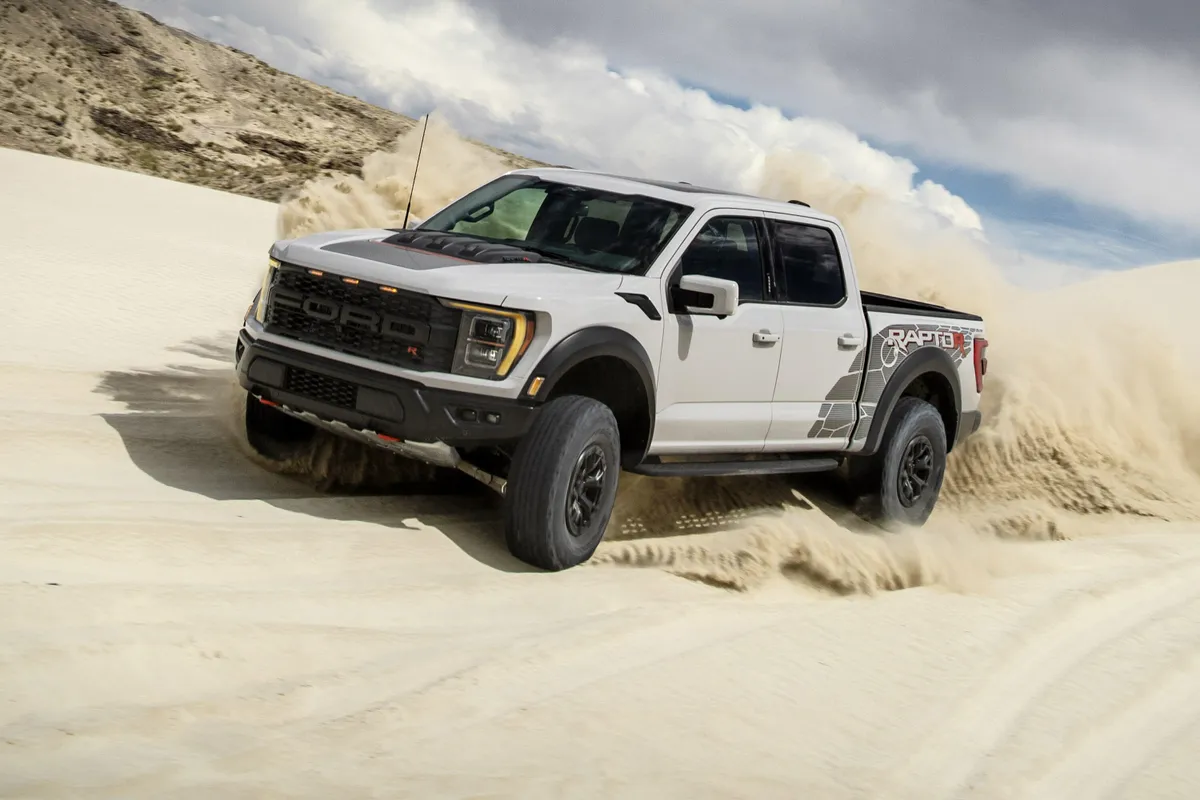 When Will The New Raptor R Launch? What Would Be The Price Of This Pickup Truck?
The new F-150 Raptor R with a V8 engine will be launched for $109,145. That's a huge increase in price from the V6 version. The previous Raptor R was priced $30,000 less than this new truck. 2023 Raptor is a high-budget truck that provides a powerful V8 engine producing 700 horsepower. It will be the most expensive truck by Ford.
However, no official information about the launch is provided by the American automaker, but we expect the 2023 Ford Raptor R to launch anytime in 2023. Also, the bookings have already started, and we expect production to commence within a few weeks.
Also Read: Ford Mustang 2024: Everything You Need To Know About The All-New Beast
Though Ford has already created a huge market with its pickup truck, we look forward to the new launch to make a difference with its powerful 700hp generating engine.