The largest automaker in the world, Toyota, is planning to come up with hydrogen-powered trucks. They will collaborate with Isuzu, Hino Motors, and Commercial Japan Partnership Technologies Corporation. This Japanese automobile company will be introducing hydrogen-powered trucks in Japan next year. These light-duty hydrogen-electric trucks will serve as distribution vehicles and be used in shipping and logistics for many companies. These trucks can travel long distances to complete their deliveries more effectively and efficiently.
Also, Read Toyota Crown: Everything You Need To Know About The Upcoming Car Series!
How does Hydrogen powered Trucks Work?
Hydrogen-powered trucks do not have much complexity in their work. The Hydrogen gas is mixed with oxygen in the fuel cell. Then the two gases perform an electrochemical reaction inside this fuel cell. As a result, this reaction produces electricity. It also produces heat and water vapor. The electricity runs the electric motor while the heat and water vapor find a way out through the vehicle's silencer. The emission of water and heat from the silencer or the rear pipe is not at all harmful to the environment.
Early attempts of Toyota with the hydrogen fuel cell
Back in 2014, this technique was used by Toyota in the Mirai. After the successful implementation in Mirai, Toyota started developing buses and trucks powered by hydrogen. Mirai is a sedan with fuel cells for Hydrogen. This vehicle was way too ahead of its time. Where the automotive companies were finding a solution to electric cars, Toyota found its way to more efficient hydrogen-powered cars. Toyota has always been the first mover. Prius was Toyota's first electric hybrid car, launched in 1997. With all the new and fancy innovations, Toyota has become the largest automaker in the world. The development of Hydrogen fuel cell vehicles started in 1992 at Toyota's Research and development.
Taking all the first-mover advantages, we think Toyota would be secretly working on flying cars as well, and Toyota will launch it before any other company. Well, Jokes apart, Hydrogen powered trucks are way too cleaner than ICE-powered trucks. This could be a possible solution for future logistics and shipping problems.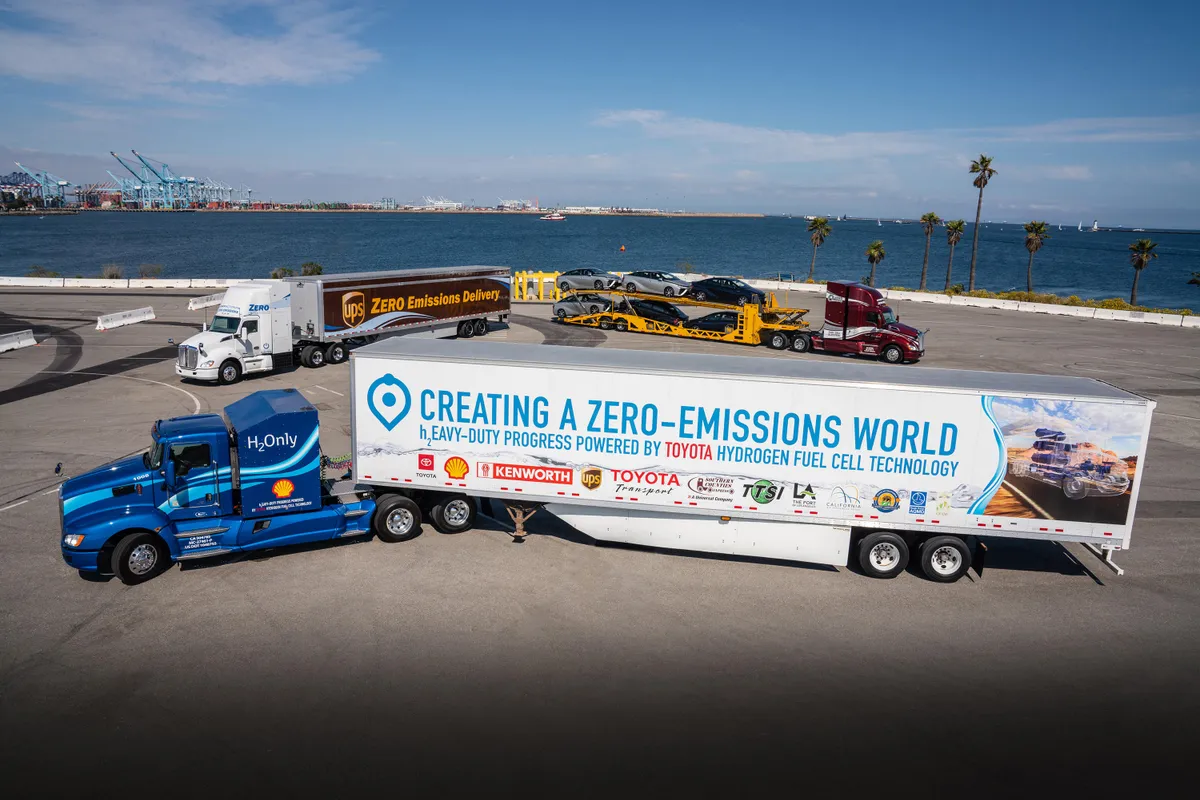 What did Toyota say about the new collaborative project?
While sharing the details of this project, Toyota said there was a requirement for a cleaner vehicle that could travel longer distances and perform all the operations in a single day. Further, it added that fuel cell technology is very effective and environmentally friendly. It runs on power generated by Hydrogen and oxygen, with zero carbon dioxide emission. The partners of this project had the same thing to say. They even posted the same update on their websites as Toyota did.
Also Read: Top 10 Toyota Cars Of All Time
Well, this project could be very successful in Japan. We hope to experience it all around the world. Hydrogen-powered vehicles could be a solution for a sustainable future, and they may also get along the EV market.