As every other big automotive giant is trying to be the leader in the electric vehicle market, Ford is also in the race. Its new strategy of Ford includes a massive plan to sell 600,000 EVs by late 2023. According to Ford, they have secured 100 percent of annual battery-cell capacity. The long-term plan of Ford includes fifty percent of their total global production to be electric. Recently, Ford has also indirectly said that it would cut 8,100 jobs. Click Here to read more about this. Their main aim of cutting these jobs from the ICE division is to reallocate these funds to the electrical future and new industries. Now, Ford has announced their 2023 plan. These announcements are coming in a timeline. Later, Ford has some big goals to achieve by 2026 and 2030.
In this article, read more about their future goals and the expansion of electric vehicles in the lineup.
Also, Read Ford F-150 Lightning 2022: Pricing, Details, Features!
Details about the 2023 target of Ford
As mentioned above, Ford is targeting 600,000 EVs by the end of 2023. They are also planning for the major goals in 2026 and 2030. They aim to achieve the target of producing 2 million electric vehicles by the end of 2026. Ford claims they have acquired 70 percent of the battery capacity needed to achieve this goal. Ford's even bigger goal is to make half of its production into electric vehicles. For the 2023 target, Ford has connected with new suppliers for the electric components and raw materials. It has sourced a hundred percent of the annual battery-cell capacity needed in 600,000 EVs. Ford also claims it has sourced more than 70 percent of the battery capacity needed for the 2026 goal. Ford has signed deals with CATL and three mining companies, and they will have three battery plants with the BlueOval SK joint venture.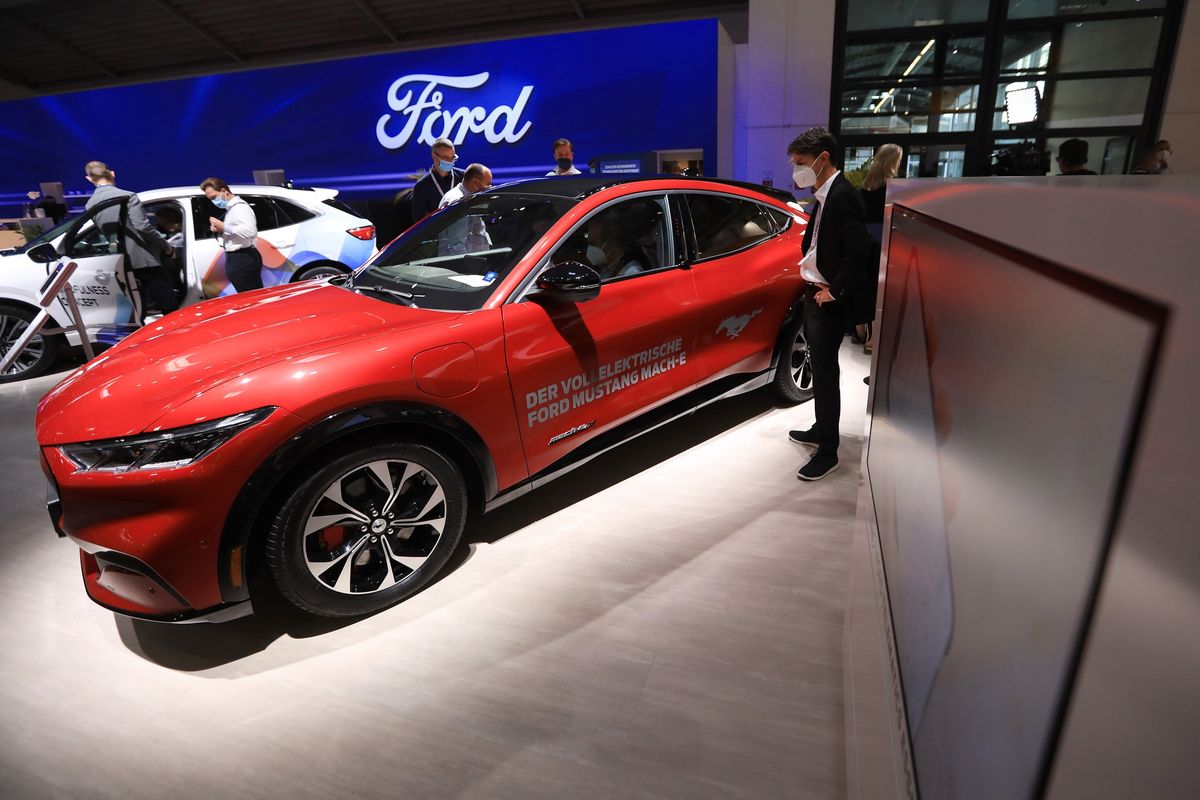 Breakdown of the sales for the 2023 plan
The American automaker has also given out a breakdown plan of the sales for 2023. They are aiming to sell 270,000 units of Mustang Mach-E. Additionally, they plan to sell more than 150,000 units of the F-150 Lightning and E-Transit each. Ford will be launching a new electric SUV for Europe, estimating a sale of 30,000 units.
These ambitious plans of Ford will make them one of the global leaders in the electric vehicle market if everything goes as per plan. Although Ford has partnered with new suppliers, they will get all the resources, and the plans seem promising.
Also Read: Ford Presents Latest Plans For The EV Market!
Read more about Ford's plans for the EV market in the above link. Being one of the pioneers of the automobile industry, Ford is all set to make a huge impact in the electric world.