It is a moment to step back in time. Land Rover Classic is up with an upgraded version of Defender. Although Land Rover gave a facelift to the Defender in 2019, this time, it is the classic Defender. Land Rover Classic Defender Works V8 Trophy II is the upgrade of the last year's Works V8 Trophy. This will be a very limited production car. Land Rover Classic will produce only 25 units. This car is an entry ticket to the Land Rover Trophy Competition.
Land Rover Classics will be built based on 2012 and 2016 Defenders. All 25 units will be handcrafted, and they will get specific changes. This upgraded Land Rover Classic will have three different body styles. The Works V8 Trophy II will come in the 90, the 110 Station Wagon, and the 110 Double Cab Pickup. Land Rover Classic will build ten units of the 90 and the 110 Station Wagon each and five units of 110 Double Cab Pickup. In this article, read more about the Land Rover Classic Defender Works V8 Trophy II.
Also Read: Land rover: Ranger rover sports vs discovery
What Is Under The Bonnet Of The Works V8 Trophy II?
The new Land Rover Classic gets a naturally aspirated 5.0-liter V8 engine. This powerful engine is not as powerful as the modern-day Defender, but it is quite powerful compared to other cars. This V8 engine produces 400 horsepower and 380 lb-ft of torque. It is an all-wheel drive.
The 5.0-liter V8 engine is mated with an eight-speed ZF automatic transmission. These specifications are just appropriate for the Land Rover Trophy competition. Works V8 Trophy II also gets smooth handling and comfortable suspensions. This new generation of Works V8 trophy has some great upgrades in the car's overall performance.
Looks And Features Of The Land Rover Classic's New Car
The new Trophy II is launched in camouflage style. All the units of Trophy II feature the body of a classic defender. These 25 units will be camouflaged in white and grey, the roof will get a black tone, and the wheels are also finished with black. The bonnet will also get a black treatment. Trophy II gets a badging of heritage and the nameplate of Trophy on the side.
Land Rover offers an extra kit with a wide LED light bar, roof rack, and a bullbar. The cabin of the Trophy II is contrasted with white and black color. The seats will feature Recaro sports seats with upholstered leather. The gear shifter will be shaped in pistol form. Also, Trophy II will get a new infotainment system.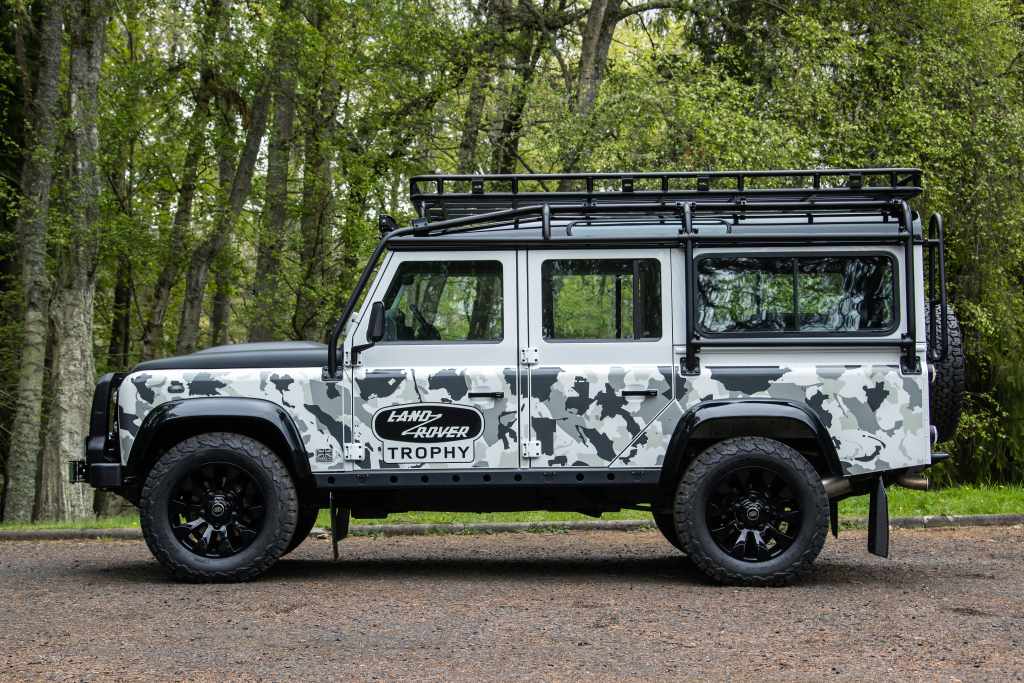 Also Read: Lamborghini Teases New Offroader- "Huracan Serrato"
Although, this car has impressive specifications and a few cool features. The build quality and the brand tag make this car more reliable. Hence, it will be the perfect car for the Land Rover Trophy Competition. Therefore, the price for the 90 Body style is set to be 225,000 pounds in the United Kingdom. Prices for other body styles are yet to be disclosed by the company. All in all, if you want an ultra-rare and classic car with modern upgrades, then this is a perfect choice. Also, if you want to participate in the Land Rover Trophy competition, this car will be the best.