And here we are with one more innovation in the electric vehicle world. You must be wondering now which vehicle is left to get electrified, right? It is time for a travel trailer to get an electric treatment. The most interesting part is that this trailer will have premium interiors with all the luxury treatment. Let's see what the hype is about Bowlus Volterra.
This American trailer company has made a unique-looking trailer with an aerodynamic body wrapped in aluminum. The new luxurious trailer will get an off-road capable body and wheels. It will give you all the comfort in difficult terrains as well. The new Volterra will be the first production electric trailer ever. It is not only a travel partner, but this new RV will assist you at times of natural calamities and act as a bunker. Bowlus has focused on maximum safety and luxury setup. Learn more about this hefty trailer in this article.
Also Read: Everything We Know About New Honda Pilot Trailsport Yet
Bowlus Volterra: Features, Luxury, and Interiors
Bowlus Volterra is not just a trailer. It is a home, five-star restaurant, bunker, camper, and much more. How is this trailer so attractive? What kind of features is it providing? That's it. Let's not build more hype. So, the new Bowlus trailer is an all-electric trailer. It will also have 480W solar panels. These solar panels will help to run your electronics in the trailer as well as it will charge the trailer.
Volterra is powered by a 17kWh battery system, which will assist you on a long, never-ending road trip. It comes with a 50-gallon fresh water tank. Moreover, Volterra comes with satellite internet, providing super-fast internet powered by Starlink. Some luxuries in the Volterra include an induction stove, heated floors, a memory foam king-size convertible bed, and a super comfy dining table. Interiors of Volterra include a large bathroom with wooden flooring, soft-cushioned seats, built-in pet features, a backup camera, and a modern kitchen.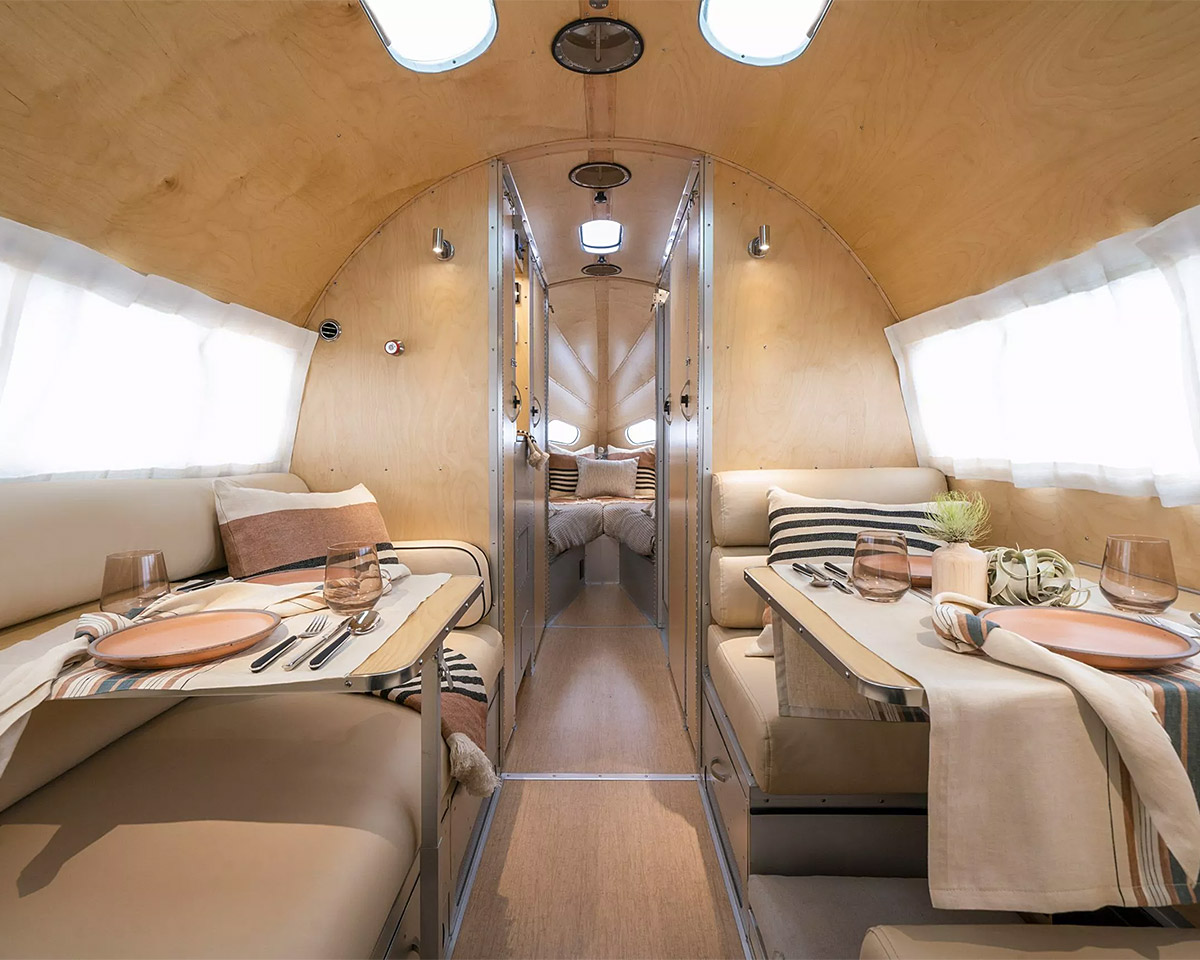 The exterior body of the RV gets the aluminum treatment. It gets the aerodynamic shape which is pointing from the front. On the roof, you get solar panels. The attractive outer design is a head-turner with all the glam and shine.
More About Bowlus
Bowlus is an American trailer company that deals in luxurious RVs. RV is a reconstructed vehicle also known as a trailer. Bowlus creates aerodynamic-shaped trailers with polished bodies and luxurious interiors. Hawley Bowlus founded this American company in 1934. Hawley was an Aerospace engineer. Therefore he used his skills to create these super fun trailers. In 1936, Bowlus stopped manufacturing these trailers. However,  in 2014 this company was revived by Geneva Long. Bowlus manufactures its trailers in three variants: the Endless Highways, Endless Highways Performance Edition, and the Terra Firma. This luxurious trailer maker creates RVs for long journies, comfortable rides, and safe travels. Bowlus is famous for its shiny and polished body with an aerodynamic structure. The new Volterra gets the same design and body.
Also Read: "Pimp My Ride UK" Makes A Comeback!
You may wonder what the price of this luxurious trailer is. It will cost a huge chunk of your investment. The price of Bowlus Volterra is $310,000. That is a huge number, and we think it will be worth every penny. This was all about the Bowlus Volterra. Also, to read more such articles, stay tuned.