Android Auto and Android Automotive may sound similar, but the difference between Android Auto and Android Automotive is huge. As technology keeps evolving satellite, playing music and hands-free calls in the car is no longer a luxury. Now, these things have become very much accessible to pretty much everyone. This is all thanks to developed infotainment systems that have made it easy.
There are two types of infotainment systems, mainly Android Automotive and Android Auto. One can now play music, pick hand-free calls and use advanced navigation. That's not all. They have even made entertainment apps like Netflix, Amazon Prime,  Hulu, Spotify, and much more accessible. But, what should be kept in mind is that these two infotainment systems, even though share some same functions they, are not the same. The difference between the two is nothing short of huge. This article contains a thorough description of both and what exactly the differences are.
Also Read: Can Apple CarPlay Be A Possible Threat For The Carmakers?
What are Android Auto and Android Automotive?
Android Auto is actually a Google app that can be installed over phones. Then it can be connected to the car using a USB. But, the factor that should be kept in mind is that the car should be compatible with the app. As for smartphones, the important thing is that they should support the application. Any smartphone which is Android 6 or above can support it.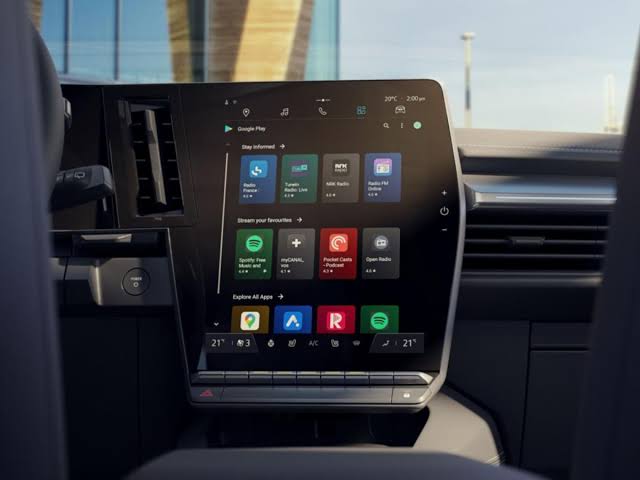 Smartphones that are android 11 or above can be connected with the car's infotainment system wirelessly using Bluetooth and 5GHz Wi-Fi. However, any Samsung or Google smartphone with Android 10 and Samsung Galaxy Note 8, S8, or S8+ running Android 9 are the exceptions that can connect wirelessly.
Unlike Android Auto, Android Automotive is pre-installed in the car and doesn't need any phone to operate it. It was first announced in 2017, and all the cars manufactured in 2021 have it. Although they have the same OS as Android Auto, they can have GAS or not. If GAS is present, one can download various third-party applications in the car infotainment system. But if there is no GAS, one can only download those third-party apps that are pre-loaded or approved by the car's manufacturer. Some companies making cars with Android Automotive are Ford, GM, Volvo, Renault, Rivian, and Lucid Motors.
Difference Between Android Auto And Android Automotive
Even though both make driving a better experience, the difference between Android Auto and Android Automotive is huge. Android Auto and Android Automotive help in hand-free calls, navigation, and even temperature control, but Android Automotive is way more precise than Android Auto. For example, one does not need to use their phones to control the temperature as in Android Auto; simply saying that they are feeling cold is enough to control the temperature in Android Automotive.
While discussing the difference between Android Auto and Android Automotive, the most important drawback of Android Auto should be kept in mind. Android Auto drains the smartphone's battery, which is completely canceled in the case of Android Automotive. Not only that, if the car has Android Automotive, then Android Auto and Apple CarPlay are supported.
As the superiority of Android Automotive is established, the biggest drawback of it, which should be kept in mind, is that there are very few cars now which support Android Automotive. On the other hand, comparatively, more cars support Android Auto. If it does not support Android Auto, one can always install it using a small amount of $200 to $600.
After looking at the difference between Android Auto and Android Automotive, it is very clear which one is the better one among the two. Even though fewer cars now support Android Automotive, it is supposed to be the future of car infotainment systems.
Also Read: What is Android Auto?