Ram 1500 TRX 6×6 is a beast based on Ram 1500 truck. It is the weird truck for a lot of reasons. We will discuss those in this article. This truck is known as Warlord because it has more traction than the average Ram 1500 TRX. It has an Apocalypse-designed middle axle. Also, there is a custom rear frame in it, which is made with 0.25-inch thick steel. And this truck also comes with a huge price tag. Although, this is not the only 6×6 truck on the market. Jeep Gladiator, Mercedes-AMG G63, and a few more options are available.
Let's discuss the features and specifications of the Ram 1500 TRX 6×6. Also, read the full article to know which is a weirder truck than the TRX 6×6.
Also Read: Top 10 Pickup Trucks Of 2022
What Are The Specifications Of The Ram 1500 TRX 6×6?
The TRX-based Warlord 6×6 has a 692 horsepower supercharged Hellcat 6.2-liter V8 engine. This engine can produce 702 horsepower and 650 lb-ft of torque. The V8 engine is mated with 8-speed automatic transmission. It accelerates from 0-60 mph in just a quick 4.5 seconds. The ground clearance offered on this truck is amazing, with nearly a gap of 1 foot. All the 18 inches wheels wear 37-inch tires. This truck is also equipped with LED underbody lighting and thermal night vision.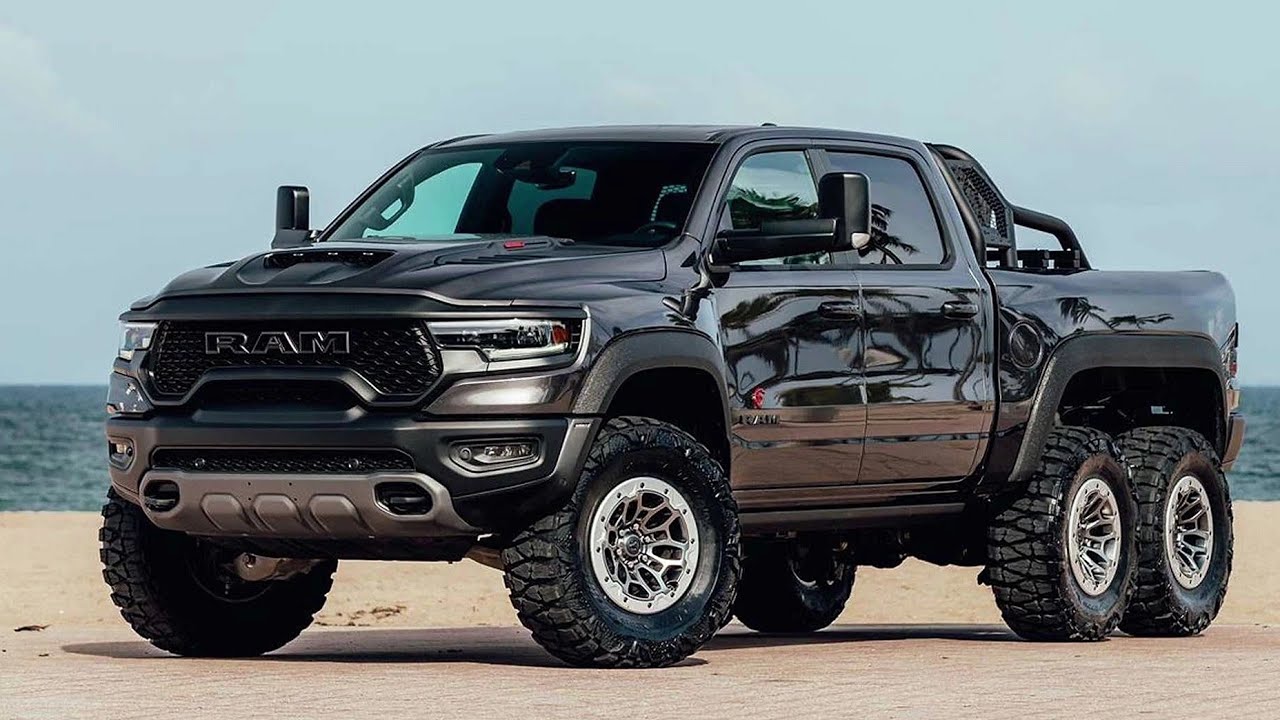 The Mammoth 6×6
If any user is unsatisfied with the specifications and features provided in this 6×6 Ram truck, then RAM is planning to build the Mammoth 6×6. A 1200-horsepower Hellephant crate engine will power the Mammoth 6×6. Although this truck is still in creators' minds, it is expected to come with a whopping price tag of $500,000. Ram is planning to build on three units of the Mammoth.
For the people who want Mammoth power in a two-axle truck, then Ram will also build a Mammoth 1000. This truck will have a V-8 engine, but it can produce 1,012 horsepower and 969 lb-ft of torque. It will be able to accelerate from a standing position to 60mph in just 3.2 seconds. That is a lot quicker than the 6×6 version of the Ram truck.
Why Is Ram 1500 TRX 6×6 Considered To Be Weird?
If a truck comes with an apocalypse-designed middle axle and a custom rear frame, and if it brings along a price tag of $250,000, it is for sure a candidate to be called weird. TRX 6×6 is priced almost four times more than the basic version of Ram 1500 TRX. The Warlord 6×6 is priced at $250,000, while the Ram 1500 TRX comes with a price tag of $70,000. All these specifications, plus the price, make it weirder.
Also Read: The Old Jeep Is No More! Grand Cherokee WK Production Comes To A Halt
The Ram 1500 TRX 6×6 is a giant truck with a body of a pickup; it has many fascinating features and a huge price tag. In the end, we would love to say that vehicles like these build more interest in the competition of automotive companies.