2023 Porsche Taycan will get a bunch of changes in the already existing EV. Porsche launched Taycan in 2020 and will get a few changes in its software and features. Recently, Porsche announced the latest updates and pricing for the 2023 Taycan. Porsche has sold over 75,000 units of Taycan. The software changes will be free for the users of previous Taycan models. These updates will lead to a better and quicker system. The range will be increased, and the Taycan will get a few more features than the previous Taycans.
Porsche Taycan went under production in 2019, an electric sedan by the luxury automaker. Taycan comes with a rear-motor, rear-wheel drive, and dual-motor, all-wheel drive. This car is also available in estate body style. If we talk about the 2023 model, Porsche is giving out a few changes and improvements in the software. Let's see what these changes are and the pricing details.
Also Read: Chevrolet Corvette 2023 Is A Sheer Beauty!
What's New For The 2023 Porsche Taycan?
Porsche will come with 83.7 kWh batteries, an upgrade from the previous year's model. It will feature quicker cooling and heating of the battery as well. Therefore, the battery will be charged at a much faster speed. The charging speed is now at its maximum of 270 kW. This update is free for the users of previous Taycan. The infotainment system gets an update with PCM 6.0. It will offer a more colored and user-friendly interface. It will also help the users to locate the fast charging stations. 2023 Taycan will get a different range of 31 miles compared to the previous generation.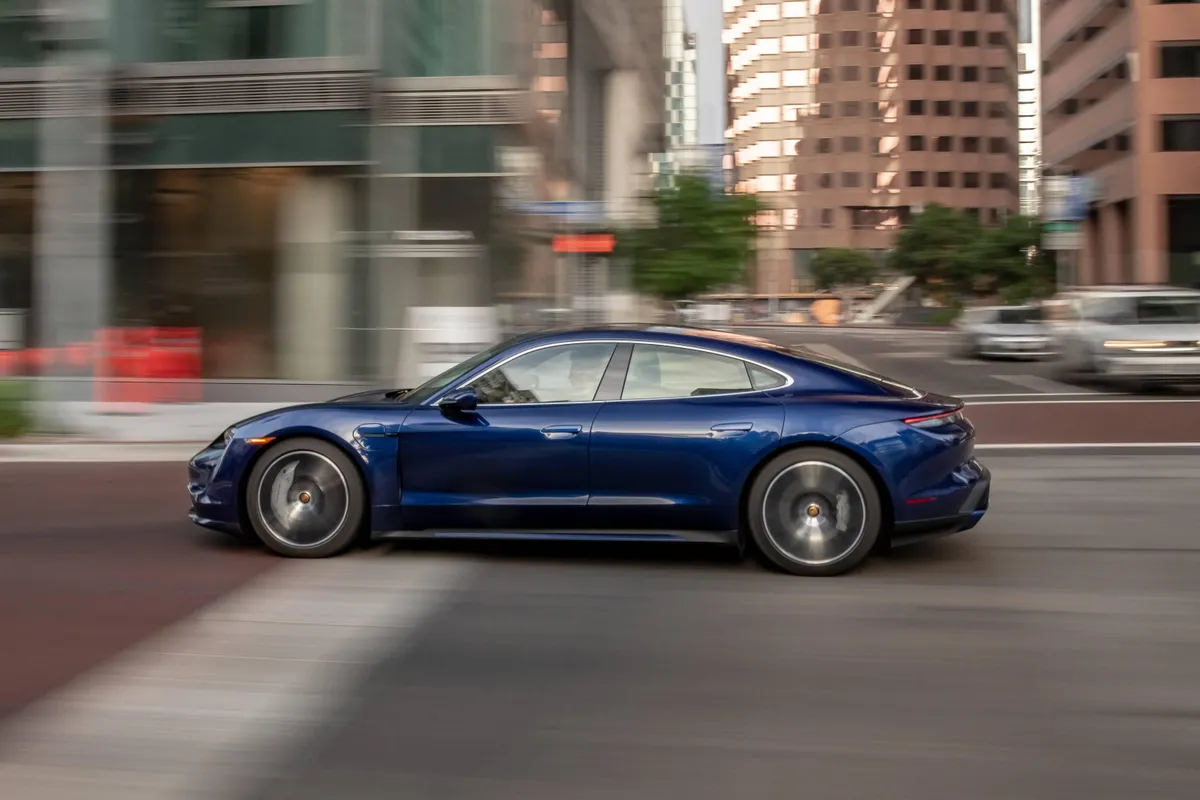 Additionally, the updates will involve an easier interface on the dashboard, a new panoramic roof, and variable light control. The new panoramic roof will get variable light control. You can easily switch from opaque to clear or vice versa.
More About The Porsche Taycan
Porsche Taycan is an all-electric sedan and also comes with an option of the estate. It was first introduced in the market in 2019. Taycan comes in five models: Taycan, Taycan 4S, Taycan GTS, Taycan Turbo, and Taycan Turbo S. The Turbo S is the most advanced version of this car. It has the quickest acceleration, generating the most torque (774 lb-ft). On the other hand, the estate body style comes in four variants: Taycan 4 cross Turismo, Taycan 4S cross Turismo, Taycan Turbo cross Turismo, and Taycan Turbo S cross Turismo.
Also Read: Hyundai N Vision 74: The First Look Is Here!
However, these few updates in the 2023 Porsche Taycan will give the users a better experience. It is expected that the newer generation will be launched at $85,000. The higher trims will get more expensive.