German luxury automaker Mercedes has launched their electric SUV in the market. Mercedes Benz EQB is a special innovation as it is built on a platform that can power the car on hybrid, electric, and gas. This electric SUV should have offered some impressive specifications, but unfortunately, the numbers are not good. However, it is a great vehicle. After all, it is made by Mercedes-Benz.
EQB has some cool and premium features which make it more special. This electric vehicle's technology, safety, and comfort are commendable. If this EV misses out on some specifications, it is covered by high-tech features and luxury. The seven-seater SUV provides an ample amount of space in the cabin. Although, it doesn't have a spacious third row. The design of this car is of a typical Mercedes-Benz SUV. The German automaker claims that this EV will provide a new way of driving an electric car. In this article, read about the specifications, features, and luxury of the EQB.
Also Read: Mercedes Benz EQS Plans To Launch New Line-Up In August
What Are Some Amazing Features Of The Mercedes EQB?
Let's start by describing the EQB with luxurious interiors and features. EQB gets a luxurious cabin just like the GLB-class. With few changes, this electric SUV differentiates itself from the ICE vehicle. The seats are wrapped in upholstered leather, which gives a premium feel. The interiors have accents of rose gold. The dashboard includes metal trims, and it adds up to the luxury feel of the EV. The space offered on EQB is quite amazing. Five people can fit in the first two rows comfortably. However, the people in the third row need to make some adjustments.
The dash mounts a touchscreen infotainment system with the new MBUX system. This system will have Mercedes' AI for the voice control commands. It will also help the drivers to find the nearest EV charging stations. EQB has a huge panoramic sunroof also. Mercedes offers some important safety features in this EV. Examples – include adaptive cruise control, automated emergency braking system, lane-keeping assist, and many more. With a load of features, this car lack some performance. Let's have these details.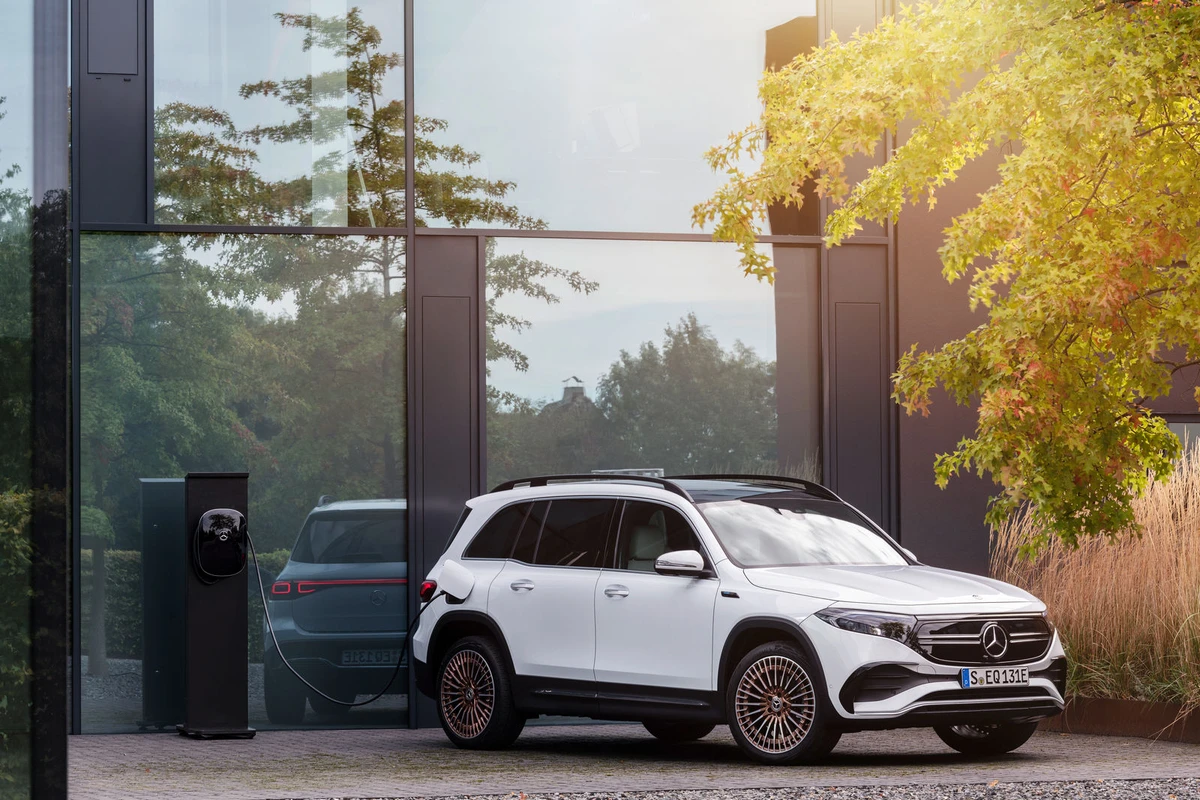 What Are The Specifications Of EQB?
EQB comes with an optional motor system. The base trim gets a single 225-hp electric motor. This motor can produce 288 pound-feet of torque. The optional motor comes with a dual setup. This setup can generate 288 hp and 324 pound-feet of torque. Well, we can expect a much better performance from a brand like a Mercedes-Benz and a car like an SUV. Although, these figures are not so bad. It is still an SUV with a lot of capability.
The most disappointing factor is the top speed and acceleration of the EQB. The top speed offered on this EV is 160km/h. We think Mercedes could have done a lot better for the speed. However, let's come to the acceleration. It can go from zero to sixty mph in 6.5 seconds approx. The range of this SUV seems to be on the low end. It is said that EQB will get a range of 230 miles. Well, we hope this is not true and may get a better range. The dual motor setup can have more range than this.
Also Read: Mercedes Benz's New Electric Bus Assembly In Brazil
Overall, the Mercedes Benz EQB is a good package. The features, luxury, and comfort make this car a great deal.