South Korean automakers are just giving their best electric cars to the world. First, Hyundai, then Kia, and now it is time for Genesis. The new electric Genesis GV60 is hands down one more great EV. It is a luxury crossover SUV with electric motors. This car serves premium looks and features. Also, it has the baseline look like other Genesis cars. However, this car is missing the trademark grille of Genesis. Well, this is an electric vehicle, so we can accept that there is no need for a huge grille. Unlike BMW, they also gave their iconic grille in their latest EV.
Genesis is a South Korean automotive company. They deal in luxury cars and serve all over the world. Earlier, Genesis was a division of Hyundai Motors. In 2015, it was separated as an independent firm. In this article, you will learn more about the new electric vehicle by Genesis, 2023 GV60.
Also Read: All-New Hyundai Tucson Unveiled
What Power Does Genesis GV60 Offer?
GV60 is an all-electric vehicle. This car will be available with only all-wheel drive options. All the trims of GV60 will have a dual motor setup. GV60 comes with a 77.4 kWh battery pack. The base trim can produce 314 horsepower, while the other variant can produce 429 horsepower. Although, you can increase the power of your Genesis top trim by the boost driving mode. The power can be increased from 429 horsepower to 483 horsepower. With the same mode, this EV can accelerate from zero to sixty in just 3.7 seconds. This electric SUV has a range of 235 kms on a single charge.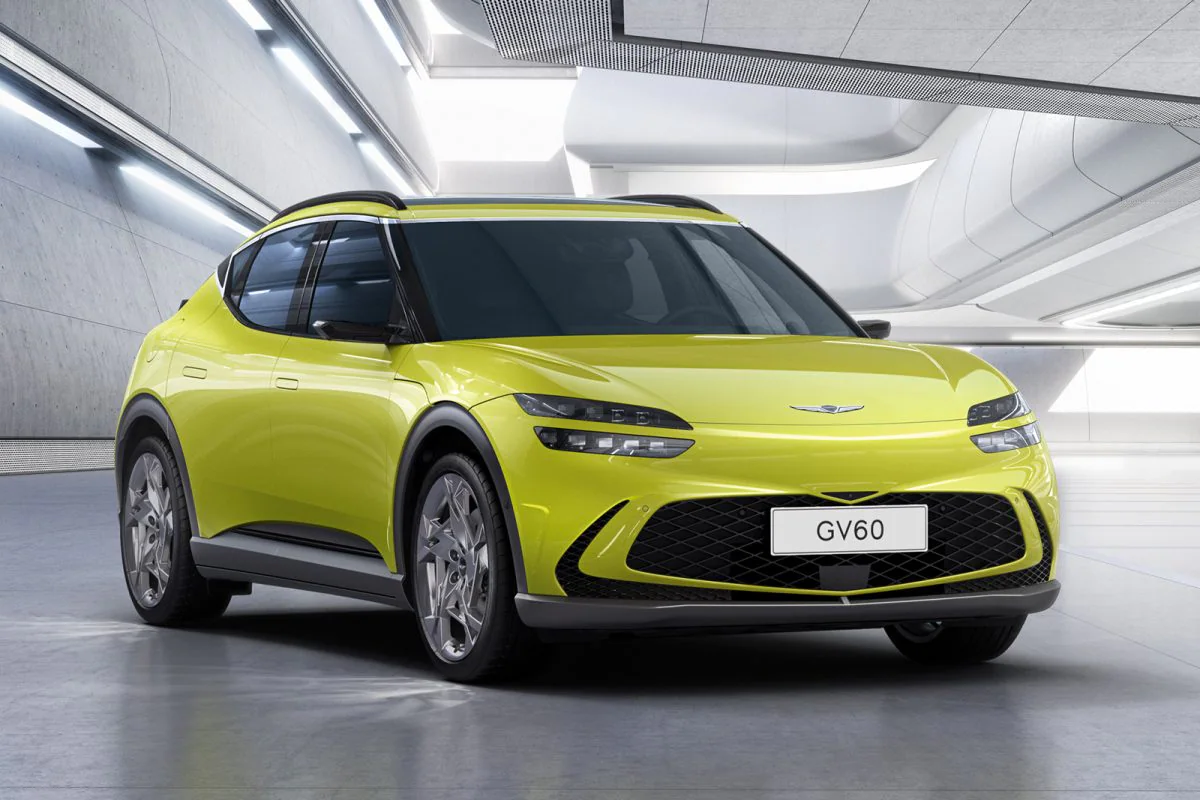 What Are All The Features of 2023 Genesis GV60?
2023 GV60 comes with a load of features. Well, it was a Hyundai division, so it has some common qualities. Just like its siblings Hyundai and Kia, Genesis also provides high-tech features. Let's hop into some of these cool features. Genesis has given an interesting flat gear lever that turns upside down when the car is parked. This car is secured with biometrics. The driver can even unlock the car with the help of face recognition. The cabin of this electric SUV is not as spacious as other SUVs by Genesis, though it is one of the best SUVs in the lineup.
The center of the dashboard is equipped with a 12.3-inch touchscreen infotainment system. The car connects with Android Auto and Apple CarPlay but not wirelessly. GV60 gets a Bang & Olufsen stereo system. Additionally, Genesis has added some important safety features. Example include blind spot monitoring, adaptive cruise control, lane-departure warning, lane-keeping assist, automated emergency brake system, and more.
Also Read: Kia K5 Release Date Is Out!
The Genesis GV60 starts from $59,985 for the advanced base trim. On the other hand, the price for the performance trim is $68,985. The performance trim cones with all the features, while the advanced version will have the standard features with optional upgrades. Although, it is a great value car with premium features and a good driving experience.