Maserati is all set to make its return to the GT2 race circuit in 2023. The Italian automotive giant will introduce the MC20 GT2 as their new sportscar. This car will be focused on the performance and features required for the 2023 Fanatec GT2 European series. Maserati MC20 GT2 will weigh approx 1250kg. MC12 was the predecessor of this new racecar. This sports car will be based on the current road production car MC20. Although this car is made for the GT2 series, Maserati says that if they launch it in the market, it will come with a more premium model. Therefore, it can cost you around 190,000 pounds. It will be the affordable supercar in its segment.
Maserati is an Italian luxury automaker founded by Alfieri Maserati in 1914. The headquarters of this company is situated in Modena. This Italian automaker is dealing in a handful of models. A few of them are MC20, Levante, Ghibli, and Quattroporte. Maserati has been in motorsports for a long time. They participate in Formula One, touring car racing, and sportscar racing. Maserati will also be joining Formula E.
In this article, you will read about the Maserati GT2 racing car, MC20 GT.
Also Read: BMW M Hybrid V8 LMDh: The New Le Mans Racecar
Details About The Maserati MC20 GT
Maserati offers a brand new 3.0-liter twin-turbocharged V6 engine in the MC20 GT. The Italian automaker is claiming that it will have a 630-horsepower. Though, no official details about the engine of the new MC20 GT are out yet. The 3.0-liter twin-turbocharged V6 will be mated with a six-speed sequential racing transmission. It will also have a racing clutch and self-locking mechanical differential, which will help the sports car with traction.
The aerodynamic body of the MC20 GT will help the car to fly on the road. The interiors of this sports car will come with a racing-specific pedal, carbon fiber steering wheel, and touchscreen infotainment system. The cabin of this super sportscar features Alcantara-trimmed bucket seats.
Also Read: Lamborghini Teases New Offroader- "Huracan Sterrato"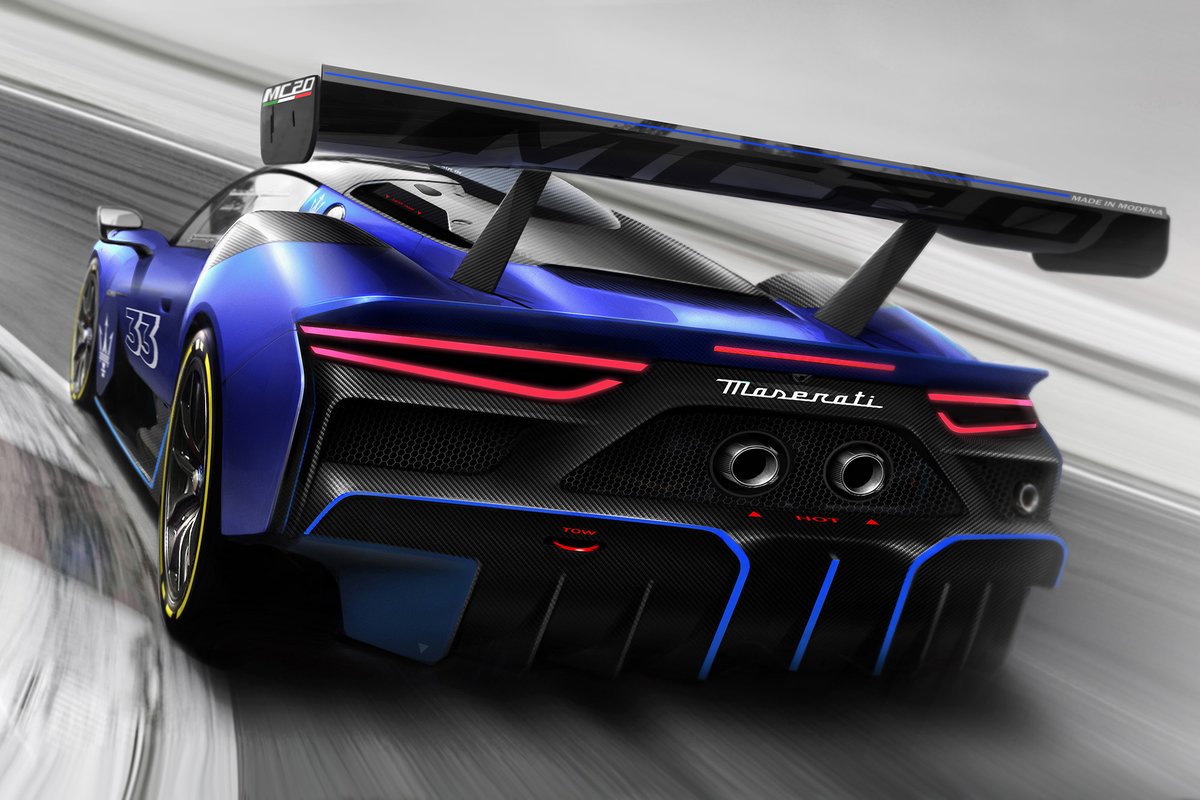 Also Read: Lamborghini Teases New Offroader- "Huracan Sterrato"
What Did Maserati's CEO Say About The Return To Motorsports?
David Grasso, CEO of Maserati motorsports, said that the new car is driven by passion both on the road and the track. He further said they have a long history of world excellence in motorsport. They are proud to make a comeback with the astonishing MC20. Maserati has been one of the keen players in motorsports. He also said that now in Fanatec GT2 European Series Championship and the Formula E, Maserati will make a new start and build a new future.