The American automotive company Ram recently revealed that they would launch a new electric truck, but it will be late in the market. Ram is running behind the competitors like Ford, Chevrolet, Rivian, and even GMC. Although, the American pickup truck manufacturer says that the late entry of its truck into the EV market will be compensated with the performance and features of the new electric truck. According to Ram, they will be giving a powerful full-size 1500 EV truck which will be a tough competitor to the current electric trucks in the market.
Ram showcased their first electric truck in 2022 Chicago Auto Shoe, which was held in February 2022. At this Auto Show, Ram even proposed a new program. In this program, people can provide feedback to the company for creating better vehicles. Ram will use this feedback in their future models and produce better EVs. It is believed that the new electric truck by Ram will launch in the middle of 2024. Although Ram hasn't revealed many details about the new electric truck, we have come up with some specifications and features that the 1500 EV will have. Read the full article to learn more about the electric truck of Ram.
Also Read: Ram 1500 TRX 6×6 Is Weirder Than You Think!
Power And Performance Of Ram 1500 EV
Ram will provide the STLA Frame dedicated electric vehicle architecture platform for all the electric pickup trucks. Light-duty and heavy-duty electric trucks will benefit from this platform. This platform also comes with a range extender that extends the electric truck range. This extender by Ram is called the Range Electric Paradigm Breaker. The 1500 EV comes with electric motors both at the front and rear axles. Thus, it is an all-wheel-drive setup combined with a 200kWh battery pack. The 800-volt architecture provides fast charging, and Ram promises to deliver a range of 500 miles on a single charge. With all the toughness and rugged looks, this electric truck will be a great off-road drive. Therefore, we believe this upcoming pickup will get high-quality components, high-tech features, top-notch interiors, and one of the best performances.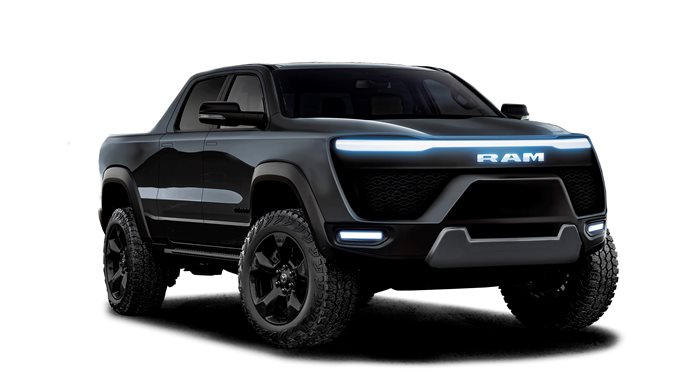 Where Will The Ram Electric Truck Stand With Its Competitors?
As Ram will introduce its first electric truck in 2024, the American automaker will be far behind its competitors. But, Ram recently said that with the late arrival of their electric truck, it would come with the greatest quality and high-performance ability. Ram 1500 EV will compete with the 2023 Ford F-150 lightning, GMC Sierra EV, 2022 GMC Hummer EV, and Chevrolet Silverado. The Tesla competitor, Rivian, will also provide tough competition to the upcoming Ram. The new 1500 EV pickup truck will have the brand's reliability and quality advantage. It will get some amazing off-road features and specifications, providing an edge over the competitors.
Also Read: 2023 Ford F-150 Raptor R Launched With A V8 Engine!
These were all the details of the late coming electric truck of Ram. This full-size pickup truck will be launched in 2024 with a price tag of approximately $45,000.