NIO is a Chinese automotive company that specializes in making electric cars. NIO was recently highlighted because we heard this Chinese electric car manufacturer is on the way to opening its first overseas plant. This will be the first electric equipment plant out in China. NIO plans to open a factory in the European market where power products will be made. NIO is considering expanding and therefore joining the European market. Till now, NIO has been producing in China only. It is the first time this Chinese automotive brand will step out of their country to execute production. NIO serves its products in China, Germany, the United States, Norway, and United Kingdom. However, this automotive brand will produce products like battery-swapping stations in Europe. In this article, read more about NIO and its new European plant.
Also Read: TVR Electric SUV And Sedan Will Launch After The Sports Car's Debut
Details About NIO
NIO is an automotive company dealing in automobiles and electric components or products. It was founded in 2014 in Shanghai, China. NIO builds electric vehicles, and it is famous for the development of battery-swapping stations and electric cars. The battery-swapping stations are alternatives to the charging stations. The Chinese company launched the first battery-swapping station in 2018. It was opened in the Nanshan District of Shenzhen. Also, it is known as Power Swap Station. At this station, only ES8 cars' batteries are available. Further, in 2020, NIO formed a battery asset management company. This company helps to cut down 25% of vehicle costs.
NIO introduced its first electric car in 2018. It is the ES6, and it's a compact SUV. Further in 2020, NIO introduced an electric sedan, ET7. Subsequently, NIO launched the compact sedan ET5 in December 2021.
NIO Battery Swapping Business
Battery swapping is an alternative method to the traditional charging station. NIO installed 18 battery swapping stations on the G4 expressway in its first installation phase. This project leads to the second phase of installing a battery swapping station. On the other hand, The second phase was completed on the G2 expressway. To date, NIO has installed a 917 battery swap station in China. Therefore, the company is set to open its plant in Europe to create battery swap stations.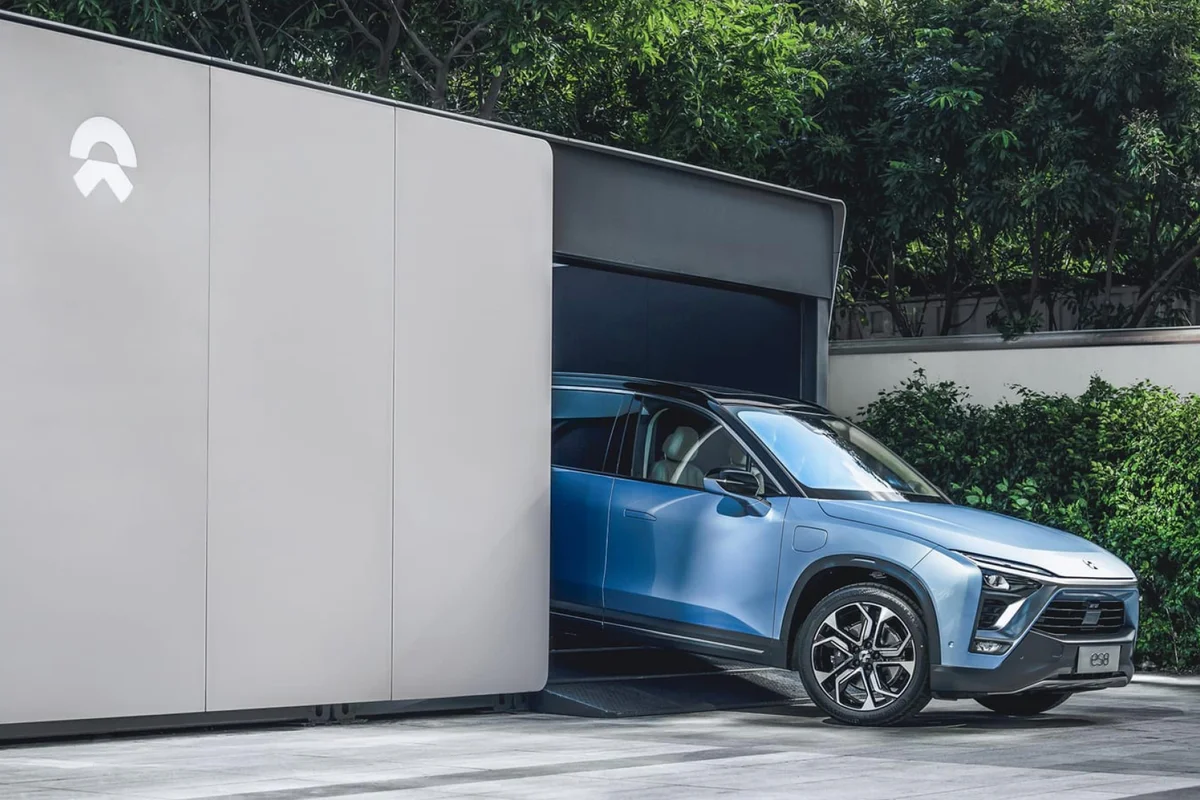 Expansion Plan Of NIO
The Chinese electric components and car manufacturer plans to open its first plant outside China. This overseas plant will open in Hungary, where NIO will produce more power swapping stations. NIO will introduce these battery swapping stations all over Europe within the coming months. To expand its operations in Europe, NIO will add more power swapping stations. Besides this, NIO has partnered with SHELL to construct these battery swapping stations all across the globe. Also, NIO has opened its showroom in Oslo. The Chinese electric vehicle producer said they would build 4,000 battery swapping stations across all the major countries.
Also Read: Stellantis Is Planning A Huge Investment In Engine Plants
After completing the battery swapping station project, NIO will focus on opening its showrooms worldwide. For more related articles, keep reading DaxStreet.