The advanced electric SUV, iX by BMW, is another addition to electric vehicles in the market. With the ongoing shift of automakers from internal combustion engines to electrified motors, every brand is approaching the future with eco-friendly engines. Recently, BMW launched its iX SUV. As a BMW trademark, or you can say legacy, this electric car also gets a huge front grille. Although, in an electric car, a large grille is not necessary. It doesn't need to cool down, unlikely in internal combustion engines. This high-tech, advanced, and feature-loaded BMW's price range starts from $83,200. 2022 BMW iX is currently available in the market.
BMW entered the electric vehicle market with two vehicles. The iX SUV and the i4 sedan. Both the cars show the company's future in EVs. Although both the cars are electric, they get huge grilles. The trend of cars can change, but the trademark grille from BMW can't. Anyways, read more about the electric SUV in this article.
Also Read: 2024 Chevrolet Blazer: Electric SUV
What Are The Specifications Of This Electric BMW?
The iX is based on the latest electric powertrain of BMW. A pair of electric motors power the BMW iX. These motors can generate 516 horsepower and 564 pound-feet of torque. This electric SUV can accelerate from zero to sixty in just 4 seconds. It comes with an all-wheel drive as standard. The range of this electric BMW SUV is around 350kms on a single charge. It is said to be the most powerful electric vehicle by BMW.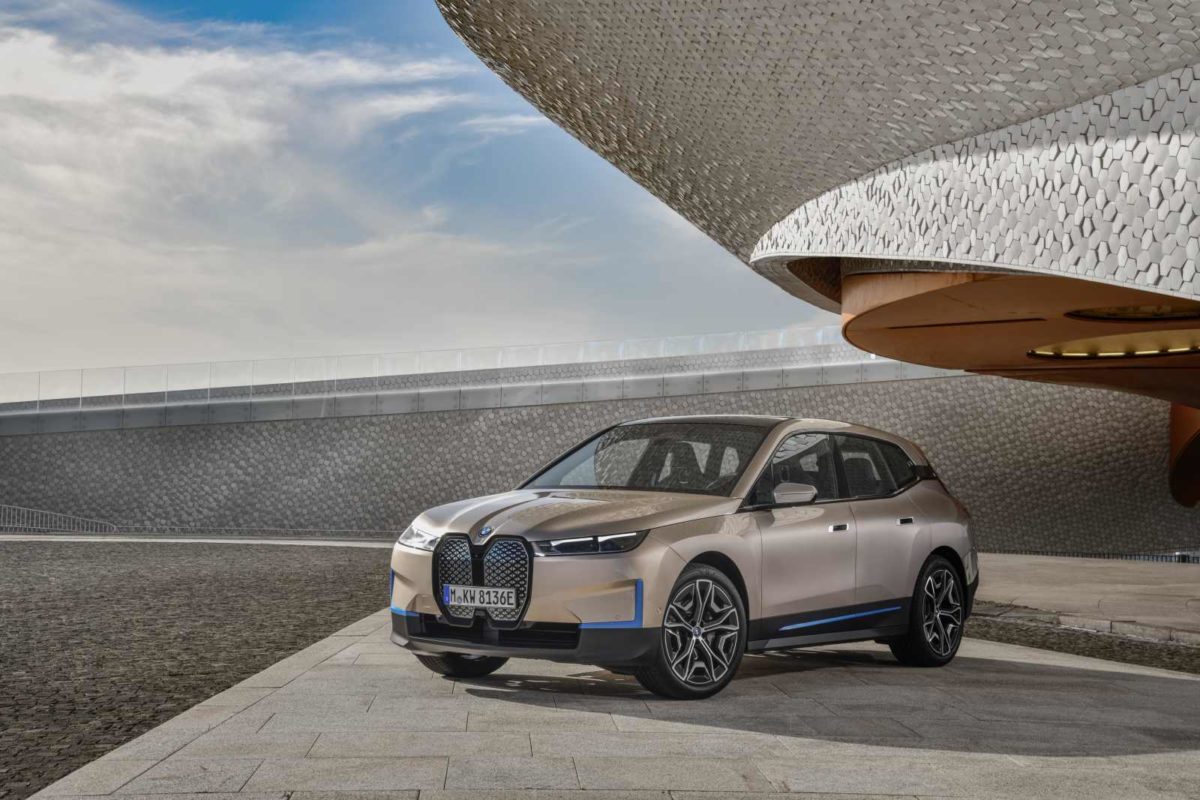 BMW iX: Features You Need To Know About!
The interiors are loaded with amazing features. At the center, you will get a 14.9-inch touchscreen infotainment system. Also, the car can be connected wirelessly with Apple CarPlay and Android Auto. The infotainment system is connected with an 18-speaker system. An option of a 30-speaker is also provided in this SUV. The cabin is sophisticatedly designed with premium interiors and a dashboard. It gets a huge panoramic sunroof with electrochromic shading.
Also, the steering wheel is hexagonal with curved edges. This shape makes the steering wheel look more sporty. For safety and security, iX is equipped with an anti-theft alarm, lane departure warning, and front collision warning. Additionally, it comes with adaptive cruise control, lane-keeping assist systems, and emergency braking.
More About 2023 BMW iX M60!
The iX is getting even better with the M60. This model will receive a huge upgrade in performance and engine. The new iX M60 will get an electric motor that can generate 610 horsepower and 811 lb-ft of torque. The dual-motor setup in the M60 will help the iX to accelerate from 0-60 mph in a blink of 3.6 seconds. The top speed of this new iX will be 155mph. If we discuss exterior looks, the iX M60 will get a few cosmetic changes. It will be much more sporty and muscular. Therefore, M60 will get 21-inch wheels with an option of 22-inch wheels.
Also Read: BMW Is All Set To Launch It's Scooter In India!
Overall, the BMW iX is the most powerful electric SUV by BMW. It is a BMW; therefore, the luxury is on point, and the performance is amazing. Also, we can expect a better-performing electric SUV from the 2023 BMW iX M60.