The Italian car manufacturer Maserati just revealed the new generation of MC20. It is a two-seater sports car designed for track racing. The new MC20 will get a convertible. There will be a Limited production Primaserie Launch Edition model. This Limited edition car will get an exclusive body color. It will be a greyish blue color called Acquamarina. However, only 60 units will be produced in this edition. Also, the limited edition will be available in the convertible trim. Along with this, there are also many new features in the 2023 Maserati MC20.
Maserati is an Italian-based sports and luxury car automaker. It was founded in 1914 by Alfieri Maserati. The first generation of MC20 was introduced in 2020. However, the next generation will be launched in 2023. Read the full article to learn more about this sports car's new generation.
Also Read: Tesla's Cybertruck Delivery Date Revealed!
MC20 Features & Specifications You Need To Know About!
The MC20 will get a minimalist design that looks elegant and sporty. The cabin is in a dual-tone color scheme. MC20 will get a two-seat setup with leather covers stitched to perfection. The doors of this sports car open upward. The interior is mounted with a 10.3-inch touchscreen infotainment system. The Digital cluster will also be a 10.3-inch display.
Additionally, it will have parking sensors, a rear-view camera, and a blind-spot monitor. The convertible MC20 gets an electrochromic glass panel that will retract electronically in 12 seconds. Also, this glass panel can change from clear to opaque. Therefore, this feature is amazing if you live in a dry and sunny location. The glass will get opaque on a bright sunny day.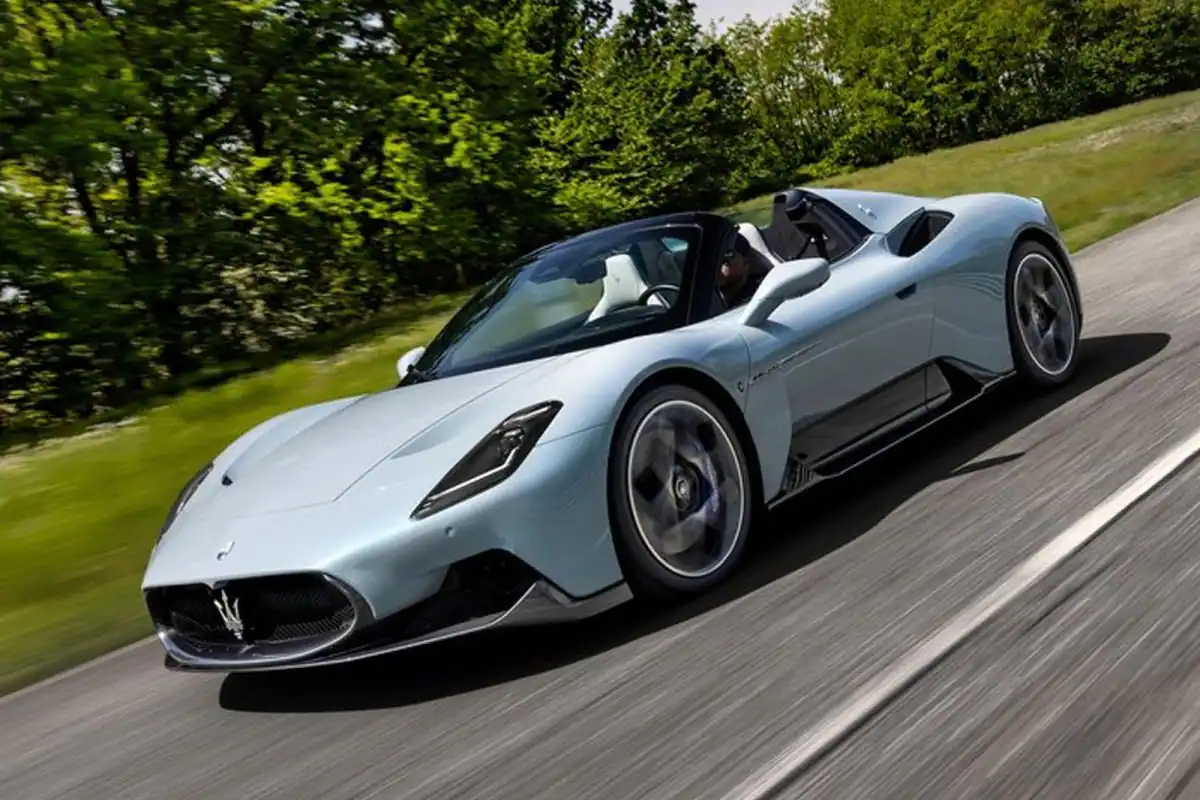 2023 Maserati MC20 is a mid-engine, rear-wheel drive car. It is a two-door coupe and convertible. The new Maserati will have a twin-turbocharged V-6 engine. This engine will be able to produce 621 horsepower. MC20 will have an eight-speed automatic transmission. This beast car can accelerate from zero to sixty mph in just 3.2 seconds. The top speed of this sports car is 131 mph.
Along with these powerful specifications, MC20 gets great handling. Maserati has borrowed the engine for MC20 from the Formula One race cars. Although, this supercar has a denser engine than other sports cars, including Ferrari, Porsche, and Lamborghini.
Pricing & Release Date Of The New MC20!
Maserati MC20 will be available in two variants. First, it will be a coupe as the standard trim. This variant will be available for an approximate price of $217,000. This car will get all the standard features except the convertible option. The next variant will be a Cielo Spyder. This model will be a convertible, and it will also get an electrochromic glass panel. The price for this variant will be $250,000 approximately. These whopping prices of MC20 are not official yet. These are approximate prices. It could increase further and make this supercar more expensive. However, this brand is for those who can afford a six-digit transaction.
Also Read: Mercedes Benz EQS Plans To Launch New Line-Up In August
The production of 2023 MC20 will hopefully start in the later months of 2023. This new generation will be out in the market in early 2023. It will compete with many elite brands—for example, Lamborghini, Ferrari, and Porsche. We will cover the launch of this car as well.
Till then, keep reading related articles on DaxStreet.