Audi has been dealing in premium luxury cars since its foundation. This German automaker competes with many luxury brands—for example, Mercedes-Benz, BMW, and Acura. However, Audi has launched its most affordable car with all the premium features of the luxury brand. It is the entry-level Audi in most automotive markets. The new generation of Audi A3 comes with a starting price tag of $35,995. It is a "budget-friendly Audi." With this price, tag A3 combines all the new tech-based features and great engine specifications.
The A3 first went into production in 1996 under the category of a compact hatchback car. Subsequently, in 2013 A3 made its debut as a sedan. It is a front-engine, front-wheel drive with an option of all-wheel drive. The new generation of A3 is the fifth generation. The last generation of the Audi A3 was introduced in 2020. You will learn more about the A3 and its price range in this article.
Also Read: Audi A1 & A3 Will Be Retained In The Australian Market
Features
2023 Audi A3 gets a sporty and premium cabin. The A4 sedan inspires the styling and design interiors of the A3. The dashboard features a sleek style with horizontally attached AC vents. This affordable sports car gets a sporty steering wheel with a square-cut bottom. Moreover, the dashboard is centered with a 10.1-inch touchscreen infotainment system. The instrumental cluster gets a digital display of 10.3-inch, which is upgradable with an optional display of 12.3-inch.
This digital gauge display features a large map at the center with other information related to the vehicle. Audi has also provided features like a memory seat, keyless entry, wireless phone charging, and a few more extra features in the top trim. Additionally, for safety assistance, A3 is equipped with some important features. For example, automated emergency braking, adaptive cruise control, lane-departure warning, lane-keeping assist, etc.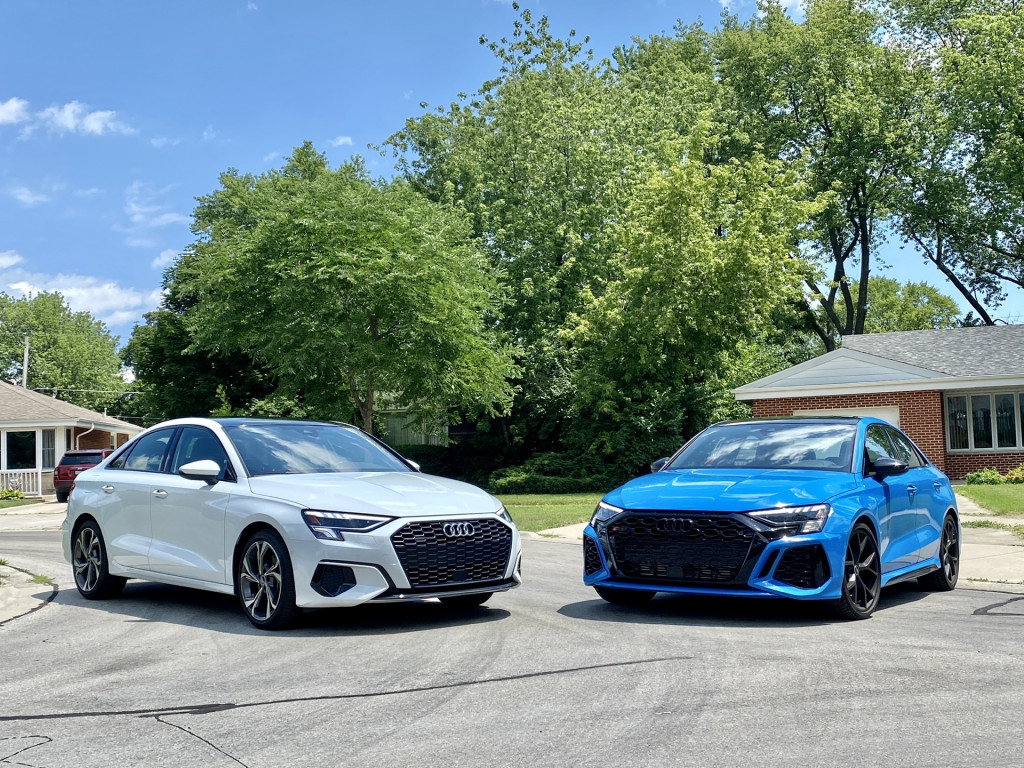 Engine Specifications Of 2023 Audi A3
Audi has provided A3 with a turbocharged 2.0-liter four-cylinder. The all-new A3 is a hybrid. Therefore the turbo engine will come with a 48-volt hybrid system. This combination produces a 228 horsepower output. It gets a front-wheel drive setup as a standard with an option of all-wheel drive. A3 is equipped with a seven-speed automatic transmission. The new generation A3 comes with super fun handling. It offers smooth turns and a comfortable ride. This affordable Audi doesn't offer great power output. Although, its turbo engine provides some amazing drive experience.
Further Plans For A3
Audi is planning to make the A3 an all-electric vehicle. The new EV will be based on SSP electric architecture. It is the same platform Volkswagen used for ID. 4. The new platform will provide fast charging to the A3 EV. It will help the car to charge for a 129km drive in just 10 minutes. The expected range of the upcoming electric A3 will be around 700kms. It will be one of the highest ranges in EVs. Apart from the performance, it is expected that this futuristic A3 will take the shape of a hatchback. CEO of Audi, Markus Duesmann, said that the electric A3 can release after 2025.
Also Read: Will Aston Martin Be Able To Attract Saudi PIF?
So, these were the details of the new and affordable 2023 Audi A3. We are expecting a good response for this new sedan. As it is the entry-level Audi, it can attract many young customers.