Bentley is snatching away the limelight from all the automakers. 2023 Bentley Flying Spur Hybrid is grabbing all the attention. This new Bentley will get a plug-in hybrid as an optional powertrain. Super luxurious, sporty, and high-quality Flying Spur is a treat for car enthusiasts. You can feel the thrill once you drive this car. However, this Bentley will cost you a lot. It will be worth every penny.
Bentley is a British automaker that deals in luxurious cars. It was founded in 1919 by H. M. Bentley and W. O. Bentley. In 1998, Volkswagen group acquired the Bentley motos. Currently, it is a subsidiary of the Volkswagen group. Bentley is famous for its premium cars which come with elite interiors. The sportiness and the strength of Bentley offer high performance and stability. Bentley recently announced that they will launch their first electric vehicle in 2026. Therefore, the new plug-in Hybrid is a step toward electrification. You can learn more about the 2023 Bentley Flying Spur Hybrid car in the article.
Also Read: Everything You Need To Know About Bentley Bacalar
Features Of The Bentley Flying Spur Hybrid
If you are in the cabin of Flying Spur, you will get a lot of space and luxury on offer. Flying Spur gets the premium touch of Bentley with all the modern-day high-tech features. You will get a double-tone cabin with wood trims, accents of metal, and Sumptuous Leather. Rear seats are equipped with massagers, which can be controlled by a remote mounted on the rear of the center console.
This remote will also include a switch for controlling AC. At the top of the center console, there is a 12.3-inch touchscreen infotainment system. It has the connectivity of Apple CarPlay. A 10-speaker stereo system surrounds the car. It is upgradable to a 16 or 19-speaker system. Moreover, for safety, Bentley has provided all the major features. Examples are lane-departure warning, automated emergency brake system, blind spot monitoring, adaptive cruise control, and night vision.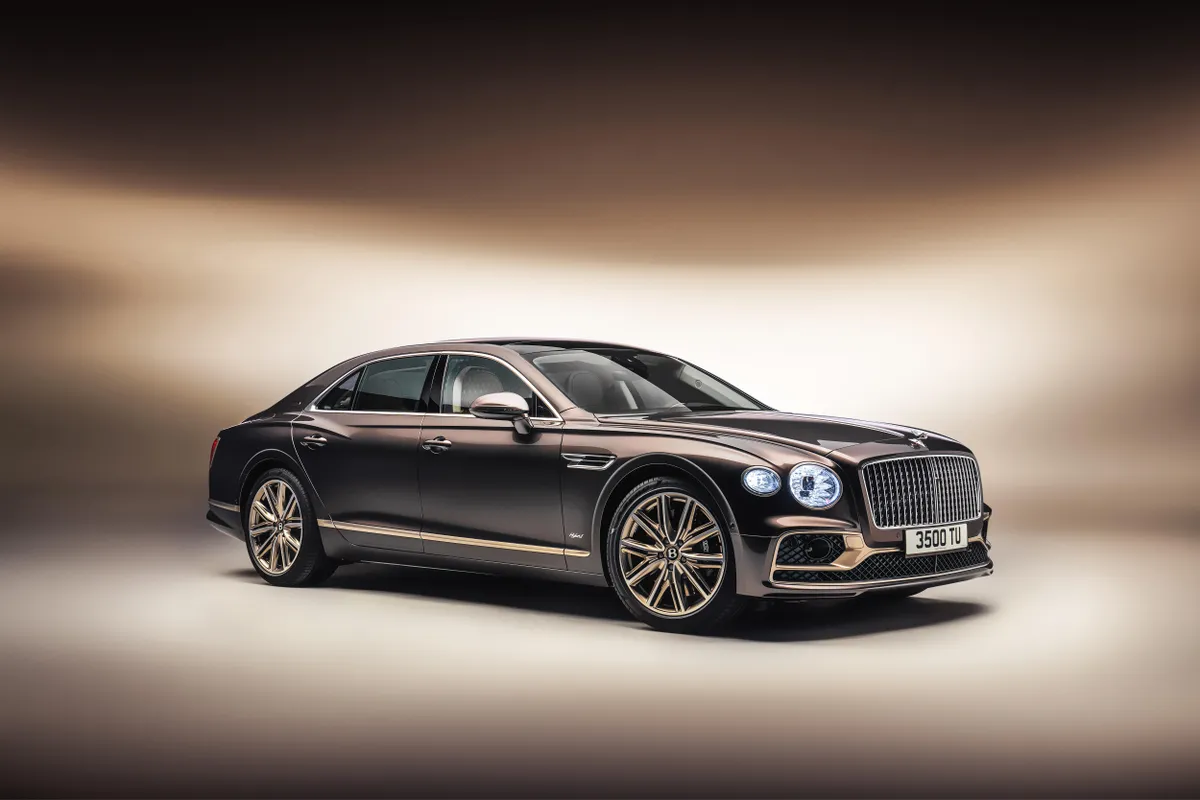 Have A Look At The Power Of The New Bentley
All New Flying Spur is getting all the attention because of its hybrid power train. It gets an optional 2.9-liter V6 engine with an electric motor. The combination of both produces 536 horsepower and 553 pound-feet of torque. Alongside the hybrid version, it gets a twin-turbocharged V8 engine which generates 542 horsepower. This powerful V8 engine can also be upgraded to a W12 engine with 626 horsepower. Therefore, it is the best option for the Flying Spur. The V8 engine can accelerate from zero to sixty mph in a matter of 3.5 seconds.
On the other hand, the hybrid version takes just a little more than the ICE versions—the 2.9-liter hybrid system sprints to sixty mph from a standing position in 3.9 seconds. Bentley has provided adaptive suspension and rear-wheel steering to make a more pleasurable and comfortable ride.
Also Read: Bentley Will Launch Its First EV In 2026
So, this was all about the 2023 Bentley Flying Spur Hybrid. The base model, the Hybrid, comes for $190,000. Also, the top model is priced at $245,000. The price tag of six digits seems interesting when you have a lot to offer. To read more such articles, keep visiting this block.