We can't deny that nowadays, pickup trucks are meant for loading and towing. It is more of a utility vehicle that also fulfills the purpose of a passenger vehicle. We have seen some iconic pickup trucks such as Ford F150, Ram Maverick, Toyota Hilux, and more. Recently, Dodge released the all-new Ram 2500 and 3500 on the market. This pickup is also built for a semi-truck and is also to be used as your daily drive. It fits in a lot of features and comfort for the passengers as well as the driver.
Ram 2500 and 3500 come with powerful engines with high torque output. The 2022 update has brought many changes to the lineup of Ram 2500 and 3500. It has added cosmetic changes and technical and mechanical changes. In this article, we will talk everything about these two variants of Ram pickups. Read the full article to learn about the pricing details.
Also Read: Ford Bronco Raptor And Ram 1500 TRX: Comparison
Power And Performance Of Ram 2500 and 3500
The all-new pickup trucks are available in seven variants. These trucks have the option of three engines. The first is the standard engine which is available in the base models. It is a 6.0-liter V8 engine with 410 horsepower and 429 pound-feet of torque. Second is the 6.7-liter Cummins diesel inline-six engine. It produces 370 horsepower and 850 pound-feet of torque. The Third engine is also diesel-powered. It is a high torque generating engine with 400 horsepower and 1075 pound-feet torque.
This engine is only available in the 3500. A six-speed automatic gearbox supports a boast of 1075 pound-feet torque. Trucks with a high amount of torque can load and tow more weight than petrol engine trucks. However, the 6.0-liter V8 engine is quicker than the diesel-powered trucks.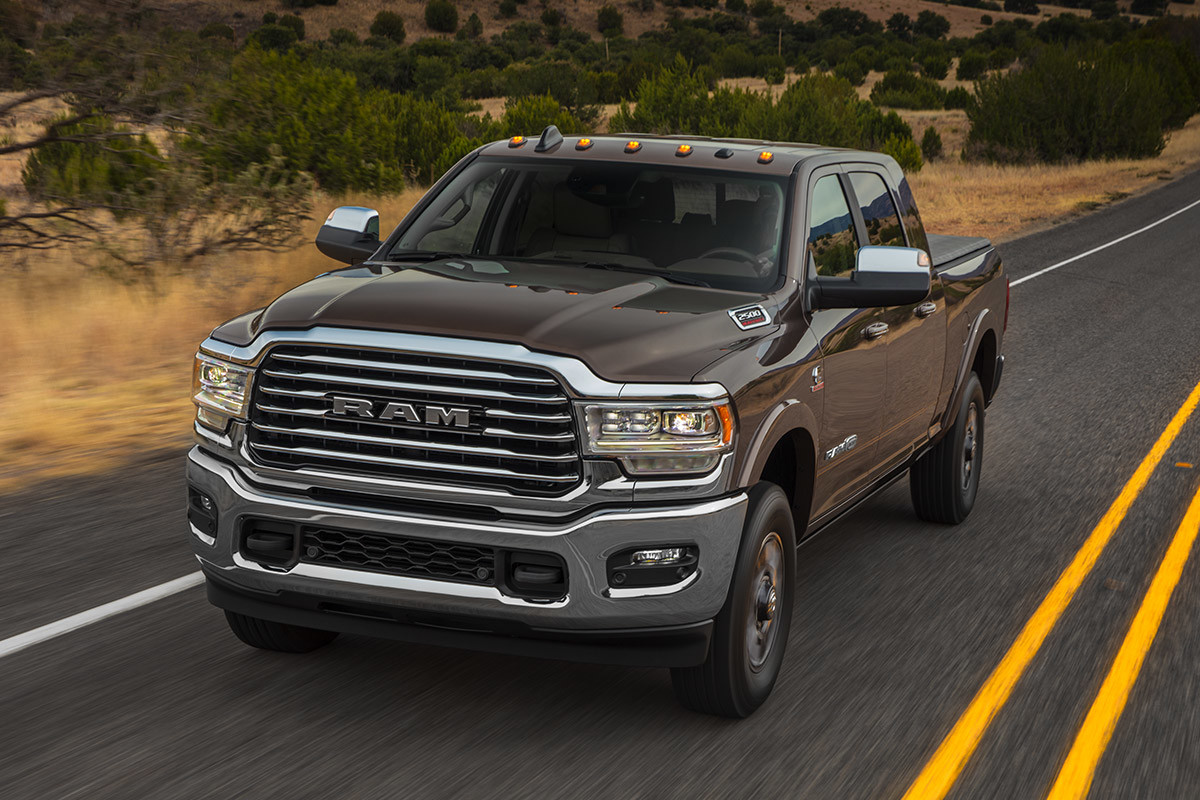 Features And Interiors Of The New Trucks
Ram Trucks often provide a lot of space in the cabin and feature a loaded room. The new truck comes in many variants, so the features, integration, and interior design vary. Ram 2500 and 3500 get an 8.0-inch touchscreen infotainment system, a standard fitting. You can upgrade this system to a 12.0-inch screen. The infotainment system can wirelessly connect with the assistance of Android Auto and Apple CarPlay.
Moreover, Ram has added some standard safety features among all the variants. The new 2500 and 3500 pickups get features like adaptive cruise control, an automated emergency braking system, and blind spot monitoring. Additionally, it gets a 360-degree camera, rearview mirror,
Pricing Of The Truck
Ram has offered 2500 and 3500 pickup trucks in seven variants. The base variant starts from $44,570, while the top edition, Limited, comes for $72,405. Mid variants are the Big Horn and Lone Star. Both these models come with a price tag of $48,590. Laramie, Longhorn, and Power Wagon are next in the lineup. These variants come with a price of $60,070, $64,410, and $67,740 respectively.
Also Read: Honda Civic Si And Subaru WRX: Comparison And Much More
High in torque production and ability to tow and load, this truck is a great value vehicle that fulfills all the needs. This was all about the new Ram 2500 and 3500. Also, for more such articles, keep reading blogs at DaxStreet.