You will sink if you try to put both of your legs in different boats. Hence, Spotify proved it right. Spotify was doing great in the song streaming service, but it followed the herd and entered the automobile industry. Spotify launched a hardware device for cars. This device had the inbuilt Spotify for the users to enjoy while on the drive. The world's largest music service provider launched this automotive hardware device in February 2022. After five months of launch, they decided to terminate the 'Car Thing.'
'Car Thing' is the name of the hardware device by Spotify. This device was a dash-mounted display that will play music and podcasts straight from your Spotify account. The automobile industry is a multi-billion dollar industry. Every other company wants to join this sector. While in the same race, Spotify wanted to be a participant. Well, they had to end the race in the initial stages itself. It is not easy to survive in the automotive sector if you are not an old and promising brand. Well, there are many such failures in other industries as well. Although Spotify tried to reach a new level, it drastically failed. Let's see what happened with Spotify and learn more about the 'Car Thing.'
Also Read: Stellantis Is Planning A Huge Investment In Engine Plants
What Is The 'Car Thing'?
Car Thing is a hardware device for your car. Spotify makes this thing. Spotify launched the Car Thing in February this year. It was designed to ease the use of Spotify while you are driving. This device mounts on the dashboard. It is a 4.0-inch touchscreen display with a small black button and a rotating dial. This small device can fit into your AC vents and be a Spotify display. Car Thing can connect with your car with the help of Bluetooth, USB, or an aux cable. It gets a voice command too! "Hey, Siri," oops, it is "Hey, Spotify." Spotify didn't want to invest much time deciding the wake-up call for the Car Thing. You can command to play any song or podcast from any movie or artist.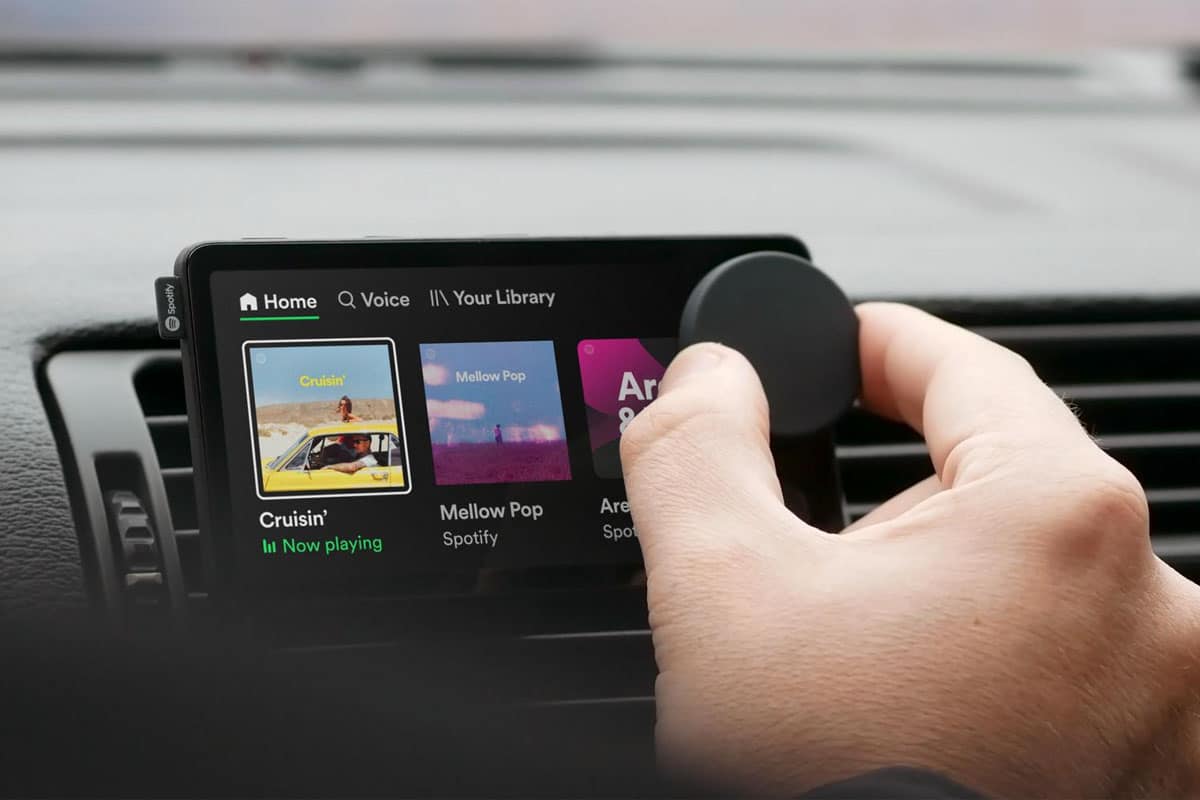 Car Thing will cost you some extra bucks. If you want this device in your car, then you have to purchase this device at $89.99. Along with purchasing the device, you must purchase the Spotify Premium subscription. These premium subscriptions start at $9.99. Overall, this new music device will cost you around an extra $100.
Why Is Spotify Terminating The 'Car Thing'?
It looked like a fun, useful device. Then why is Spotify terminating it? Spotify said that the development of Car Thing cost 31 million Euros, and the gross margin is not enough. Spotify further added that this termination is based on multiple factors. It also faced product demand and supply chain issues. Spotify has stopped the production of Car Thing. However, the devices which are sold and currently in use will work as it was intended. Although, Spotify competed with Apple CarPlay and Android Auto. These two are the software installed in a car's infotainment system. Spotify even had the disadvantage of selling its device at an extra cost.
Also Read: Everything You Need To Know About The DMC Alpha5
From a broader perspective, Spotify made a new move. Although it failed, it may have given a good idea of how to enter a new industry. For more such related articles, keep track of DaxStreet.