On 13th July 2022, Volkswagen and Redwood shook hands to work together and recycle EV batteries. Volkswagen is expanding its electric car range. Therefore, they want to recycle the batteries used in Volkswagen and Audi cars. It will be a sustainable and environment-friendly method to create new batteries out of old ones. Redwood will work with around 1,000 dealers of Volkswagen and Audi to recycle batteries. Thus, Redwood has already partnered with Toyota, Ford, and Volvo cars to recover and recycle batteries.
This collaboration signifies the importance of battery lifecycle. Volkswagen is planning to launch 25 new Electric vehicles by 2030. This collaboration will not only help them to achieve this target but will also lead to sustainable business. To know the major details of the project, read the full article.
Also Read: Top 5 Volkswagen cars of all time
Who Are Redwood Materials?
Redwood is a company that recycles lithium-ion batteries. They also manufacture electric materials for electric vehicles. Redwood Materials was founded in 2017 by Tesla Co-founder J.B. Straubel. The headquarters of Redwood Materials is situated in Nevada, United States of America. Their main goal is to achieve a sustainable future. Also, the problem of climate change and global warming is getting serious. Redwood wants to electrify the systems which run on fossil fuels. They are creating clean energy products and recycling lithium-ion batteries.
Also, Redwood is already collaborating with Panasonic, Ford, Amazon, and Toyota. Recently, it is partnered with Volkswagen Group to recycle batteries from old Volkswagen and Audi cars.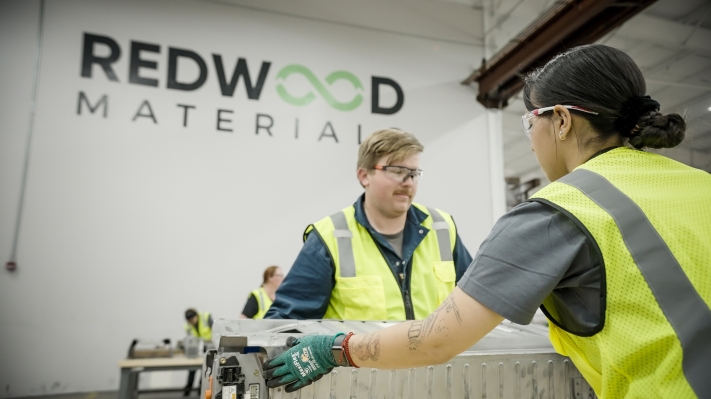 JB Straubel, Founder and CEO of Redwood, said that Volkswagen and Redwood share the same vision of creating an environment-friendly environment. They will create a supply chain for batteries that will improve the environmental footprint of lithium-ion batteries and reduce the cost of electric vehicles.
How Is Volkswagen Planning For This Collaboration?
Volkswagen plans to add many new electric vehicles to its lineup by 2030. They want to generate 55% of its US sales from fully-electric cars. Therefore, they are taking steady steps towards this ambition. Collaboration with Redwood will help the company to reduce the cost and increase the battery life of their vehicles. Currently, the Volkswagen group is producing a few electric cars, with several vehicles in the waiting line for production.
Also Read: Volkswagen ID Aero: Details, pricing, specification
The Volkswagen Group and Redwood are taking a great step towards implementing recycled batteries in new cars. Although, this step will build a gateway for introducing the recycling method to many big companies.