The Vietnamese automaker VinFast announces opening six stores in California on the 14th of July. These are the first six stores of VinFast in the United States. The opening ceremony will take place in the Santa Monica store. Also, it is said that with a strategy of opening multiple stores together, VinFast is in the race to capture the American electric automobile market. VinFast is planning to open 30 more stores in California.
Therefore, this is the true indication of the Vietnamese automaker to compete with Tesla. These stores will have the premium electric vehicles of VinFast. This strategy will allow the company to expand its network and build a bigger and stronger community in the United States.
Also Read: What's Up With German Tesla Model Y?
In this article, we will learn more about the VinFast brand and how it plans to set up a global market.
Everything You Need To Know About VinFast And Their Electric Vehicles!
VinFast is a Vietnamese automotive company. It was founded in 2017 by Pham Nhat Vuong. The headquarters of this automaker is in Singapore. VinFast deals in cars, motorbikes, and commercial vehicles. They introduced their first two models at the 2018 Paris Motor Show. These two models were LUX A2.0 and LUX SA2.0. Later, in 2022 VinFast decided to cease the production of all vehicles powered by an internal combustion engine.
Now, the company shifted its focus to all-electric vehicles. VinFast also produces electric scooters and electric motorbikes. VinFast believes in a sustainable future. Therefore, they are producing all-electric vehicles. They want to create their network and bring their vehicles to the global market.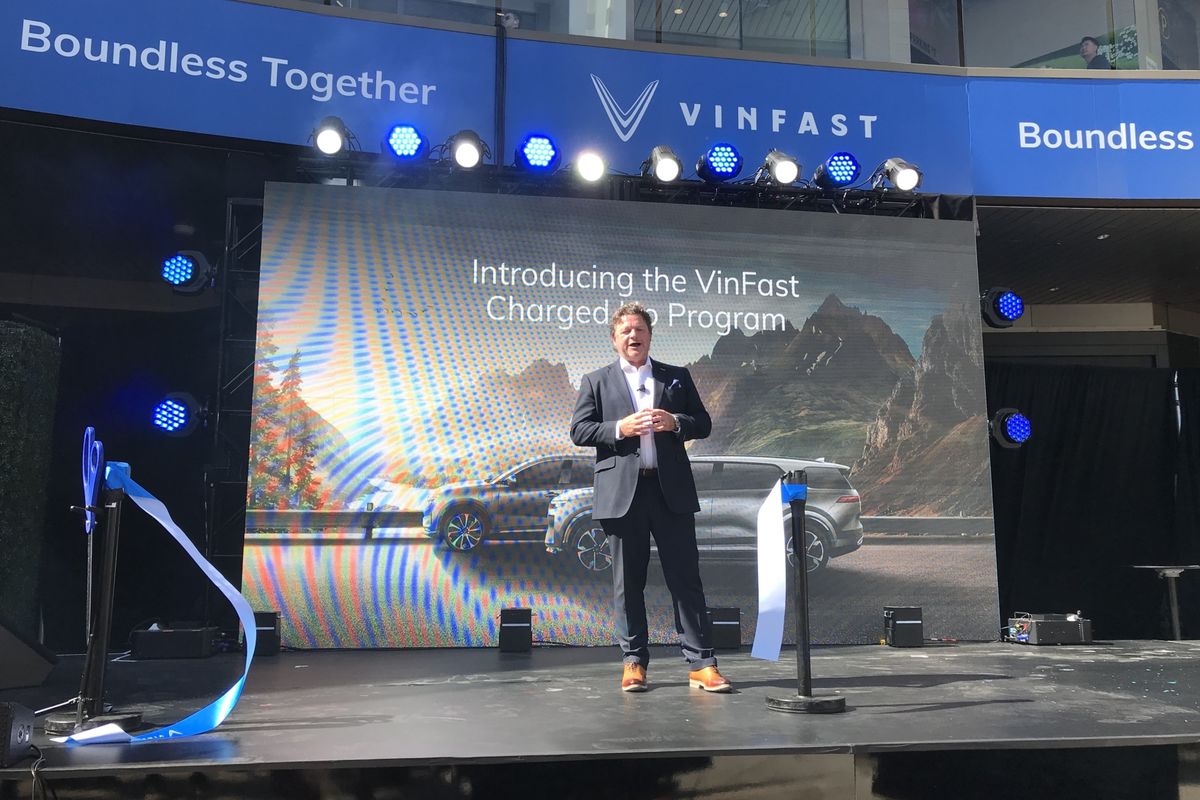 More About The New Vinfast Stores
VinFast will be opening stores in six locations in California: Santa Monica, Hillsdale, Westfield UTC, Citadel, Berkeley, and Corte Madera. These new stores will allow the users to experience and purchase the cars of VinFast. Alongside California, the Vietnamese automakers are planning to expand their reach in other states of the United States as well.
VinFast is all set with its major expansion plan to outreach maximum customers and build a strong base. It is said that this automotive company will be a competition and a challenge to the American all-electric vehicle brand Tesla.
Also Read: Is Rivian Tesla's True Competitor?
With the rise in demand and the need for electric vehicles, many new companies are coming up in the game. The old players are shifting their focus too. The upcoming electric vehicle market will be a game-changing era for the automobile industry. Also, it will be exciting to see this competition.