Amazon is collaborating with Rivian for electric delivery vans. Amazon announced this partnership on 21st July. They want to make their delivery vans to be zero emission vehicles. During the initial phase, these electric vehicles will be available for delivery in Seattle, Baltimore, Chicago, and Phoenix. Jeff Bezos made the announcement related to the purchase of Rivian vans in 2019. He said that Amazon would purchase 100,000 vans from Rivian. Now, Amazon is rolling out some of these electric delivery vans.
In 2019, the founder of Amazon, Jeff Bezos, said they want to achieve net-zero carbon emission in all their operations by 2040. To start this mission, Amazon decided to purchase 100,000 electric delivery vehicles from Rivian. In 2020 and 2021, the company tested a few of these electric vans in several cities. Now, they are ready to use these electric vehicles in many more cities.
Hence, Amazon wants to deliver thousands of electric vans by 2022. Their major goal is to achieve the target of using 100,000 electric delivery vehicles by 2030. Read more about this collaboration in this article.
Also Read: Is Rivian Tesla's True Competitor?
What Did The CEOs Of Both Companies Say?
This partnership between the two giants will bring a lot of benefits. It will not lead to a sustainable future, but it will also bring enthusiasm for other companies to do the same. Andy Jassy, the CEO of Amazon, said that constant innovation and action are needed to fight the effects of climate change. They are taking many initiatives to bring down the negative effect of their operations on the environment.
Also, they have been collaborating with companies that provide environment-friendly solutions to their problems. He further added that Rivian is an amazing partner to work with. They are excited to see their custom electric delivery vans. On the other hand, the CEO of Rivian, R.J. Scaringe, said that the partnership with Amazon would be a milestone in efforts to decarbonize the delivery process.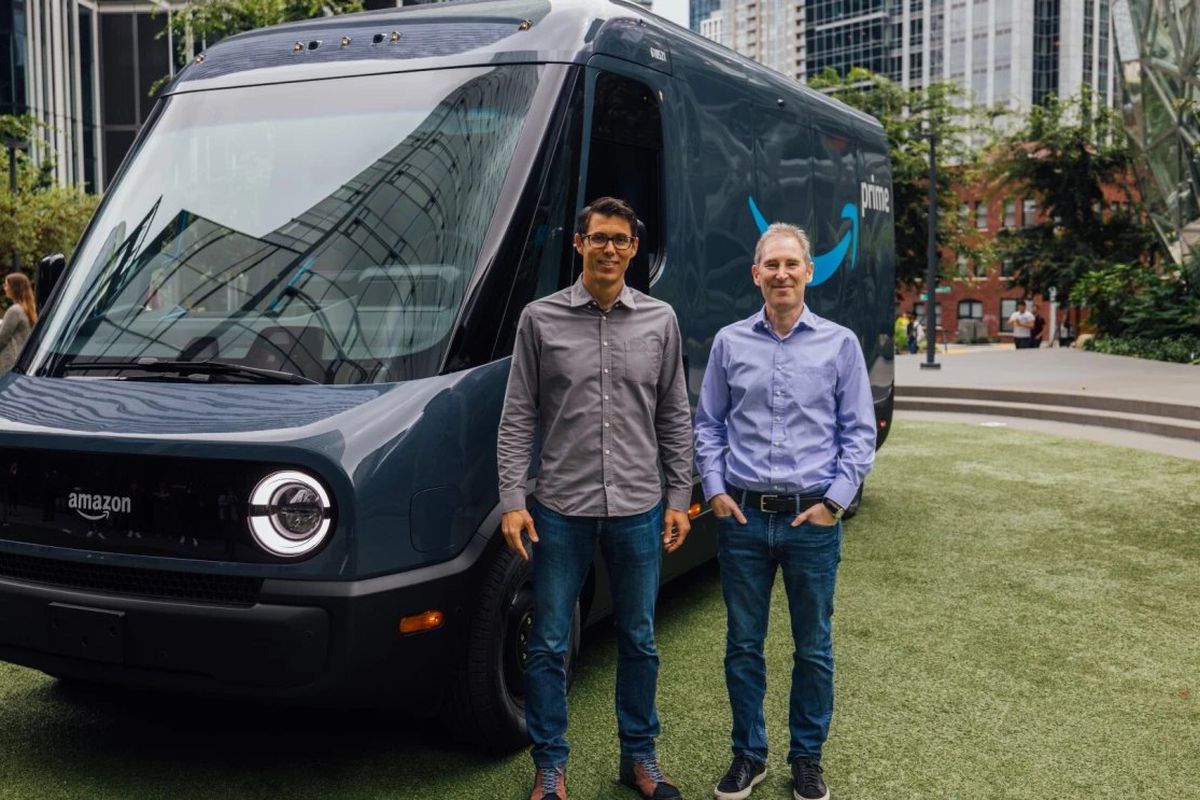 More About The Rivian-Amazon Deal!
This collaboration was made in 2019 when Amazon planned for a zero-emission mission in its operations. The first step in this process is getting electric delivery vehicles. Logistics is one of the major sectors of Amazon. It receives hundreds of thousands of orders every day. The resulting output of the great logistics was not eco-friendly. So, to achieve their goal, Amazon started by purchasing 100,000 electric vans from Rivian for their delivery procedure. Amazon has backed Rivian with Climate Pledge Fund.
They want Rivian to create more such vehicles. Following this mission, Amazon has built hundreds of electric chargers for the vehicles. Besides the partnership with Rivian, Amazon has also approached a few more electric vehicle producers. They are seeking out Ram for their electric vans. Similarly, they are collaborating with Mercedes-Benz for the same.
Also Read: Ford Lightning Vs. Tesla's Cybertruck: Tesla has an edge
This partnership has taken a step towards a sustainable future. It will help other companies to follow these steps. Major companies must take initiatives to save the environment from climate change and global warming.